University of Engineering & Management Jaipur: Savoring Recognitions for Engendering Entrepreneurs & Industry-Ready Candidates Alike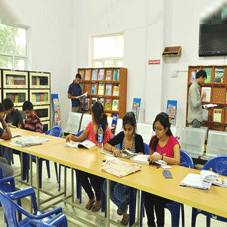 Came into existence in the year 2011, University of Engineering & Management (UEM) Jaipur took no time to achieve the awards, including the 'Best Private University in North India' and the 'Best Emerging University in North India', among several others. Under the Ordinance 11 of 2011 and Act number five of 2012 of Government of Rajasthan, UEM Jaipur was established by the Kolkata-based IEM group, which is an acclaimed educational group best known for setting sublime standards in addressing the technical and managerial resource shortage in the new era of dynamic globalization. The IEM UEM group has risen to fame for its strong foundation in teaching and R&D in multifaceted areas.
A 32+ acres spanning (3,38,000 sq. ft. constructed space across nine buildings) huge green campus that boasts of its beautiful ancient gothic architecture and world-class facilities (including a robust healthcare infrastructure), UEM Jaipur offers B.Tech, M.Tech, BBA, MBA, BCA, MCA, and BPT courses. This UGC and HRD ministry recognized campus has one of the most well-connected and successful placement cells in the country. Right from its inception, the placement cell of UEM has consistently provided one-to-two jobs on an average for all of its students. The campus has tie-ups with more than 276 companies that offer salary packages of up to Rs.15.5 lakh (till date) per annum. UEM Jaipur's highly sophisticated courses pertaining to futuristic technologies have been a boon towards closing the gap between industry and academia. CEO Insights interviews Prof. Dr. Satyajit Chakrabarti, Chancellor, UEM Jaipur.
How successfully is UEM conveying the academic vision of the IEM group?
Since its inception the IEM UEM group has surpassed innumerable benchmarks of achievements and
accreditations. Today, we flaunt a colossal network of expansive operations led by an awe-inspiring student force who are the torchbearers of a better tomorrow. We have opened-up the doors for young minds who dare to dream, encouraging their spirit of free enquiry and imagination. As an educational group, we constantly strive to inculcate the sense of human values and discipline in students to make them respectable human beings through an approach that encourages learners to learn, realize their potential, and imbibe the best practices. The number of accolades and prizes that the University itself, and our students & faculty members have received in the last one year is admirable and demonstrates our commitment to realizing the vision of excellence.
Our campus is home to 2000+ research publications, 50+ authored books, and 13 patents in the last three years
The dynamic business landscape across the world constantly entails subject matter experts in sophisticated fields. How is UEM reacting to this dire need of specialized courses with updates curriculum?
Over the recent years, we have commenced a lot of specialized programs. For instance, B.Tech CSE has specializations in everything from Artificial Intelligence to Blockchain Technology, Cloud Computing, Cyber Forensic & Internet Security and Data Sciences. On the other hand B.Tech Mechanical has specializations in Automobile Engineering and Machine Design, while B.Tech Electrical & B.Tech Civil Engineering has specialized programs in Renewable Energy and Sustainable Construction Engineering. We have recently received the most prestigious international award, 'QS Awards' with overall GOLD category, and with DIAMOND category under 'Employability of students (Placement)'. UEM is ranked as the topmost institute of Jaipur and second best institute of Rajasthan by THE rankings, Times Higher Education rankings, The Times of India in 2019. UEM has been ranked topmost in Rajasthan since last consecutive sessions through NPTEL examinations, an initiative of MHRD, Govt. of India.
Beyond creating industry-ready
candidates, it is also inspiring to see the progress made in the domain of entrepreneurship and innovation where UEMians have made a mark for them selves. Our campus is home to 2000+ research publications, 50+ authored books, and 13 patents in the last three years. That progress is undoubtedly the result of the motivating environment facilitated by our campus and the best practices consistently adopted.

What are the measures adopted to engender socially and environmentally committed human beings out of your students?
There have been a number of programs and initiatives to instill such a commitment in the minds of students. One example is our drastic interest in planting trees. Our university is listed under the MHRD initiative of 'Unnat Bharat Abhiyan', and under this initiative, we promote campaigns like 'Save Trees, Save Earth' and 'One Student, One Tree'. It's been a huge success. We have more than 1000 trees in UEM Jaipur campus, and we encourage all students to plant trees on the campus and in the villages adopted by us under MHRD scheme. Our campus helps students recognize the right path, accept challenges and make the right decision in every field. We at UEM Jaipur seek to impart the right education to every student to help them excel in all the spheres of today's competitive world.

What's your vision for the future?
It's beyond any reasonable doubt that UEM Jaipur will go from strength to strength in the future years and establish itself as a reputed university in the country. At the same time, we are committed to academic excellence by providing hands-on, practical education to the future leaders in the disciplines of engineering and management. Knowledge is an empowerment.

Key Management:
Prof. Dr. Satyajit Chakrabarti, Chancellor
Dr. Satyajit did his B.Tech in Mechanical Engineering from REC, Durgapur (NIT, Durgapur), completed his M.Tech in Mechanical Engineering from IIT, Kharagpur, and did his PhD in Mechanical Engineering from Burdwan University. He has also completed MBA from Missori University, US. He has done research in the field of Machine Tools, Industrial Electronics, Aviation, Alternate Fuel and Robotics.

Location: Jaipur
Courses: B.Tech, M.Tech, BBA, MBA, BCA, MCA, and BPT