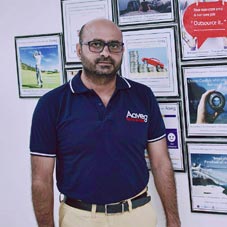 Employee commute is a high-cost, high-impact yet extremely sensitive activity for an employee-centric company. It also plays a crucial role in defining workplace environment, employee productivity and employee satisfaction. Revolutionizing this critical employee commute sector by running it as a managed service for big & medium sized corporates is Aaveg Management Services, a pioneer in end-to-end transport Managed Service Provider (MSP) model. Thanks to its exemplary services, Aaveg's customers have been able to upgrade their program, get employee satisfaction scores of up to 98 percent and sustaining it, save millions of rupees in costs, reduce employee complaints and reduce intervention requirement of the client team.
Established by Ashok Vashist (Founder & CEO) in 2015, the company is currently managing over 1,25,000 daily users across the country with over 50 customers in 20 cities. Ashok possesses a quarter-century of industry experience, during which he spearheaded various companies including Hertz-Carzonrent, Carzonrent India and Wise Travel India. He is a visionary leader, who has played an instrumental role in disrupting the mobility and ground transportation industry by introducing radio taxies and driver-turn-owner business model. Ashok, in an exclusive conversation with CEO Insights, delineates the key ingredients in the success recipe of Aaveg.
Tell us about the salient features that distinguish Aaveg from other similar service providers.
Aaveg is a contemporary concept, unique in its domain. Since inception, it has been our constant endeavor to bring value for all stakeholders in the entire ecosystem. With a team of proven industry professionals having more than three decades of experience in managing transportation, Aaveg has been re-writing the rules of Employee Mobility solutions. Aaveg believes in taking responsibility and fulfilling the service delivery with
commitment to deliver services by setting new benchmark SLAs. Our clients have seen conspicuous improvement in employee productivity as the commuters are happier and the organization can devote time in their core work, time which was earlier spent on managing these services.
Our keen eye on quality, competitive pricing, year-on-year commitment, demonstrable & verifiable technology, operational expertise and standard operating procedures are some of the unique factors that set us further afar from others. Being the foremost Managed Service Provider (MSP) for Integrated Employee Mobility solutions for mid-sized & large corporates, we take daunting challenges as business potential where others dither to think. This has always propelled us ahead of others in providing continually upgraded services to our clients. This has been made possible through our experienced team and state-of-the-art technology, installing control mechanisms and processes to run 100 percent compliant and efficient operations.
Though the core of an employee commute program remains 'operations' and handling 'persons with vehicles', technology becomes an important enabler of these programs' success
Please give us some insight on the way you run Aaveg.
Starting with carrying-out detailed analysis of the existing employee commute process, we delve deep to develop a much refined and economical solution to provide better services to clients while bringing cost containment and diminished management effort. Our talent pool of industry veterans and contemporary technological platform bring the best of both worlds. What becomes difficult and daunting for others, is our core competency.
How do you leverage technology to make your services accessible, effective and top-notch for your customers?
Though the core of an employee commute program remains 'operations' and handling 'persons with vehicles', technology becomes an important enabler of these programs' success. Our strong team of in-house IT professionals
continuously keeps working on development, upgradation and implementation of contemporary technology. Using SaaS based technology to manage end-to-end operations, Aaveg has successfully transitioned many large corporates from manual to 100 percent compliant, efficacious and paperless operations. Furthermore, we ensure deployment of optimally suited vehicles from manufacturers of repute, as we have more than 200 transport organizations on our panel on need and location basis as per the satisfactory score cards. On top of these, our vehicles are installed with GPS, women safety features such as panic button, SOS app facility, call masking, safe reach home and so forth.

Kindly throw some light on the leadership team of Aaveg.
Aaveg's leadership team comprises industry stalwarts who have brought many new and successful ideas that have shaped the Indian industry. Our leadership team is supported by best-in-class experienced hands of the industry. Being well conversant with the core issues and nuances of the business, our management team has been infusing fresh talent and contemporary technology to ensure we regularly keep setting new industry benchmarks for others to follow.

Are you involved in R&D to enhance your existing services or launch new services into the market?
We continuously keep working on finding innovative methods to provide more effective and better services. One such giant leap has been development of tech platform for app-based connectivity. Being an integral part of industry, we take green steps for the environment, whether it's inducting electric vehicles in our fleets or pledging for sustainability by planting more than 100,000 trees in this year.

Ashok Vashist, Founder & CEO
A Mathematics graduate with a Master's degree in Management from IMI (Delhi), Ashok leverages his 25 years of industry experience to steer Aaveg towards the rarefied heights of the transportation industry.

Offerings: Aaveg offers the following services, either as independent services or a complete package:

• MSP: A futuristic step for efficiency, optimization and cost-containment for embracing Employee Commute
• App-based Tech Empowerment: Effective employee commute is enabled via efficient routing
• Consulting Services: Assisting clients to meticulously plan employee commute