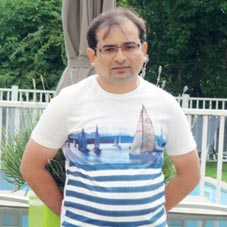 In today's advanced and competitive business world, enterprises are trying hard to offer the best in the industry in order to stay at the forefront of the competition. Due to this rising competition, companies are facing various kinds of challenges, and handling day-to-day management & operation function is one of them. Here is where the need for managed services comes into the light. A managed service provider basically helps organizations to achieve their business goal by managing their day-to-day operations and making the job easier. Due to its advantages, the managed service domain has become the buzzword in the current business world. According to Mordor Intelligence, the global managed services market was valued at $166.8 billion in 2018, and it is expected to reach $319.5 billion by 2024, registering a CAGR of 11.5 percent during the forecast period of 2019-24. The scenario is no different in India. Contributing to this market, Creation, a recognized Ahmedabad-based multi-services provider, is leading the edge in the field of managed services by offering the best-in-class solutions in the industry.
This 2005 established firm strives hard to mitigate the challenges, while opening the doors of possibilities & growth of the clients and helps them to focus more on their core business functions. Known for its dedication, the company has cemented its hold in the industry as one of the best managed services provider that offers exactly what it promises. Talking to CEO Insights, Vishal Hirpara, Partner, Creation, shares in detail about the organization, its offerings, and future plans.
Tell us more about your organization – Creation.
We are one of the fastest-growing multi-services providing Information Technology (IT) & Office Automation services. The sole aim behind the establishment of Creation was to help clients minimize their everyday challenges while driving them toward achieving their business goals. Since the beginning, with great dedication, we have been
providing the best yet affordable solutions to our clients. Today, we are recognized as one of the dependable partnership firms by our clients.
How will you justify the importance of managed services in today's business world?
Efficient back-office data management is the need of the hour for most businesses, and our solutions are highly suitable for organizations that are dealing with a huge amount of physical copies of documents on a daily basis. Without proper data management systems in place, organizations would end-up having inaccurate, faulty or missing data that can lead to colossal errors in critical business decision making. Our work is to deal with these challenges while ensuring that our clients are devoting their valuable time on more mission-critical tasks.
Quality work & accurate service is our prime motto, and we are stringent in following our principles
Document Management Services, usually known as DMS, is a combination of Computer System and Software to store, manage and track electronic documents and electronic images of paper-based information which are captured through a professional document scanner. Document Management is how your organisation stores and is able to manage & track those documents. In simple terminology, it Captures Documents > Stores Documents > Distribute as per needs.
Our solutions are highly suitable for those industry players who deal with a huge amount of physical copies of documents that they use for KYC, customer registration or other similar purposes. We digitize the documents and put them into the workflow so that our clients can easily archive the documents and when required can refer, retrieve, or print.
What are the various services that you offer in the market?
We are working in multiple divisions like Facility Management Service (Infrastructure, Application, Cybersecurity, Network and more), Managed Print Service, Document Management Services, Annual Maintenance Contracts, Sales & Services and more. Additionally, we also provide different kinds of IT solutions and services to our clients in Hardware, Software, and Cloud. However, our forte is managed services and we excel in this segment.
Being an authorized partner of HP Enterprise and DXC Technologies, we provide IT FMS (Facility Management Services) support to them. From the profile of Desktop Support Engineer to IT Operation Head and Technical software support staff to software developers, we provide all kinds of facility management solutions.

What differentiates you from your competitors in the industry?
Following the single vendor marketplace concept, we endeavor to offer a complete solution to our customers. For instance, under our managed print services, we manage all aspects of our clients' business printing devices. Being a renowned trader, we provide an excellent quality range of photocopier machines, label printers, printer machines, duplicator ink cartridge, and much more to our customers. Under the document management solutions, we support our clients with management, digitization, imaging, indexing, archiving, and more. We source products from the reliable market vendors which can be availed from us at reasonable prices.

Quality work & accurate service is our prime motto, and we are stringent in following our principles. This has helped us to accumulate a large number of satisfied customers in various parts of India and outside India. Yes, we do offer our services globally, as we don't believe in physical boundaries for delivering solutions. These are the factors that segregate us from others.

What is your future roadmap?
In the coming future, we are going to integrate technology into our solutions, which will bring revolution in the managed services sector. We are already working on various upgradations, adding transparency, security, and flexibility in our services. For instance, in our facility management services, we have added cybersecurity, and in the printing segment, we have added the barcode system. The integration of technology will simplify the usage of the services.

Vishal Hirpara, Partner
More than just the head of an organization, Vishal is a strong leader and experienced professional who is a Novell Certified Engineer, Microsoft Certified System Engineer, Cisco Certified Network Associate, and a MBA in Information Technology.

Offices: Ahmedabad (registered office) & Mumbai (branch office)
Offerings: Facility Management Service, Managed Print Service, Managed Document Services, Annual Maintenance Contracts, Sales, Services, AMC and more