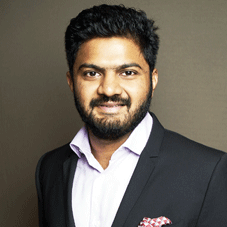 One of the most renowned modernist authors, Virginia Woolf once quoted that, "One cannot think well, love well, sleep well, if one has not dined well". The Indian food lovers stand as a true manifestation of this statement, given the diverse multi cuisines we have. Hence, some people with greater soul and passion for food go ahead to pursue this love through various food businesses like cafe, restaurant, food truck, bakery, and many others.
It is this very love for food business that triggered Aayush Agrawal (Founder & Director) to establish his own Quick Service Restaurant (QSR) Chinese Wok (previously known as Wok Express) at Mumbai. Currently, this 30-year old entrepreneur oversees the entire operations of Chinese Wok, India's only Chinese Food QSR that is presenting delectable dishes for Indian populace.
Aayush has further articulated a great deal about his entrepreneurial journey, and his QSR with CEO Insights. Delve into the snippets!
Apart from the passion for food business, what enkindled you to setup Chinese Wok?
It was after my education at US & UK, I realized that the food industry in India was highly unorganized with very few homegrown brands. Even though Indians love Chinese food, there are only casual/fine dine in options, street food stalls and a part of the menu at multicuisine midprice range restaurants. Chinese in the fast casual/quick service format wasn't available. That's when I came up with the idea of my own QSR(Chinese Wok) in 2015 for Chinese food, since it was the cuisine of interest for many people back then and even now. Regardless of committing many mistakes, we managed to gain great insights on the price sensitivity and mindset of Indian customers over the last few
years.
Since the time of inception, our thought process has been to serve hygienic food consistently at affordable prices. Despite the competition, we constantly delivered value to our customers through quality Chinese food that they are habituated to eating. Today, we take extensive pride in being one of Mumbai's most dynamic and trusted food chains that has grown from mere three outlets to 30 in just four years.
Our prime target is to serve all customers, especially students and professionals looking for hygienic and consistent, yet affordable Chinese food
How are you striving to build a good reputation for your brand?
Chinese Wok's range of cuisines speaks for itself! Our biggest differentiating factor is that we deploy premium ingredients and yet keep prices low by purchasing in bulk from the vendors. That's how we achieve huge economies of scale. Given the size of our restaurant, we haven't had to spend volumes on marketing.
On the other hand, we believe that our happy and repeat customers can create a phenomenal brand image for us. We also invest in a lot of food influencers, digital platforms and food aggregators like Swiggy, Zomato and others.
Brief us about your range of cuisines and customers thatyou cater to,at Chinese Wok.
All our fastfood outlets serve a variety of delectable Chinese meals, noodles and fried rice. We also have the concept of 'Make your own wok bowl' for people to customize their bowls from a menu of diverse Chinese cuisines. These bowls range from Personal, Medium & Large based on the consumers' appetite. Other items on our menu include spring rolls, momos, appetizers and desserts prepared by well experienced chefs.
Our prime target is to serve all customers, especially students and professionals looking for hygienic and consistent, yet Chinese
food. We have a dedicated grievance department to not only resolve our customers' concerns, but also prevent similar issues in the future. By learning from our mistakes and fixing them on a daily basis, we ensure to always keep our customers satisfied.

As a business leader, how do you hone yourself as well as your team with the emerging trends?
I personally have mentors like AjayKaul (ex-CEO, Jubilant FoodWorks) who guide me on diverse industry trends, while I also learn from my well experienced team. I always spend quality time with my team and industry peers to hone my knowledge.

At Chinese Wok, we are a team of 500 highly motivated people equipped with quick decision making skills, while at the head office, we have everyone with 10-15 years of relevant experience. Our dedicated training department ensures to regularly train them on products, upselling, customers' concerns and other aspects through different modules.

What do you have in pipeline for Chinese Wok?
We don't wish to ramify our attention onto different things, but continue to excel in the Chinese food segment as a recognized brand. Besides opening 300 outlets in the future to serve more localities and people, we are aiming to build a large organization.

Key Management:
Aayush Agrawal, Founder & Director
Aayush is a new age food entrepreneur, techsavvy person, avid traveller and go getter. He loves to dedicate his time for social causes like child education and others.

Interests: Driving, playing Golf and following Cricket & Tennis

Favourites:
•Sportspersons: MS Dhoni, Virat Kohli & Roger Federer
•Cuisines: Chinese & Italian
•Travel Destinations: London and Maldives

For the Budding Entrepreneurs:

"Go ahead and take that leap, but only after having good thought. Taking the first step is the most difficult one. But once you sail ahead in your journey, you can easily overcome hurdles!"