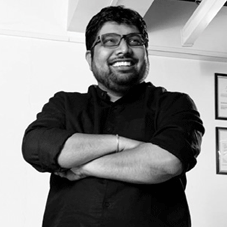 On 8th November 2016, India woke up to the historic news of demonetization that shook its economic fate, drastically impacting every sort of enterprise in its way. Majorly impacted were many startups who drew conclusions to their efforts except for one. Spotting the silver lining and banking on its advantage, Ankur Pujari (Founder & Director, Hyper Connect Communications), a budding entrepreneur at the time with a keen interest in digital marketing via strategic planning emerged with a strong concept. According to him, it is during such difficult times that one can establish strong company with strong foundations to take on a much more risk-tainted future.
He talks about his journey that according to him has been nothing short of a roller coaster ride and has shared the details in an exclusive conversation with CEO Insights.
Tell us about your inspirational journey and professional background that led to the inception of Hyper Connect Communications.
The first thing that I learnt about entrepreneurship was that it is actually the first step that is the hardest; taking that leap of faith; to quit whatever else that you are doing and dive into this world of uncertainty, especially when you are living in the perfect Indian city abroad Singapore working for a large ad agency. It was one of my visits to India where I met my friend and co-founder Kiran Khadke, who was then working in large ad agency in India. The more we started talking about agency work and how digital is treated as a BPO business in India, where an agency with a bunch of fresh grads will recommend 30 posts a month without aligning to the brand ambition, the stronger our conviction became to start our own agency that will fix this gap.
We went back, started making meticulous plans, and decided that we are all set to launch in September 2017, and we did!, soon to realise that macro economic factor like DeMo will hit us, followed by GST implementation that will
keep clients we were banking on in a wait & watch mode. But we didn't lose faith; we used this downtime to meet every client we knew and started fine tuning our offering and a niche, which made us a formidable force! We struck gold with Kotak Mutual Fund, who believed our conviction and got us on board, followed by Delhi Police for their social media in the same month.
Today, we are self-funded and well equipped for growth, and we will continue to collaborate to amplify ambitions, just like we have with Kvantum Inc. from the US
Once we found our secret recipe, we just went steadily after clients and added Tata Sky Broadband, Club Mahindra, two A listed consulting companies for their communications needs, and a client in Singapore. As we continue to spread our wings, we have collaborated with a US based Analytics company to offer more upstream strategic services and expand our footprints in America and South East Asia.
How would you define Hyper Connect Communications as unique in the industry, and what were the challenges faced to make the company what it has grown to be today?
Apart from the jolts of demonetization and GST, the biggest challenge for us was finding talent, as we were a startup and no one was willing to join us. Moreover, as strategic planning in digital marketing requires brand-new thinking, building that thinking culture was not easy. This thinking space was then dominated by large network tycoons and we had to struggle to keep pace with the industry demands, which took a lot of time. Even now as the future lies, we will continue to remain in the thinking space, as we are confident that there are takers.
When it comes to our company's uniqueness, it's our background, because while Kiran holds a mainline advertising background, I come from the digital front, and merging these only came as a boon to start off. An instance of our efforts we worked with the department of tourism of Maharashtra who wanted to create a coffee table book. We instead suggested a mobile travel portal that can reach-out to masses and
also integrated it with Airbnb & Zoomcar, so one in search of information can also book a home stay and also utilize Zoomcar facilities. This brought in a lot of attention and was a grand success.

When it comes to your personal life, how do you ensure to bring about a balance? Also, tell us about the support you received throughout your journey.
It is always important to give credit to those behind the success of the journey. My family has been very supportive of my ambitions, especially my wife and both set of parents. Aside this, my business partner has also played a crucial role. We call each other work wife as we endup having so many common problems and we balance our emotions.

But I wouldn't say there is a balance, as there is a very strong skew towards me spending 14-15 hours a day at work, and it has been this way for the last three years. But now that we have crossed certain phases, I am trying to balance out some selftime and time for family & friends who have been very important to me.

Tell us about funding throughout your business journey and how do you ensure keeping yourself updated with the latest trends in an industry that is run constantly on change?
We started with an angel investor and that brought us a lot of business acumen and business experience. We knew advertising, but what the investor taught us was the business of advertising. Today, we are self-funded and well equipped for growth, and we will continue to collaborate to amplify ambitions, just like we have with Kvantum Inc. from the US..

To keep myself updated I read; but most of my inspiration is drawn by talking to people from different industries and majorly from my clients who are consumers with perspective; that's where I get on-ground information about consumer behaviour, choices and other important information to enhance offerings further.

Key Management:
Ankur Pujari, Founder & Director
A forward thinking enthusiast with a keen intent to revolutionize consumer engagement by binging on the thinking space and utilizing efficient strategic planning.

For the Budding Entrepreneurs:

"Take the leap of faith, don't be afraid to fail or change your master plan without losing the vision. It's a tough ride but it's worth it".