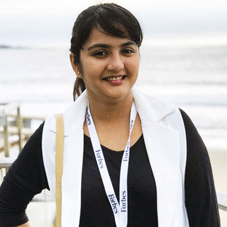 Who knew that waste recycling and women empowerment in India would someday go hand-in-hand! This ingenious venture sprouted when Dhriti Desai(CEO, Eco Light Studio) as part of her childhood realized that Indian women were the hardest working and most committed people in their families. But when it came to their personal growth, unlimited restrictions barred them from having their way. This is when she committed to herself to change this phase.
In an exclusive conversation with CEO Insights, Dhriti describes her effortful journey, the excerpts of which are here below.
Tell us about the inspiration that drove you towards finding a niche in the waste recycle world and the ideation of uplifting rural women in India?
Growing up, I realized that women in India are hardworking and committed, but do not get an opportunity to do something of their own. I always wanted to start a platform that creates employment for women from their own home, especially for those who are financially unstable or in need of overcoming financial dependency.
My entrepreneurial journey began with Eco Lights Studio a company/initiative that emphasizes on the concept of 'waste to treasure' and believes in the circularity of waste. It was from here that I had the opportunity to visit the rural places of Gujarat and interact with the women there. I observed their willingness to work, but lack of opportunities to develop and utilize their skills curbed them from doing so. Moreover, they weren't allowed to go out of their houses or village premises to find opportunities, thus barring financial stability. What struck me was my encounter with Tina. While my husband Dr. Binish Desai (Founder, Eco Lights Studio) was undertaking a project of constructing toilets at a Gujarat village, Tina came up and asked 'Although this toilet is made for our betterment, how will I maintain it? I
am an uneducated person with no stable job. I don't have enough money to take care of necessities. How will I take care of this structure?'
At Eco Lights Studio, my vision is to convert waste into luxury and empower women to become entrepreneurs
This situation of Tina led to an idea of initiating 'Micro Social Enterprises' to help women in villages earn livelihood from their own houses or centers located within village premises and we launched Women Empowerment Centres. Eco Lights Studio provides opportunities to these women to work within their village grounds. Instead of having one centralized factory, we setup small factories in different villages and function by helping these women.
Tell about your educational and professional background. How has this propelled your expertise and role at ELS?
My educational background has a major influence in what I do currently. I have secured Bachelors in Management Studies from Mumbai University and completed my MBA with specialization in marketing from Auro University in Surat. I also completed my certification course in capital markets from Bombay Stock Exchange institute and I further specialized in digital marketing and started my career in the same field.
Currently, I oversee end-to-end execution of the Eco Lights Studio's operations, product design and marketing. The company is a Micro Social Enterprise that works based on the concept of Triple Bottom Line and operates to achieve a balanced financial, social and environmental set of objectives. At Eco Lights Studio, my vision is to convert waste into luxury and empower women to become entrepreneurs.
Give us an insight into what Eco Lights Studio specializes at and how is the company making a difference to society?
Dr. Binish started the Eco Lights Studio initiative, but the 'company' was founded by me (post marriage) to boost this initiative and transform it into a brand for a purpose. The company helps run these Women Empowerment Centers by giving an opportunity to them to work within their village premises. Eco Lights Studio currently offers over 140
typesof products(lamps, clocks, stationery for corporates, home decor accessories, kitchen and bathroom accessories) that are categorized to be in an affordable luxury market. These products are made from the industrial waste coming out of paper mills, glass beads manufacturers, textile & metal manufacturers and even coffee waste. We have also come-up with a hand-made art jewelry segment and will further expand to offer a wide range of eco friendly furniture made from artificial wood.

The women and the local artisans of the villages make all these products. Each of these products, especially the lamps, help recycle at least seven kg of industrial paper waste and also reduce 15.6 MT of carbon emission from entering the atmosphere. In addition, every product is at least 98 percent recyclable. The company provides a two-year warranty on each product, and if the consumer wants a different design, we recycle the same product and provide at half the rate of the original price. Furthermore, with every sale of the lamp, we plant one tree.

How do you manage to keep yourself updated with changing industry trends and considering that an entrepreneur's journey is an endless phase of efforts, how do you find and make time for leisure?
My advantage is having 'The Recycle Man of India' as my advisor. Any latest update in the field of recycling is updated by Dr. Binish and through the Circular Economy Group, which I am a part of. We also do a think tank during my interaction with students, where we select ideas from students and help them take it forward.

Key Management:
Dhriti Desai, CEO
An absolute adrenaline junkie, Dhriti oversees the day-to-day execution and function of the company, and constantly strives to better the lives of rural women witha keen interest and active involvement in augmenting waste recycling in India.

Interests: Travelling, Bungee Jumping, Sky Diving & Roller Coasters

Favorites:
•Cuisines: Chinese, Greek & South Indian
•Holiday Destination: Australia

For the Budding Entrepreneurs:
"Do not be afraid of working with waste. What stops young people from entering this industry is how society looks down on people that work with waste or waste recycling."