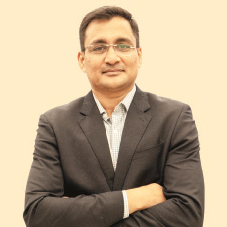 When you know what the future holds in the business world, you brace the change and prepare yourself. So did Abhijit Das, Head-Marketing, Delhi Duty Free. Being among the first few to adopt the Martech like AI, ML, and NLP for driving business agenda, Abhijit is always a front runner in crafting winning strategies leveraging technology. According to him, until marketing drives business agenda of growth and/or profit, it is not marketing. One of his biggest lessons is that marketing is not only advertising, promotions, events or PR, but includes everything that's required to deliver the promised experience to customers like staff interaction, after sales, packaging, and many others.
Levering his long industry learning, Abhijit is currently steering Delhi Duty Free to newer heights each day through his innovative strategies, which he decodes in an exclusive conversation with CEO Insights.
Tell us more about yourself and how you leverage your expertise to deliver some of the most effectivemarketing strategies.
A. I have worked as a marketing & business management professional for over 19 years in diverse industries such as Retail, Real Estate, Hospitality, Travel, & Advertising. As a highly driven executive, my expertise lies in creating goal-oriented profitable & top line focused customer marketing & new business initiatives to strengthen customer experience and deliver brand promise.
I spearheaded many initiatives for various businesses including Omni channel roll out retail zooming mega brands promotions, new business growth through category management, operational efficiency & cost control projects. In my current role, I head Marketing & Strategic business initiatives for largest Duty Free Retailer Delhi Duty Free, which has twice the market share of second largest duty free travel retailer.
I joined the organization just after
we got the concession to operate the duty-free business at New Delhi International Airport. I was among the first few who were on-boarded. Since then there has been no looking back. The business grew faster in the region inspite of stiff competition from airports of Middle East, South East Asia, and Europe. I am also a part of India Business Leadership Team & Global Marketing Executive Team leading the Consumer Marketing, Online Marketing, Digital & Technology Innovation, and Strategic New Initiatives agenda for India's largest Duty Free Retailer.
I almost put it as 'Brave heart marketing' is important many-a-times to start new & different things
You are an industry aficionado. Could you highlight some of your learning throughout your journey so far?
A. One key learning that helped me excel in my career is 'always create opportunities which will enhance top line & improve bottom line while driving business agenda'. On the other hand, team management is important and I have focused on delivering through team, whether it's direct team or cross departments unless all sync in failure is certain. Alongside, adapting to change & embracing technology has been key as well.
My personal strategy is simple: everyone has 4Ps(& People) either as individual or team or organization, but what matters most is the 5th P: PACE & execution. Hence I say that no strategy or creativity is good enough unless executed well & much ahead of time.
You are strong believer of Technology. How do you keep yourself updated in terms of both technology & marketing?
A. Yes, it's kind of religion to me. I believe it is important to realize that 'we do not know everything' and 'unlearning' is equally important. Hence adoption of new ways of working using technology becomes just a function of staying updated and attempt to use them, while keeping consumer research driven strategy development at the core of my initiatives.
Alongside, taking calculated risk is key. I almost put it as 'Braveheart marketing' is important many-a-times to start new & different things.
What are your professional milestones that bestowed you utmost satisfaction?
A. I measure 'team satisfaction index' and keep this measurement ongoing to see how my team is performing, how am I supporting them and how happy are they as individual & team. I feel proud that I have launched digital transformation initiatives for the business like heat mapping, use of AI and ML. Also nothing can lessen the pleasure I had when Delhi Duty Free won the prestigious Moodie-Davitt Digital Awards & Frontier Awards.

Moreover, my additional success in managing and mentoring teams positions me to make a significant contribution to new challenging initiatives & business ventures.

You must really be pressed enough to find time for yourself. How do you manage to balance between your personal and professional life?
A. No doubt staying fit is key & non-negotiable. I am a Half Marathoner running is most efficient stress buster for me, followed by reading & my gym time. On the other hand, movies, my kids family & friends are absolute energizer for me. Professionally, I practice staying away from the biggest weight mind carriers EGO. This makes me feel atleast half light anytime.

What future plans do you have for Delhi Duty Free?
A. As an organization, we have disciplined financial approach to business keeping both goals intact top line and bottom line. To achieve our goals, we continue to keep innovating new ways to enlighten our customers be it new walk though shops(just launched)world class promotions & activations, wide range or others. We will continue to bring in paradigm changes in travel retail in India.

Key Management:
Abhijit Das, Head-Marketing, Delhi Duty Free
A business & marketing professional, Abhijit expertise lies in creating goal-oriented profitable & top line focused customer marketing & new business initiatives. He is awarded with 'Marketing Professional of the Year 2014, CMO Council Global Brand Congress. Under this aegis, the company has own eight international awards for initiatives & marketing campaigns.

Favourites:
Hobbies: Running & Reading
Travel Destination: London, Goa & Scotland
Food: Mexican & American