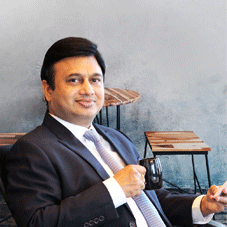 Back in 2009, when the entire global economy was crumbling and various businesses were shutting shops for good, in a quiet corner in Mumbai, Ravi Saxena was laying the foundations of his entrepreneurial venture, Wonderchef. A perceptive businessman and a risk taker by nature, Ravi believes that companies that are born during testing times thrive when the market picks-up. Therefore, undeterred by the testing business environment, he focused on turning the challenge into an opportunity and consequently founded a company that would go on to become India's largest and most recognized manufacturer of cookware and kitchen appliances.
However, long before Ravi created Wonderchef, he was writing the recipe of success for various companies such as VIP Luggage, Sodexo and Landmark Group, to name a few. Having a long illustrious career building successful brands and disrupting the market, Ravi's journey so far has been rather eventful and holds valuable lessons. In a candid conversation with CEO Insights, Ravi allows us a close look into his business journey and bits of his personal life that make him who he is today.
Take us through the journey that led you to Wonderchef.
I did my schooling from DPS RK Puram, then went on to pursue B. Tech in Electronics and Telecom from Delhi Institute of Engineering and received an MBA degree from IIM Ahmedabad. Post this, I began my career with VIP Luggage and conceptualized and launched India's first trolley bag, Skybags which became a game changing product.
I then moved to France to work for Sodexo consequently, I brought the company to India and built the
company from the ground up. Other than being a market disrupter Sodexo India today employs over one lakh employees. I then took the plunge in the hospitality industry and joined Landmark Group. Consequently I facilitated the launch of brands such as CityMax Hotels Gloria Jean's Coffees Fun City Gaming Zones, Yellow Chilli Restaurants with Chef Sanjeev Kapoor and Polynation Food Courts.
We focus on value engineering and work on improving our products in terms of power consumption, making them compact and adding other necessary features
While every milestone and success that I had earned in my professional journey was near and dear to me, I realised that at the end of the day, I did not own any of these brands. Also, my professional journey had imparted me with the skills to build successful businesses and scale them up. This ignited an entrepreneurial zest in me and thus I founded Wonderchef in 2009.
What was the idea behind starting Wonderchef? How did you differentiate your products from the other competitors in the market?
The kitchen is an integral part of any household however, back in the day, it was one area of the house that was devoid of any color and character. Therefore, we decided to build a range of cookware and kitchen appliances that would focus on design and color elements while also keeping in mind the functionality. I also realized that people today are not merely looking for products, but are on the lookout for solutions. Drawing inspiration from that, Wonderchef products adhere to German Quality Standards, Italian designs and focus on continuous innovation. We also focus on value engineering and work on improving our products in terms of power consumption, making them compact and adding other necessary features.
How do you ensure that Wonderchef products live up to the expectations of its consumers?
While we do rely on tried and tested strategies such as market research to understand the needs of the consumers, we like to hear it from the horse's mouth. Our users leave several comments feedbacks and suggestions across online platforms we take them into account and work accordingly.

However, what really sets us apart in the market and brings us closer to the actual users is our direct marketing wing which consists of over 60,000 women from across the country who market our products. Our team stays in constant touch with them in terms of understanding problems if any; while conceptualizing a new product, we also consult them about design, price points features and others.

Being an entrepreneur is no simple feat and every entrepreneur worth his salt would recount stories of facing several adversities. What were some challenges that you faced early on and how did you overcome them?
My initial hurdle was in terms of procuring capital. Given that I was funding my company during the global economic crisis, nobody in the market wanted to invest in a new business. That is when I leveraged the good will that I had earned during my previous industry stints I approached my old colleagues and they agreed to help me with the seed funding for Wonderchef owing to the reputation that I had earned over the years of being a sincere and trustworthy person.

Another challenge that I en¬countered was the loss of credibility that one faces after quitting a job at an established organization. Suddenly I was on my own and had to introduce myself and my company's products to every stakeholder.

However, the journey also brought several fulfilling milestones such as, when I got to partner with Chef Sanjeev Kapoor. Also, when we hit our first Rs.100 crore mark, that too, much sooner than any other new company does, it was an exciting moment. We have already hit the Rs.350 crore mark and are looking to penetrate further into Indian and international markets in the years to come.