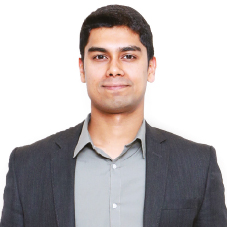 "Marketing is no longer about the stuff that you make, but about the stories you tell," ~ Seth Godin. However, this adage seems quite outdated in today's volatile market where marketer's role is more than just being brand custodians to being revenue drivers. On the other hand, leveraging the new oil(data) is equally important to create well-rounded 'business' objectives that focus on driving growth. We take a look at Akamai Technologies a content delivery network and cloud service provider headquartered in Cambridge, Massachusetts.
Akamai's global leadership in its industry creates an inspiring and challenging environment for its marketers to deliver exceptional marketing and customer experiences every day. Talking at large with CEO Insights, Roopesh Balakrishna, Head of Marketing for India and Sub continent delineates his expertise, challenges and personal life.
Could you highlight the major facets of your professional journey? Also highlight the skill sets and strengths?
A. I have had the privilege & honor of working with some of the best industry leaders, peers and CEOs globally over the past 13 years. From the 'Mad Men' days of advertising as an account 'suit' to Sales, PR and Marketing, it has been quite an exciting learning curve across organizations from various industries and sizes. During this time, there have been many personal and professional achievements, but the pace at which great work in the past gets superseded today is unprecedented.
I measure professional achievements based on the five yardsticks Driving consistent innovation, being a positive influence on your peers, having the least resistance to adapt to changes, coaching talent and juggling between work and life at ease.
Coming to my skill sets, I would say one of them is being observant
of myself my external environment and Coming to my skill sets, I would say one of them is being observant of myself my external environment and having an eye for details. Empathy is also a commanding strength that I channel in abundance at work and personal life. However, creativity is a crucial anchor in all disciplines of my role.
It's essential to keep an open mind and absorb a variety of work from the outcomes of end-customer value and creativity
What were the initial challenges in your career and as a marketer that helped frame Roopesh who he is today?
A. It's easy to develop a myopic perspective and discount how marketing contributes to top-line growth and bring bottom-line efficiencies. But the big picture is something else. Freshers and marketing professionals early on in their career aren't clear about or aren't exposed to by mid or senior leaders. Lack of clarity without the basics of 'what','why',and 'how' then become a part of one's experiential learning curve.
The good part with these organizational and management blind spots is that if one has the curiosity and persistence, finding answers become a very enriching experience in itself. That's how I learnt early in my career.
Keeping oneself abreast in this competitive market is quite a necessity. How do you keep yourself updated despite so many engagements?
A. I believe the lines of B2C and B2B marketing have already blurred. It's essential to keep an open mind and absorb a variety of work from the outcomes of end-customer value and creativity.
For us marketers, content and articulation are absolutely underrated skillsets. I've found a lot of great results in my peer groups and leadership conversations in creating meaningful content and articulating even the coldest data points. Therefore being well read and being able to articulate a variety of material is another excellent way to stay ahead of the curve.
On the technology front, it's essential to be curious to analyse data points from a variety of lenses. Sometimes, existing technologies in a MarTech stack may not be looking
at critical gaps in datasets. The issue is n't technology, that's available.

In your professional career spanning over 13 years, you have achieved several milestones. Of them, which gives you the utmost satisfaction?
A. It's the(many) small wins that count in the long run. Every tactical outcome (success) across the board in a financial year is super important. The shift from advertising to marketing was a significant change(win), and my good fortune of working in sales and with CXOs, a brief stint as an entrepreneur, and with high potential startups as an advisor and mentor have all had an immensely positive impact on me, both personally and professionally.

Your professional journey has many channels that you crossed. It must have required burning midnight oil! What role did your family play in your journey?
A. In today's world, the line between personal and professional life is too blurred to be distinguished. But then my family always had my back. They are as vested in my professional success as I am. I am thankful to have a rock solid family foundation principle that 'work is worship'. I will always be grateful to my wife and family for their never ending support.

I also believe upbringing (parenthood) shapes our professional outlook to a massive extent, and I intent to write about all my childhood experience when I have time!

Key Management:
Roopesh Balakrishna, Head of Marketing- India, Akamai Technologies
With extensive experience of over 13 years in the marketing, sales and advertising domains and having worn the hat of an entrepreneur, Roopesh currently heads Marketing for India and Subcontinent at Akamai Technologies.

Recognitions:
•100 Best Marketing Minds of India 2019 & 2018
•India's Top 100 Digital Marketers 2018
•India's Top 50 Content Marketers 2018
•Innovation Awards at Akamai 2014 & 2013

Hobbies: An automobile enthusiast, he is a reallife 'Tim Taylor' with a laundry list of 'Home Improvement' projects that keeps him engaged during weekends. He believes any destination achieved on a motorcycle is absolute bliss.