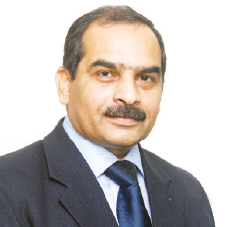 Someone said, "Never be complacent about the current steps; don't agree and follow the status quo. Be determined that you are making an indelible impact with great change. Now, dress up and go to make it happen!" This quote is for the determined souls and not the fickle hearted. One such wandering soul that keeps challenging the status quo, rocking the boat(while not doing it too much) and mentoring is Sameer Saxena, the CMO of Legrand.
An eclectic professional, Sameer joined Legrand in 2008 and since then has steered the company to newer heights through his 'rock-the-industry' marketing strategies. He talks in detail with CEO Insights to reveal his success mantra, his journey and the future of Legrand India.
Could you highlight on your educational and professional background that helped you steer your journey to where you are today.
My journey with Legrand began in 2008 where I was responsible to drive sales for the IndoAsian Business Division. Over my past 22 years of professional experience, I have built a rich repository of knowledge and experience in sales, strategic marketing, product programs, distribution and channels. I have successfully driven M&As, Brand Integrations, Business Transformation Cases, and Robust brand building exercises.
CMOs role has largely diversified over the last decade, from being just a marketing guy to driving growth & innovation. How would you describe your role at Legrand?
Absolutely! But the CMO is as good as the team. Every project has a framework but at the same time, it is a white canvas for the team to function independently and add value. The complexity in the business and diversity in the customer base allows for a lot of opportunities to sell solutions differently which means you have
more scope to be creative and innovative. For example, an MCB needs to be pitched differently to an architect versus an installer or an electrician.
For a CMO to be effective, he needs to make sure that strategy & operations do not work in silos
So when the scope of work is so versatile, the CMO needs to be creative. For a CMO to be effective, he needs to make sure that strategy & operations do not work in silos. For a strategy to be effective, the entire team, including the last mile executive, needs to be onboard with the strategy. As a CMO, I believe in this last mile sensitization.
When it comes to innovation it is important to evaluate a new idea or technology before implementation. Just because something is making a headline may not necessarily make an impact on our business. The content and the mediums have to be carefully selected as per the business context.
With marketing & advertising evolving rapidly with inclusion of more technologies in the past decade, more so in the recent times, how do you keep yourself updated with all the apprises?
The idea is to keep the customer in the center and always adapt to the changing customer behavior. Good customer experience is the driving factor for any business. The customer behavior has evolved, and thanks to the changing trends, has led to sharing as compared to the acquiring economy due to introduction of subscription (and micro-subscription) models.
We closely monitor the FAAMG to garner market intelligence. We heavily invest in IoT products catering to customer demand for personalization and convenience; there is clear change in business model. However, Legrand has crafted its own way to deliver customer experience through partnership module in IoT space. Our partnership in this space is easing customer's life by adding value through collaboration with other consumer brands in the tech space.
From a Graduate in Science to being the CMO of one of the world's leading specialists in electrical and
digital building infrastructure, your journey looks picturesque. What colours have your family put in this painting?
Family plays an important role. Flashback to 10 years ago, it was the family's care and solid support that helped me steer my career in the right direction and to now, when I get to spend quality time, cooking & traveling (thanks to the two-day weekend). Family is a strong force that helps inculcate balance a great discipline to have for any professional.

You have always been inclined towards mentoring and learning from young minds. Tell us more about your mentorship activities.
I am impressed with the young minds of today, and hence engaging with them is a definite stress buster. The learning derived from such experiences is always mutual. This is the force that drives me in my interactions with people inside and outside of Legrand. As a person interested in mentorship and learning from younger minds, it is my interest to teach and learn from the younger generation. The learning one can derive while mentoring young minds is the fuel for my profession and day-to-day life as a marketer.

What future plans do you have on mind for Legrand as its CMO?
Strengthen the leadership position of the brand, new innovative offerings to maintain competitiveness and positive revenue impact and building a new channel with IoT offering for easing human life are the focal points of the future plans.

Tell us about your hobbies.
I love cooking and traveling. Cooking is like meditation. One loves to be engrossed with this and passion for cooking intensifies over the period. One can be creative to any extent as per taste and available cooking ingredients. Traveling helps you meet new people, see newer perspectives and truly become a citizen of the world.

Key Management:
Sameer Saxena, CMO, Legrand
A highly coveted marketing maverick, Sameer has over 22 years of professional experience working across sales, strategic marketing, product programs, distribution, and channels. A BSc(Hons) in Physics from Delhi Univeristy, and PGDBA from National Productivity Institute, he has earlier worked with companies like Schneider Electric, General Motors and Apollo Tyres.