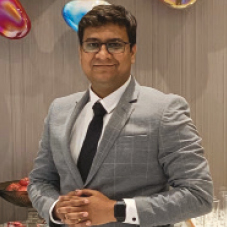 'Get your self grounded and you can navigate even the stormiest roads in peace' said Steve Goodier. The statement precisely defines Suman Paul, Chief Marketing Officer, Ability Games, one of India's most prominent game developing companies that design, market and distribute innovative software and game products. But despite being grounded, Suman has the most flying colors in his arsenal of experience and achievements. Holding over a decade of experience, he still feels that he has just started, and defines achieving 60-70 percent of 3 million users on 11 wickets.com platform within the last six months as a milestone he has achieved. He wishes to achieve many such milestones in his professional journey ahead.
Talking to CEO Insights, Suman speaks his heart out to talk about himself, his journey and the future plans he has for Ability Games.
Tell us about your role in Ability Games. How are you leveraging your past experiences and education to serve the company and clients the best of the gaming world?
I am a technical graduate with Marketing Certifications and credentials from IIM Kashipur & University of Cambridge. Since my association with Ability Games, I have felt very close to their brand identity and approach. I have been and will always be duly confident of my skills, capabilities and abilities regarding my expected job role but to accept the responsibilities of a CMO was indeed a steep climb to undertake.
My role at the company is very diverse, which cannot be encapsulated within a list of roles. As a CMO, I am at the very core of the decision making process at the very endgame of executions and operations. I feel that the responsibility is far more intense than just identifying roles and designations at face value. Hence I do my best to make myself available for Ability Games and our team in whichever way my knowledge and
dedication is effective in improving and adding value to our mutual and individual objectives and ambitions in a way taking up a challenging task & try to solve it with innovation.
I constantly discuss with my teams as to what they have learnt or what we can decode from the daily processes of Ability Games in its entirety
What led you to Ability Games? What are your strengths that helped you defy the modern challenges you encounter here?
After a few years in my first corporate job out of college, I saw a fork in the road ahead. Though my degree and experience shined on the resume, I wanted to test the water under very different conditions and swim solo in uncharted waters. Today, since I am at the helm of a large ship myself I consider it another great stage of learning and personal progress. I have a whole team of professionals depending on my skills and abilities.
The status quo is always limiting to objectives like brand building and market expansion. Hence I'll follow my instincts and dedicate the whole of myself towards finding the 'Next Phase' instead of the 'Later'. In the whole phase, my strength, including my ability to remain calm and cheerful under the direct urgencies, my innate habit of reading and learning more about my profession and my infallible motivation to improve upon the status quo is what has kept me sailing. Yet, I hope to see more challenges, which I can overcome and keep expanding my horizons.
How challenging is your role at Ability Games?
Being recognized as a CMO of one of the biggest digital gaming brands in India is indeed a great honor and privilege. Ability Games allows me a great scale and scope of proving myself as a recognizable marketing professional and an able decision maker.
At Ability Games I am responsible of making the company successful but thankfully also been given the freedom to choose most of the definition of that 'Success'. As of now we have three products 11wickets.com, pokerlion.com and sports.info, while rummy24 is scheduled to launch later this year. We have recently bought major stakes of Yudiz Solutions, an Ahmedabad based technology company. We will soon be entering
more popular territory of Card Games in the immediate future.

Being on top of the game requires constant learning and upgrade. How do you go about this?
Rightly said. Hence I constantly keep myself updated from several sources including books, blogs and articles by subject matter experts, entrepreneurs and professors. I am in constant touch with various subject matter experts from across the spectrum of modern professional pursuits and industrial niches.

I always encourage people to do deep learning. Further, I constantly discuss with my immediate team as to what they have learnt or what we can decode from the daily processes of Ability Games in its entirety. I am also being invited as guest speakers in several platforms and institutions including IIMs where I help the younger guns make better decisions and career choices.

You even burn the mid-night oil to take Ability Games to newer heights. How do you manage your work life?
I have to say that my wife, Merry is my strongest pillar, as she bears with me looming over the screen for long hours into the night, and at odd hours of the day. She has given me immense freedom to immerse myself in work as I feel necessary and provide me the inspiration to persevere.

However, my company is very flexible when it comes to anything important with my family. With such great professional support that my company and teams provide; stress is but a stimulant to improve my performance as a CMO and a marketer. My time is always a bit on the shorter end, and I wish that a day was of 48 hours instead of 24.

Key Management:
Suman Paul, CMO, Ability Games
A learner at heart, Suman is crafting some of the best marketing strategies to take Ability Games to the next level in the digital gaming industry.

Favourites:
Hobbies: Holding great affection for cars and driving, he likes to go on long drives with his wife. Reading and surfing internet are two other hobbies that Suman pursues.

Food: A complete foodie, he like anything and everything that is cooked with love and care, while always seeking to explore new tastes and cuisines that come his way.

Travel Destination: Switzerland