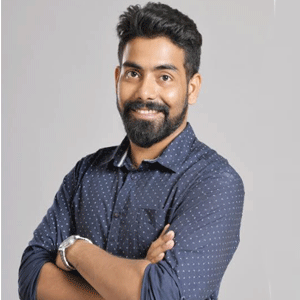 Under the aegis of Abhirup, this Kolkata-based company has emerged as an online retail shop with top-notch products in grocery, vegetables, fruits, fish, meat and many other categories. Delybazar would never have achieved its dreams without the seamless help and support of Kalyan Guha (Business Head, Delybazar) and Rana Safui (Strategic Advisor, Delybazar) who were its significant investors & advisors during the initial days.
In an exclusive interaction with CEO Insights, Abhirup elucidates a spectrum of details about his stint towards entrepreneurship, his diverse skills & experiences, and much more. Here are the excerpts!
Tell us about the interesting incident when you were suspended by your school teacher for selling pickles. Did this incident act as the axis that turned you a successful entrepreneur?
Yes, indeed. Despite hailing from a family with no business background, I always had ample ideas of setting-up small but different businesses along with the knack to build revenue models for every business I encountered. It was at the age of 12. I used to get pickles from the stores near my home and sell at my school on a daily basis. This is when I got
suspended for seven days, as my teacher thought it was unethical to earn money at that age. People usually fear when they do something different instead of sticking to the routine, but surprisingly, this gave me immense inspiration to continue my pursuit. Even in my 11th standard, I sold study materials and other stuff to students

"When you work on your dream project, you eliminate the very thin line between your professional & personal life and enjoy every moment,be energetic and full of ideas"

Later in the third year of my graduation at Jadavpur University, I felt that I had to do something different and not just end-up in a job post the graduation, like others did. I wanted to quit my studies, but my parents weren't even a bit supportive. But later, I learnt the importance of passing-out from college before foraying into any business.

Tell us about the inception story of Delybazar.
It all started in 2014 when I was doing different businesses, while my partners Abhinava was pursuing his MBA, Kumaresh was working as a Software Engineer in an IT firm, and Subhas is was an Assistant Engineer at AGS Transact Technologies. We all sat together in 2015, discussed regarding the huge demand in the market and decided to implement our idea. Hence, we started passionately working for Delybazar, purchased the domain, developed it, spoke to vendors daily and did a lot more. Gradually, we built a unique business model that involved non-inventory based warehousing, wherein we procured products on a daily basis only after receiving orders. We took orders up to 9PM daily and delivered them the next morning fresh and flavorful with trusted quality, price and a TAT of 2-3 hours between procurement and delivery.

Share with us the lessons you have learnt across your entrepreneurial journey so far.
Leapfrogging the initial days of business with mere passion, I learnt to manage people, communicate with them, guide & motivate them and above all to always respond but not react! I learnt to control the situation and not get controlled by the situation by keeping calm, thinking deeply and focusing on instant solution /decision. A leader has to rather take the blame on him and give credit to employees sothat theycan stay motivated, disciplined and give their best. It is also important for him to make the employees understand the work he
is doing, as this can foster them to work even better.

I was so passionate and confident about my products that I approached potential investors only from my industry, who understood the industry future just like us. Moving ahead with patience, I always accepted rejection with a smile and moved-on to the next investor.

How has been your family's support throughout your journey?
Being the first-generation entrepreneur from my family, it was evident to receive rejections from my parents. I wasn't even earning any money. But they eventually understood my fervour and even became the patrons of Delybazar. When you work on your dream project, you eliminate the very thin line between your professional & personal life, rather enjoy every moment, be energetic and full of ideas. I never counted on the results as an entrepreneur while I spent quality time with my family – dad, mom and sister.

A successful entrepreneur is always prepared for what may come. How do you prepare yourself to face the future challenges?
Regularly reading startup magazines & newspapers, and attending seminars & conferences helps me brush my shoulder with the current industry trends. I travel a lot and interact with several people, which helps me understand the startup ecosystems of different regions. Moreover, I attend entrepreneurship programs at MBA colleges and give speeches to the students while connecting with the E-Cells of many colleges.

What are your thoughts on the new-age entrepreneurs?
Most people treat startups as a glamorous sector and believe that they will become affluent with name and fame in no time. Instead, people must learn about the real struggles in entrepreneurship right from developing business models, creating websites to distributing leaflets of your firm; all with zero earnings. It is not just about the success story, but the journey of working long hours, bearing lot of pressure and taunt from family & friends, and still being motivated with trust in one's self. I would advise the budding entrepreneurs to go for a startup only when they have the idea and ardour for it and not because someone else did it.

Key Management:
Abhirup Basak, Co-Founder & CEO
Abhirup is a passionate entrepreneur with profound skills in Management, Customer Service, Sales, Strategic Planning & Marketing Strategy areas.