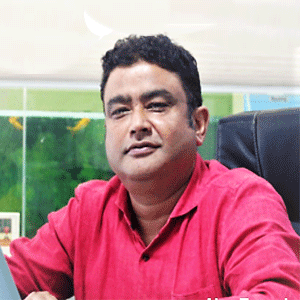 Leaving behind an illustrious and secure career, Ajay commenced the operations of smartData Enterprises – a cutting-edge IT business consultant company in 1999. Initially due to the lack of experience and a technical background in the technology domain, everything boiled down to choosing the right people to build the organization. Thanks to his past experience, the people management expert in Ajay made the right choice and ignited the engine with a hand-picked team comprising of six members. After two decades and several revolutions, transforming the technology realm, Ajay today impacts the lives of thousands of people, as smartData's 1000+ people strong workforce spreads across India, Australia and the U.S. Ajay has been exemplary in manoeuvring the hand-picked set of resources withstanding the arduous test of time. smartData leading the custom IT business the world over is a vociferous testament to it. CEO Insights presents this success story through an exclusive conversation with Ajay.
Success never comes to us as easy as it sounds. What strategy did you adopt to tackle the initial challenges?
The equation back then was quite simple with only two predominant questions – how do we get more business and how do we get more people to work for a start-up? We decided to support the start-up ecosystem in the US and adapt according to their needs. The strategy was simple. For instance, even if seven out of our 10 customers don't make it, we could grow with the rest three. And it worked very well.

"After two decades and several revolutions, transforming the technology realm, Ajay today impacts the lives of thousands of people"

At the business end, every client wanted to be at the cutting-edge of technology, and thus we ensured that we use the best & latest of technologies with proficiency in deployment. We were one of the first companies in India to use world-class technologies in that epoch. This, in turn, helped us solve the second challenge – attracting talent. After all, who would turn down a lucrative offer such as to explore the leading edge of technologies!

How do youensure customer satisfaction, especially considering the dynamic technology landscape?
I always believe that we have two customers: clients and employees. By virtue of leading the business development team, I ensure that our clients – our bread & butter – always remains delighted. Thanks to our expertise in Microsoft open source platform, mobile platforms, and travelling abreast of the futuristic technologies. On the other hand we believe that our employees, who join us trusting our promises, are also our customers. We ensure we deliver those promises at all cost. The technology exposure continues to attract both customers and employees. Additionally, our people get exposure to project management experience at a very young age and it doesn't take them years to climb up the corporate ladder. I enjoy teaching and training our young folks. In fact, that's also one of our success mantras. I learn a lot from those experiences too. Despite the lack of a tech-background, I am an extremely tech-savvy person and I read and research a lot. This has also been inspirational to many team members and has egged them to excel in their profiles.
Pitching to VCs is often a puzzling experience for most of the start-ups, as itgives hope and nightmare simultaneously. How was your experience?
We had an Angel Funding from the US-based Angel investors, which was followed by another round with investments from Punjab Venture Capital. Just like how VCs make sure that the money is in the right hands, youhave to ensure that you have approached the right VC. This is since investments are not just about the financial influx but also about the right advice and the value they bring into the company.

The support in personal life is as important as the support in professional life. How well your family supports your endeavours?
I can sum it up in one sentence. For whatever I have been able to achieve over the years, I completely owe it to the unconditional support from my family which has been a constant and a given now.

You are a founding member and former president of The Indus Entrepreneurs' (TiE) Chandigarh chapter. How do you give back the two decades of experience to the budding entrepreneurs and what advice would you give them?
Obviously, at this point in my career, I believe that's the right thing to do. I could create one of the TiE's chapters for Chandigarh as a founding member and it today comprises around 250 local entrepreneurs. Today, at any given point in time, I am actively involved in mentoring two-three company heads. It also keeps me on my toes, while engaging with these young entrepreneurs raring to go with wonderful ideas. I would always tell them (budding entrepreneurs) to be original, listen to their inner voice, and have conviction in whatever they do.

Key Management:
Ajay Tewari, Founder & CEO
An alumnus of TS Rajendra, Ajay did his post-graduation from the Maritime and Coastguard Agency, UK. Today, with 11 years of marine experience and two decades of entrepreneurial life, he is an exceptional leader by all means.

Office:
Mohali (Headquarter), Nagpur, Dehradun, Australia, & U.S.

Offerings:
●Healthcare IT
●Technology Platforms
●MOD(Marketing,Optimization & Designing)