Ashish Kapoor: The Doyen of Telecom Industry with Rich Leadership Skills & Lon - Standing Experience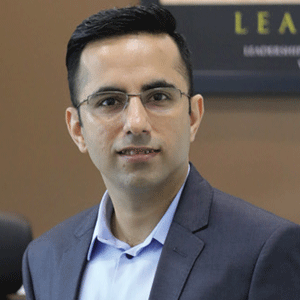 While assisting clients as their most trusted partner, the firm simultaneously sails ahead of the competition with its service portfolio entailing Network Planning, Network Optimization, Installation & Commissioning, Managed Services, and many others. A subsidiary of Quess Corp Limited –India's leading Business Services Provider,Vedang stands tall among the top four players in the field of Telecom Network Planning & Optimization.
Vedang is the brainchild of AshishKapoor (Director & CEO) who was previously involved with eminent firms such as BPL Mobile, BhartiAirtel and Nokia Networks. The following excerpts of an exclusive interaction of Ashish with CEO Insights present his rich industry experiences, business acumen, leadership skills and many other aspects, and how he is driving the company from the front.
Briefly narrate us the growth story of Vedang since the time of its birth.
It has been an exciting journey for me so far at Vedang right from the time of being its only resource,
recruiting the first trainee in 2008 to
acquiring over 1800 resources as well as the partner community. In the initial days, it was more of a hands-on approach offering technical trainings, business development, planning the execution phase and many others. We encountered many challenges initially with regards to gaining acceptance from the customers while we gradually started competing with well-established players in the market, the ever-growing demand, customer requirements and also the margin pressure. Presently, Vedang has evolved into a strong organization over seen by myself and many well-versed and highly capable leaders. My current role at Vedang is to emphasize on diversification plans and enhancement of new technologies.

"With a strong focus on strategy and development of senior leadership team, I have empowered all the heads of different departments at Vedang to think and act akin to CEOs"

Known for your long-standing experience in the telecom industry, how are you helping Vedang surpass its competitors in the market?
It is indeed my passion and aspiration that has helped Vedang to transpire as one of the pioneers in the telecom market with superior technical knowledge, skills and a motivated workforce focusing strongly on customers. I am an MBA graduate with over 20 years of experience in the Telecom space where in during the first 10 years, I was solely on the customer side of various businesses. During this period, I was endowed with a fairly good outlook on the management of diverse customer networks as well as their expectations with respect to quality. In fact, we at Vedang always endeavour to position ourselves in the customer's shoes and accordingly chalk-out the business models. Moreover, I intend to keep leadership very simple.With a strong focus on strategy and development of senior leadership team, I have empowered all the heads of different departments at Vedang to think and act akin to CEOs.

'There is nothing more beautiful than someone who goes out of their way to make life beautiful for others'. How has your family been an integral part of your this exciting entrepreneurial journey so far?
Beyond words! My family, parents
and siblings, has always backed me to look at life differently. My wife has really been amazing right from giving financial support while setting-up Vedang to being the 'Guru' one always needs. It is with her that I discuss key concerns pertaining to business almost on a daily basis wherein she stays extremely positive and calm during each approach which eases out my anxiety and stress levels

Running a firm born out of my sheer fervour& dreams, I have always enjoyed coming to work every day in the morning. I am indeed so fortunate to feel the same way when I go back home to spend quality time with my wife and son. Better planning across all of my business endeavours helps me in making time for my family even amidst the spurts of high activity days at work. In fact, spending time with my family is my best stress reliever I can think of at the moment. In the coming years, I look forward to indulge in a couple of recreational and stress busting activities.

Could you throw some light on your pursuit of raising funds for Vedang?
While working with our investment bankers, we presented our Information Memorandum (IM) to multiple financial investors for raising funds. Despite a few failed attempts, it was our destiny and luck to have been introduced to Quess' team of strategic investors from the services field. Their support was immense and it's certainly a delight to be backed up by such visionary investors. By and large, it is an enriching experience to get so much support and guidance from Quess!

What do you do to keep yourself informed about the emerging market trends?
It is indeed crucial for any entrepreneur to hone his/her skillset on par with the trends in the current age of digital and social media. I constantly update my knowledge by surfing numerous white papers, articles and communication forums to stay off the pace among my peers in the industry. We at Vedang will soon be participating in conferences, seminars and other public events to gain as well as share industry insights.

Key Management:
AshishKapoor, Director & CEO
Ashish currently epitomizes a veteran with unique leadership acumen across the Telecom sector for over 20 years.