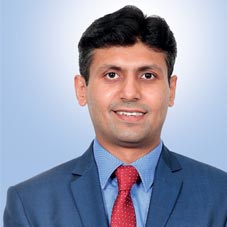 Knowledge comes from experience. And when the experience encompasses more than one and a half decade of high-performance, quality delivery is guaranteed. Especially, in the world of accounting and taxation where there is no room to err, service providers are always looking out for the best available solutions for their clients.
AccuWiz Consulting LLP or "AccuWiz" as it is famously called, is one such Firm which not only endeavours to live up to the expectations of the clients, but is also technology driven to address the evolution of the modern world. CEO Insights engages in a conversation with Sumit Mahajan, Founding Partner, AccuWiz Consulting LLP, to know more about the Firm and what makes it stand out in the market.
What Are The USPs Of The Firm That You Want The Readers To Know About
AccuWiz, as a consulting firm, was incorporated on 1January 2020. It was born on the first day of a year, which everyone on the planet would talk about until eternity- the famous year "2020". We recently completed a year of our existence and it has been quite a ride. AccuWiz is a full service firm for accounting, taxation and advisory services, but it's not just "another firm".
What differentiates us from the peer group is that we work mostly with the owner-managed businesses. We believe that we are able to add value to the promoters and owners of the organizations by helping them ensure robust compliances and growth navigation.
In this day and age where we find owners grappling with numerous compliances that their businesses have to conform to as they grow, we help them stay ahead of time and make them future-ready to comply with regulatory requirements well within the prescribed timelines in a robust manner.
Not just robust compliances, we offer advise by assisting them with strategic decision making process in a more structured manner such that whilst the owners may wish to go ahead with their "gut-feel" or
"hunch" for any business decision, we compliment them with providing pros-and-cons of various scenarios for them to make an informed decision which is actionable and scalable.
How Did Accuwiz Come Into Being
Coming from a very-modest upbringing, I guess I always had an entrepreneurial DNA, which perhaps, helped me connect well with the promoters/owners of the organizations during my entire consulting career. Having spent about 15 years with large firms, I thought of taking the leap of faith by forming an organization which could offer swift solutions, and deliver quality work to the clients at a compellingly priced cost.
Accuwiz is a full service firm for accounting, taxation and advisory services, but it's not just "another firm". What differentiates us from the peer group is that we work mostly with the ownermanaged businesses
On our people front, I wanted to offer opportunities to deserving candidates who had aspirations of working with a "large" consulting firm but somehow couldn't make it to such firms. The vision was to develop a large Indian Firm which is able to create value for all stakeholders- our clients, our people, and that could only be achieved when we run AccuWiz with utmost professionalism from the first day of its existence. To achieve this, we developed everything from scratch.
It was a tough decision for me at that point of my career when I was already well-settled in a leadership position with a large consulting firm and everyone told me I should think twice before taking such a risk. Some of my ex-colleagues were kind enough to put faith on me, who came together with an absolute sense of trust. My team is the strength behind us being able to manage large clients we are working with. It's not something that I am doing alone, but it's all because of our people at AccuWiz who are empowered to deliver on these clients.
How Did You Sustain The Pandemic Aftershock
Right from day 1, the idea was to create value out of our platform which will be different from "any another consulting firm" in the market. We always wanted to be tech-driven which is why when the
pandemic hit and suddenly everyone and everything went online, it didn't affect us much because of our tech enabled culture at the workplace- so this enabled seamless delivery at our clients.

Whilst one would have imagined that 2020 won't have been the best of the year to start anything new, at AccuWiz, we actually experienced "tailwinds", as we sensed opportunity for us when clients were looking for alternatives to existing service providers. Suddenly there was pressure to reduce costs in the organizations and at the same time maintain a level of quality on service delivery.

AccuWiz was best placed to serve during pandemic-hit period, as we offered unique value-proposition for clients. Clients who engaged relatively smaller sized consulting firms in the past, realized that their service providers were not calibrated to meet the expectations of an "online" world, whereas, clients who engaged relatively larger consulting firms were looking out for more options for service providers who could offer similar level of service, if not better, than the large firms at a lower fee. AccuWiz fit the bill in both the scenarios!

During the tenure of lockdown which lasted on-and-off for up to 6 months, client deliveries were very much on-going. As a result, not only did we manage to pay salaries to staff on time without any salary cuts, or retentions, we ended up paying them bonuses.

How Is Technology Changing The Market Dynamics For You
As I mentioned earlier, right from day 1, the IT infrastructure was put in place for everyone at AccuWiz. Hardware and software needs of all staff is an utmost priority and something which is non-negotiable for us. Not only do we get excited about new tools which help automate our processes, we recommend our clients ways and means to utilize such tools available in the market to reduce redundancy and utilize the skills of people where those are needed the most- in application of intellect.

Talking about tools, some people get surprised when they get to know that we have already automated our payroll and employee self-service portal is up and running for our staff. We like to invest in technologies which help automate and could assist in our people being able to make more time "thinking" rather than utilizing such time for manual and redundant activities. We wish to capitalize on the growth we have witnessed thus far, and become a large "Indian" multi-disciplinary and multi-location firm in times to come!