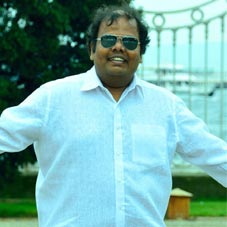 Mouktik is a pioneering business organization that strives to be a change bringer in the global consulting world and owing to the quality and effectiveness of their services, the company has been able to carve out a niche in the segment. The business operations of Mouktik are spearheaded by industry stalwart Vamsi who has been able to formulate unique business strategies to take the company to greater heights.
In an exclusive interview with CEO INSIGHTS, Vamsi talks more about Mouktik and how he has been able to guide the company towards sustained success in the industry.
1. Can you tell us about the inception story of Mouktik?
From December 2010 to September 2016, I was working as a consultant at Volvo Group Trucks Technology headquarters in Gothenburg, Sweden on behalf of my parent Sigma Technology Development AB, Sweden.
In September 2016, I decided to move back to India, however I continued to work as a freelancer for Sigma Technology Project for an inhouse Volvo Aftermarket Technology. In September 2017, I was requested by the then Volvo AMT Global Support Manager and Sigma Technology CEO to open a new global site for Volvo AMT. This is where Mouktik Consulting Services was born. Incorporated in November 2017 and started operations from January 1st, 2018. We started with just 2 employees and now we handle around 100 employees through our payrolls. It has been an immensely satisfying journey.
We are a consulting firm and work in Technical Consulting, Research & Development, Educational Consulting, Project Management Consulting, and Business Consulting to name a few. Mouktik in Sanskrit means pearl. True to our name, our vision in MOUKTIK is to create success and growth through pureness in what we do and deliver the beauty in who we are. We believe that wisdom is our guide, adaptability and perseverance our design, our teams are our string of pearls. I value human connections more than just earning a profit. So, we create deep connections with our clients and we value that relationship. We value transparency in our operations and that helps us to gain the trust of our clients.
2. In your professional journey, what are the various challenges that you faced in the industry?
In India, there is a hierarchical structure where people think that your subordinate should be quite scared of their superior. I don't think like that and that is like bonded labor for me. I strongly believe in an open-door policy and I feel like I am no bigger than the last person in the food chain. This open, transparent approach is what I believe brings in responsibility and ownership to everyone in the organization.
Also, in India, we try to mask the problems and that in the end becomes a bigger problem. I am totally against that and I believe that if you see any problems you have to try and solve that first. Even when I see any issues, I would rather look into it and try and understand the problem rather than start blaming people around me.
We also strongly support Corporate Social Responsibility Initiatives and have taken part in a host of CSR projects in the Educational Sector
3. How are you able to derive unique business strategies for Mouktik and how has this helped the company to stay unique in the industry?
Transparency and Responsibility. We are honest and open with our clients and we don't sugar coat things if there is something wrong. Clients value this honesty and it also helps us to offer better services for them. We always keep our clients in loop and let them know these are all the problems and we are solving the issues in this manner. I believe that if the clients are doing well, that means we are also successful. Risk analysis and mitigation play a major role in success stories that is when a project manager or a business leader should come up with solutions and take the company forward and I think that is our forte.
Even in challenging scenarios, we are able to find solutions and help the clients and organization to move forward. The most important part of all this is when facing challenges, working as a team is what matters most to find fast, efficient and lasting solutions.
I also allow all our employees to come directly to me if they have any issues and I am accessible for everybody in the organization. Also, my experience of working in Europe for more than a decade has helped me to get into the mentality where you don't always feel like all the issues caused in the organization is because of the employees and you just have to find the root cause of the issue and address that.
Having happy and confident employees is my top priority since this is what I believe brings success
and growth for clients & customers, employees and organization as well.

4. How are you incorporating the latest technologies to evolve with the market dynamics?
I agree to the point that technology has a major part to play in the corporate realm. However, I believe that you can never replace humans with technology. With that said, I also incorporate the latest technologies in the organization to optimize our performance, but I would give more importance to the person who is taking care of the technology rather than just bringing in the latest technologies into the organization.

5. Can you tell us about the evolution of Mouktik and the future plans of the company?
We started with just two people and within a short span of time, we were able to grow a lot and get more business consistently. Now, we have got our teams spread across Hyderabad, Guntur and Vijayawada. We are currently working heavily on our expansion plans in India and overseas.

With associations ranging from Top European & Global companies to local Indian giants and PSU's, our portfolio is expanding rapidly, and we keep pushing ourselves to the next level of success. We have also collaborated with our principal partner SRIT and in partnership with them, we are completely handling the IT infrastructure and facility management for one of the honorable state governments in India.

We also strongly support Corporate Social Responsibility Initiatives and have taken part in a host of CSR projects in the Educational Sector. We work with budding graduates especially with students from reserved and special category groups and help them to start their careers in the industry.

We also have our own Research and Development wing and have gained immense expertise in proof of concept's and converting ideas to working prototypes. As of now, we have developed more than 12 prototypes in various latest technologies including Smart Devices and IOT domains. The next step for us is to get into the manufacturing domain and come up with new products in the industry.

Vamsi Krishna Seshabhattaru, Founder & CEO, Mouktik
I have 16+ years of experience in Avionics, Defence, Automotive in companies like DRDO(Indian Defence Research, Government of India), KPIT Cummins, Sigma Technology Development AB, Sweden. My expertise includes Software Development, Embedded & Real Time systems design and development, Model-based development, Automotive Technical Support, System Design and Diagnostics. I also have extensive experience working as Project Engineer, Team Lead, Project Manager, Global Delivery Manager and CEO.