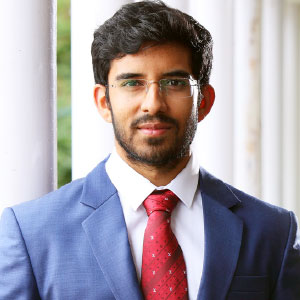 Experts agree that theintellectual contribution a business school makes in terms of high quality research & publications at top tier journals is one of the major differentiators that places a management institute at the higher end of the spectrum. In the pre Big Data era, the research skills were not taken very seriously since the research findings often didn't seem to be very relevant to the industry's needs in the real world. But today's CXOs seek to recruit leaders who can leverage research & analysis to make informed decisions and build strategic plans based on evidence. Acharya Bangalore Business School emerged into one of the most sought-after business schools in South India by nurturing such leaders of tomorrow with its clear understanding of the big positive impact their intellectual contributions create.
Established in 2008, ABBS has already achieved two cycles of NAAC('A' grade, CGPA 3.23/4.0), IACBE, U.S. Accreditation, UGC 2f and 12B recognition for maintaining top notch quality and been distinctly maintaining a ranking within the top eight in Karnataka and top 50 in India. The institution is renowned for the quality of its faculty, which is comprised of the perfect blend of experienced people and youngsters, which makes the idea sharing process easier. Culled from 14 different Indian states, over 50 percent of its faculty hold PhDs, many come from prestigious institutions like IIM, IIT & Oxford, and some possess rich industry experience as vast as 30+ years. Being one of the few B-schools having IACBE accreditation, ABBS connects with numerous global schools and brings-forth outcome-based education to its students as well. ABBS also offers consultation services for government bodies & corporates. The repeat orders it receives speaks volumes about its proficiency.
The Leaders of Tomorrow
The school has devised numerous distinct programs to chisel its students, which not only help them to attract the recruiters, but also to embark on an entrepreneurial journey. For instance, ABBS's unique student research incubation program kindles the students' love for research in their very first year, so that they can publish the papers in reputed journals at the end of the second year. Building its students' research capabilities from ground-up, it facilitates them to understand the essence of research and identify a topic that matches to their competency. "The first-year students get into clusters, brainstorm and interact on a weekly basis with an inhouse research associate as well as a faculty who guides to bring-forth a quality research paper," explains Ajitesh Basani, Executive Director, Acharya Bangalore Business School.
Commenced just last year, this program has already helped 15 students to publish at UGC level journals, which has done wonders with the students' placement. Yet another distinct concept that no other B-school has tried is Armageddon, a two week long reality show that tests the students' analytical & managerial skills. "The students are given relevant business tasks that places them in tough situations and puts them under pressure. They often break-down and don't sleep well, but at the end learn a lot of life lessons on how to co operate and manage people," explains Ajitesh.
Under its Entrepreneurship Development Cell umbrella, ABBS helps students having viable business models to take it to the next level by connecting with the investors or even partners with them to help run the startup. The school inspires its students to plunge into entrepreneurship by frequently inviting first generation entrepreneurs (startups as well as well established companies) from different parts of the country to deliver guest lecture, where they share their ideas and mistakes. ABBS also organizes a dedicated management fest every year, where many colleges are invited
participate and corporates judge their attitude, business models and entrepreneurship abilities.
Nurturing Motivated Go-Getters
ABBS is one of the first business institutions to partner with Toastmasters International – a partnership that has been growing strongly since 2008. Students enrolling in the program are seen to be placed early on an average, as it hones the students' public speaking skills and helps them attend interviews without panicking & talk to people confidently. The institute has been nurturing a bunch of self motivated go getters who curated, organized and managed a TEDx event from scratch right from identifying unique speakers in January 2019. It is extra curricular activities like this that chisels their leadership skills, managerial skills and team work abilities. Its Annual 5k Run brings together its students from various states & countries in a single platform, raises awareness (towards causes like health, environment or world peace) and builds a community as they join hands for a common cause and have fun.
Being one of the few B-schools having IACBE accreditation, ABBS connects with numerous global schools and brings forth outcome-based education to its students as well
ABBS mandates the students to complete online courses in certain management programs to improve their self learning skills. It is one of the few Indian business institutions to have partnered with Bombay Stock Exchange as an exam centre as well as certification partner, for whom they come and deliver certifications on certain financial modules.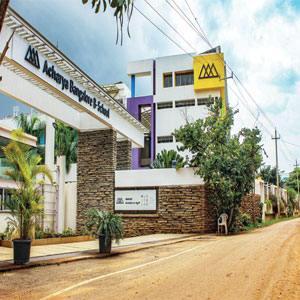 ABBS is the official centre for Mahatma Gandhi International Centre for Conflict Prevention & Management, a centre focused towards understanding the world's necessities in areas of ethics, peace economics, peace science & sustainable development and devising realistic solutions for the same.
Smart & Sustainable Environment
ABBS reserves a hefty budget for research to drive certain research programs, organize large scale data collection and send faculty countrywide to hone their areas of expertise & share the same. Research occupying one fourth of the whole chunk of its data, the faculty involvement in R&D is quite high at ABBS. The institute even has a heavily incentivized research policy to motivate faculty to publish more papers in reputed journals. "It's not just done for merely publishing in top tier academic journals; there is a social angle as well. We expect students & faculty to produce research that helps to uplift the rural areas and certain segments in society. The focus is on impact," clarifies Ajitesh.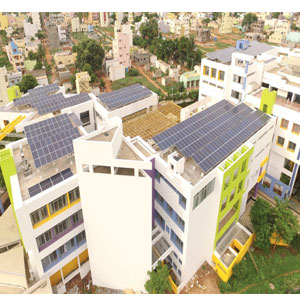 Besides giving scholarships for local students, the institute has also donated 3/4th acre of land to the Andrahalli village road, adopted the Andrahalli Government School, and planted over 300 trees across the Andrahalli main road. A strong proponent of environment sustainability, ABBS has implemented 200Kw solar panels on the institution rooftop that generates an excess of about 60 percent energy, waste treatment plants, drip irrigation system and a water recycling plant.
Purposefully designed with a lot of aesthetics, ABBS planted over 200 different varieties of plants & trees
during the construction to make it a lush green campus. ABBS's smart classrooms with touch screen boards & AV facilities enable two-way interaction in realtime, which enhances engagement and encourages immediate feedbacks. Its business lab & investment lab with required software for investment & risk management helps the students to build their portfolio with cases on simulation. Simulation models are the part & parcel of its programs, especially in MBA and PGDM. ABBS's simulation tools for inventory and fund management help students to understand how the market actually works. Its B.Sc program has five different labs that have been used for several research projects. The infrastructure also contains setups for video conferencing and language labs for engaging students on key placement skill sets to ace the interviews.

"We expect students & faculty to produce research that helps to uplift the rural areas and certain segments in society. The focus is on impact"

Preparing for a Better Future
With the mounting popularity of e-Commerce organizations and food delivery service companies, the expertise in the supply chain, logistics & warehouse management areas become crucial. As the country is driven by movement & hyper-localization, ABBS is creating an ever-growing ecosystem, which encompasses everything under the supply chain roof–from courses, research, faculty & management development programs to conferences. The institute recently established a CoE in supply chain management in collaboration with CRIMM (Centre for Research in Materials Management), where the research is measurable and more focused on its area of expertise.

As research has become stagnant in India, joint collaborative research is the need of the hour. Understanding this, the institute recently had talks with Western Sydney University on establishing research collaboration on certain areas of cyber security and data analytics. Striving to emerge into a CoE for business design, the institute also has a long-term plan of becoming an EQUIS (a European standard) accredited B School. Attained NBA accreditation for MBA Department in 2014-2016, the institute has reapplied for its second cycle.

ABBS has charted-out a clear cut ten year roadmap, which involves metamorphosing into a university by bringing-in new interdisciplinary studies like Business Analytics that would impact the job of tomorrow. For instance, it plans to marry management with liberal arts, which will not only chisel one's management expertise, but also the creative side of people in business - a much needed program that many institutions haven't thought of. The institute aims to become autonomous, which will give it plenty of leeway to develop its own curriculum and experiment with teaching & learning. ABBS endeavours to be even more inclusive and bring-in people from far flung corners of the world.

Key Management:
Ajitesh Basani, Executive Director
Please add a short bio in around 40 words
Ajitesh drives the strategic front of ABBS. He also runs the digital engine of ABBS, spearheading myriad initiatives across platforms. Alongside the digital portfolio, Ajitesh also catalyses collaborations with foreign universities. He has orchestrated several long standing student and faculty exchanges, as well as international conferences and research alliances. He envisions an India where education is relevant, accessible and experiential to all.

Courses:The group has created established programs like BBA, BCA, B.Com, B.Sc.in Biotechnology, MBA, M.Com and autonomous PGDM program (approved by AICTE) with the vision to diversify and create a niche in certain programs. For instance, its programs like BBA in Aviation Management and B.Com in Logistics & Supply Chain, are not popular today, but will fetch the job in future.

Rankings:
•13th best B-School in South Zone, Times B-School Survey 2019
•10th best B-school in India, Business Today 2016
•AAA Rated B-School, Career 360, 2016
•16th Best B-School, CSR GHRDC B-School survey 2015
•9th Best B-School in Karnataka, CSR GHRDC B-School Survey 2015