Chitkara University: A Network of Students, Researchers & Staff Innovating Beyond the Frontiers of Knowledge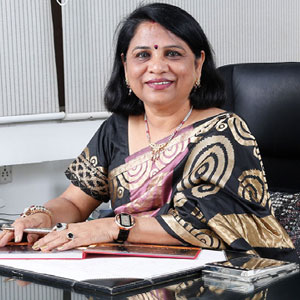 Today, research stands at the core of career interests for many aspirant students and teaching professionals to satiate their dreams of creating life changing innovations. Thanks to the influx in the contemporary research courses across EdTech, HealthTech, AgriTech, Next Generation Materials, Life Sciences, and many other streams, their research & innovation dreams are becoming a beautiful reality. Anchored across this vast space with a strong aim to build an unparalleled research & innovation culture is Chitkara University's CURIN Chitkara University Research & Innovation Network.
CURIN undertakes path breaking, product oriented and impactful researches to create a deeprooted impact in the society through multiple discoveries and innovations. Students, researchers and faculty at Chitkara University are bestowed with a bulk of innovation & research opportunities such as flagship programs, patents & copyrights, consultancy projects, conferences, workshops, seminars, extension lectures, and many others. No wonder, nearly 200 patents have been filed by the university so far across the research space!
Dr. Madhu Chitkara, Vice-Chancellor, Chitkara University is an eminent academician and an innovative entrepreneur holding variegated experiences of more than four decades in the field of education. She has elucidated about the excellence of CURIN in the field of research & innovation in an exclusive conversation with CEO Insights. Below are the snippets!
Walk us through the magnificence of CURIN.
Research is what we greatly impart at CURIN right from day-1. Our researchers, staff and students sail beyond the frontiers of knowledge by exploring the newfangled technologies and also by harnessing the might of our Centres of Excellences(CoEs). These CoEs include Life Sciences Lab, AR/VR
Lab, AI Lab, Nano Materials Research Lab, High Frequency & High Energy Research Lab, Asia's Largest Plumbing Lab, HVAC Lab, and many others. All the patent related activities are undertaken by The Office of Patent Facilitation, wherein each patent is ensured to be filed with a highly respected panel of patent attorneys. We also have a dedicated Publication Office at CURIN that organizes multiple training programs on ethical research practices along with flagship conferences. Further, our Technology Commercial wing enables the commercial viability of technologies in the industry.

Explain about the various research programs along with the additional support thatyou offer to the participants of CURIN.
We have a spectrum of elective and compulsory courses that bolster and promote research & innovation across our 85 programs. Among these programs, our Master of Engineering program lets students to simultaneously undergo training in teaching and research. We also patronize several PhD programs in domains such as Pharmaceutical Sciences, Healthcare, Business Management, Education, Engineering & Technology and Applied Sciences.

All our students enrolled in UG are presented with up-to-date equipment, industrial-based projects, leading industry practitioners, and academic staff with expertise in internationally recognized scientific researches across a wide basket of domains. With a unique support mechanism in place, we pledge to transform the innovative ideas (be it one's core discipline or unrelated area) of any student or faculty into reality till the point of commercialization. Altogether, we collaborate and blend disparate areas of research in order to deliver useful products, processes, principles, solutions and technologies in areas that are never been heard of. On the other hand, our faculty members are fostered and incentivized to publish in good impact factor & high h-index Scopus and SCI-indexed journals.

What role do innovations play across your research programs?
Innovation is our backbone across all our academic research programs, be it project-based, industry driven or skill-oriented. Besides training our curriculum designers to create innovative learning experiences for our students, we also make sure that the innovations and outcomes are designed in accordance with the industry requirements. For the future, we have charted out plans to upgrade our curricula & methods as
as more learner oriented and seamlessly research on honing our students on the strands of being ethical and responsible, besides developing professional expertise. Also, we are continuously innovating to bring in the right balance between skills, competencies and theoretical & practical aspects of a program. By and large, we are aspiring to experiment on disparate combinations of ingredients in the recipe of a successful educational experience.

Brief us about Chitkara University and its involvement in promoting entrepreneurship.
Tag lined as 'Explore your Potential', Chitkara University is one of a new breed of global universities and a flat organization, eminent for its agile, dynamic, innovative and fast decision making nature. Despite accentuating on the factors of empowerment, accountability and objectivity,the university promotes a lot of flexibility for all the academic units to innovate and create.

Through our Centre of Entrepreneurship Education Development, we are creating a swarm of startup opportunities for our students besides rigorously building an ecosystem for the budding entrepreneurs. Currently, we have 100+ startups that are operational. In a nutshell, sculpting future leaders by promoting research, creativity and entrepreneurship is what we desire to achieve at Chitkara University!

Key Management:
Dr. Madhu Chitkara, Vice-Chancellor
Dr. Madhu is a proficient, focused and strategic leader with rich experience in overseeing numerous academic ventures. She is undoubtedly a true leader who leads by example and always ensures to live by her promises.

Locations:Punjab & Himachal Pradesh

Achievements:
•'Best University in North India 2018' for outstanding contribution to education and skill by CEGR
•Ranked 6th in the North Zone & 20th in All India in the category 'Top Private and Deemed Multidisciplinary Universities' by The Week Hansa Research Survey, 2018
•Ranked 68th among top 100 B-Schools of India and Best in the Region in 2018 by India Today
•'Best Private Engineering University of North India' by Dialogue India Magazine
•Ranked 4th among Top Indian Universities for filing 46 patents as per IPR Annual Report 2015-16