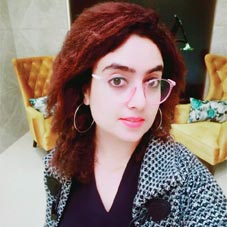 Children intrinsically get inspired by their parents' life, and many of them eventually grow into an updated version of their father or mother, making the entire family proud. But the anecdote of Adv. PayalSoni, an award-winning serial entrepreneur, is slightly different from the accustomed stories of parental legacy inheritance, as the Young Turk inherited the legacy of both her parents - both personally and professionally, and excelled in either of them. She is a registered Bar Council member of Honorable Supreme Court of India as well as Rajasthan High Court (she has a Bar Chamber) and a highly successful entrepreneur - the founder & CEO of Asia Pacific Commercial International (APC International), which is one of the leading Brand Expansion Solution providers, Commercial leasing Company catering across the world. As she grew up in a modest, highly educated family that boasted of significant professional achievements, Payal had to set the highest standards with everything, which is exactly what she did by dreaming big from a young age, being a topper in her academic career, and establishing her own company –Afond HR Services in 2007 with a 70 people strong workforce and operations across the world.
Today, it's quite impressive the way Payal inspires women empowerment in our country. Be it the advocate in action or the entrepreneur, she is a solace for deprived women. No wonder she has been at the receiving end of a plethora of awards and recognition. She has also adopted an NGO, ManavSevaSansthan, located at Vijay Nagar, Rajasthan. CEO Insights is delighted to engage in an exclusive conversation with Payal to know more about her amazing
entrepreneur journey and social life.
It's been well more than a decade since you have commenced your entrepreneurial journey. How would you describe the journey & the feeling?
I couldn't be happier. I started dreaming about entrepreneurship from a young age and I was so much inclined to Human Resources Management, which inspired me to establish Afond HR Services in my hometown, Indore, when I was just 23 years old. I owe my parents big time for the encouragement and freedom they have given me.
In 2008, I moved to Mumbai and inaugurated our Corporate Office with a robust team, while operating the Indore office remotely. As everything went according to the blueprint, I was able to establish four branch offices in four different zones across the country. I have been able to cater to close to 1000 prestigious clients and induct tens of thousands of candidates at different positions. My satisfaction stems from this. When I look back, I feel proud and I can say out loud that there is no limit to flying high in the sky.
I owe my parents big time for the encouragement and freedom they have given me
What propelled you to diversify and start a leasing company in 2017?
The robust professional network that I had built over the years was the strongest inspiration. Moreover, Mumbai is a wetland for such an initiative to grow and thrive. The same is the rationale behind the company (Pan India Commercials LLP) having an exceptional take off, and establishing itself as one of the leading Brand Expansion Solution Providers across the nation. We have successfully leased close to 50 lakh square feet, assisting more 300 brands in expanding their operations. Our clientele comprises brands like Cinepolis, Inox, PVR, Gold Cinema ,NY Cinema ,Lords Group of Hotels, Royal Orchid, Aditya Birla Group, and Reliance Retail to name a few.
How are you planning to take this
success forward? How is the global expansion panning out?
It's been a year since we stepped into the global market by amalgamating PIC with APC International. We are off to a great start and have already become the preferred partner of many leading developers and brands. We are looking forward to encrusting more geographies across the APAC region.
What's your women empowerment vision while progressing in your professional journey?
As a female entrepreneur, I believe it's my responsibility to stand for gender equality & empowering women. I take pride in being able to build a team with female majority in every department and all levels. The balance between having a good family and a successful career can be tough at times, but we strive to support all our staff to reach their full career potential, while maintaining a good work-life balance.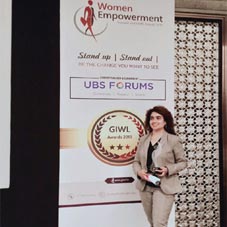 On the other hand, as a lawyer, I always strive to use my knowledge and experience to help deprived women. Going forward, I will make sure that I am persistent in contributing towards a more gender-inclusive world.
Adv. Payal Soni, Founder & CEO, Asia Pacific Commercial International
An award-winning serial entrepreneur, Payal is a University-topper Post Graduate in Law from MDS University. Her passion for social activities not only made her an advocate, but also propelled her to constantly engage with old-age homes and spend time with senior citizens, and eventually adopt an NGO.
Favorites:
Hobbies:
She loves reading, especially Religious, Cultural & Motivational books, whiletravelling is another passion