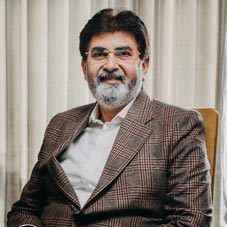 More than 70 years ago, it was in the 1930s and 1940s that the great organic leaders Sir Albert Howard, F.H. King, Rudolf Steiner, and others enforced an idea endeavoring to change the face of agriculture- and led, eventually, to global recognition and a worldwide movement to protect the planet's soil. It is the organic movement. Growing manifolds with burgeoning demands worldwide, organic is not a mere buzzword today. Old is new in the world agriculture today, as new-age agronomists who believe that the use of animal manures (often made into compost), cover crops, crop rotation, and biologically based pest controls resulted in a better farming system, are busy digging into the old haggard method of farming and driving farmers towards this endeavor.
Educated and experienced, Ajay Katyal (CEO & Director, Nature Pearls) has a clear knowledge on the changes indispensable for the faster growth in the organic farming. Tapping onto this opportunity beforehand, not quite focusing on the production efficiency but, nevertheless undermining the sustainability factor that the organic produce bring along, Ajay is significantly working towards improving the soil's health through organic farming. Nature Pearls, a Haryana-based food venture is the result of his strong attempt in this pursuit.
Ajay, a pioneer in organic food sector has an excellent track record of working in Agri-business & Specialty Food sector for the past 26 years. He has always been an independent development professional who successfully established series of Agri-business & Specialty food ventures like organic farming project, Seed production & Contract Farming initiatives & established the market linkage for these ventures with some of the top global food companies. He also holds experience of working in Fairtrade International as certification committee member.
Leveraging his acquired wisdom, Ajay has made remarkable contributions to the growth of Organic Farming, which has now blown up as an utter necessity, ever since COVID-19 hit the food industry worldwide. Today, while he is busy improvising the agriculture practices and turning organic to press the accelerator even deeper, CEO Insights engages in an exclusive interview with Ajay.
Briefing about Nature Pearl, tell us more about your role & responsibilities within the company. What are your long and short-term goals you have devised for the organization?
Entrenched in the year 2014 with the top management possessing more than 26 years of rich experience in Rice Industry, Nature Pearl started with exporting Organic Rice from India, and today with sustainable & farmer oriented approach has become the one of the Top Organic rice exporter in India. Nature Pearls seizes the next level of global growth in multiple organic food products like Ready to eat Gourmet Meals, Flours, Spices, Pulses & other grains and more. Seed is most important element in agriculture system. The organic food venture has also had the privilege to establish organic seed production in its projects, which notably helped, improved the yields of the organic crops too.
I have been responsible for 360-degree business expansion under principles of long-term and sustainable growth. My growth strategy of the company involves adding new products and new value addition in existing range of products. I also take care of the planning and execution of organic farming projects in terms of crops, location, profiling of farmers group, and others.
As for short-term, our goal is to become predominantly customer service & quality oriented company, as we want our customers to have best of the experience in dealing with our company. While the long term goal is to diversify into much more new & value-added product range, expand our sales in to entire world, set up state of the art organic facility and most importantly to launch our own brand of organic food range in India as well as global markets.
What were the initial challenges at Nature Pearls that taught you some crucial lessons of company operations? Also, tell us about your personal achievements at Nature Pearls and the business transformation you led via those achievements?
I have been in international agri-business since 1994. But the turning point came in year 1999 when I came across the concept of organic farming and the potential of its international business. Then, came next milestone in 2014 when I founded my own venture 'Nature Pearls– An Organic Food Venture'.
Entrenched in the year 2014 with the top management possessing more than 26 years of rich experience in rice industry, nature pearl started with exporting organic rice from India
Our major challenges during initial years were to convince large farmers to carry out organic farming. They were very apprehensive & did not want to take risk or get cheated due to the past experiences. After lot of research & reike of various locations, we learned that small & marginal farmers are most suitable for organic farming. They were already doing less intensive chemical farming and had very lower yields expectations. So we found that there is a great potential of growth & development for them.
I have carried out all these activities, personally along with my colleagues in the initial years. We had to travel across states, cities, and more. Due to the above efforts, we could establish India's best organic farming projects in which most of the farmers were so involved as if it is their own project.
How does your vast experience help you to chalk-out efficient business modules at Nature Pearls? What changes did you bring into the organization, its structure and policies that is driving the company to grow fast?
I have travelled worldwide and have met many extra ordinary persons who have given me insight in to innovative management tools, techniques. I had learned about new techniques in organic farm management too.
These experiences quite helped me along the functions at Nature Pearl. Nature Pearl grew from a small start-up into a medium-sized company with just one most important factor - I inculcated the ownership spirit into each & every employee. They have been very much motivated and are confident that their own growth is very much connected with the company's growth. Such approaches have
helped us in bringing efficiency in our company.

Managing a company involves a lot of stress, skill, and time. How do you manage to balance between your personal & professional life?
When I was in the initial years of my career, I loved to work & perform under stress. My motto was, if you want to become successful in life, always look for bigger problems. Somehow, I have been able to shed this habit of working under stress later on in my career. Moreover, I was passionate about my work in organic farming, loved meeting farmers, like-minded people around the world. For me, family has been very important. They have been very supportive all along and thus, there's never been an issue maintaining a balance between work & family. I was able to do it much efficiently.

How do you ensure to update yourself with the latest industry trends and technologies so that you could always steer your organization towards the zenith?
I have been very active socially and in the industry. I read a lot to get myself acquainted with the new trends, innovative techniques, global trends, and others. I am one of the founding members who set up – 'Indian Organic Industry Association'. This association aims at providing the right attention of the policy makers and government to this new & highly potential business category.

What advice would you like to give to the young entrepreneur(s) in India? What should they expect from their journey?
I have been a professional since the beginning of my career. Later on, I became business head who was responsible for the 360 degree of the business & its profitability just like an CEO in any large organization. It means I have been a quasi entrepreneur in the later part of my career before I founded Nature Pearl and became entrepreneur.

"Our goal is to become predominantly customer service & quality oriented company as we want our customers to have best of the experience in dealing with our company"

My advice to youngster is - Please identify your passion & follow it unless you are successful. It requires persistent & consistent efforts to become successful in one's professional career. Never give up. In the first five years of the career one needs to undertake hard work, in the next five years needs need to acquire specialization & inculcate leadership qualities, then afterwards success is sure for you to become leader in your area of work.

Ajay Katyal, CEO & Director, Nature Pearls
Ajay is an industry virtuoso with over 26 years of experience in agri-business & specialty food sector in India and abroad. As a pioneer in international business development & marketing professional with specialization in agri- business, organic & specialty food products, he has been involved in establishing India's one of the earliest organic farming initiatives & took them to global height. He is a qualified mechanical engineering but loved business development and organic farming.

Office: Sonepat, Haryana

Awards & Recognition
• Most Talented CMO's Of India In Sustainable Food Category
• 50 Most Talented CMO's Of India Under Sustainable Food Sector
• Largest Exporter Of Organic Foods From India (Apr 2007 & Oct 2011)- Honored By Apeda - Ministry Of Commerce (Govt. Of India)
• Second Best Organic Company In Exports Awarded By ICCOA At The Jaivik India 2018
• Awarded As Emerging Company In Indian Achiever's Awards 2020