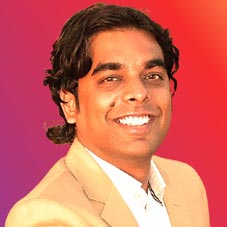 Apart from informal suggestions and concerns, young minds on the verge of commencing their professional careers often seek reliable and rational suggestions from their elders. Swayed from their prime objective, they tend to get distracted and confused by the countless career options as they could not fixate on which one to pursue.
Illuminating the career paths of thousands of students since 2009, Ajay Zener is a well-known career counsellor, based out of Chennai and has been instrumental in helping students pursue their career dreams. An IIM Ahmedabad Alumnus (Batch of 2000), Ajay has counselled more than 10,000 students in the past 11 years including school students, graduates, postgraduates (Specifically MBA, MS, After XII) and has successfully mentored more than 1000 students to the top IIMs, IITs, IVY League Colleges and Top Universities across North America and Europe.
Apart from spreading awareness about the importance of higher education in particular and helping students dream big, Ajay also conducts counselling sessions for under-privileged students for making them aware of various career opportunities. Ajay Zener engages in an exclusive interaction with CEO insights to share about his professional journey as one of the acknowledged career mentors of the country.
Do tell us about the inspiration that drove the inception of the company.
One of the main reasons behind launching a career counselling organisation was the lack of awareness among students regarding careers, especially students who are from small towns in India. There is no genuine aid available to students in terms of helping them out with scholarships, internships and most students do not use any of the facilities provided by the Government or Private Agencies.
Awareness levels are confined to a
few fields like Engineering & Medicine and there is a need to emphasise that careers are all good, what you make out of it matters the most. With the boom in technology, Information is freely available, free advice is all over the internet, not only are students more confused with the free advice available all over the internet but they fall into the trap of following wrong advice without much thought.
I believe that quality and well-rounded education of citizens can do wonders to the state of affairs of our nation. It is not the lack of opportunities available but the question of students not utilising them properly which plagues our education. I want to play a part in guiding the extremely talented young minds of India towards their passion and help them realise their potential.
I started this organization with about just 19 students, way back in 2009 and today I have more than 1000 students who enrol for either career counselling, profile building, admission consulting or test preparation every year
How has your company's journey been so far and what challenges did you encounter during this journey?
I started this organization with about just 19 students, way back in 2009 and today I have more than 1000 students who enrol for either career counselling, profile building, admission consulting or test preparation every year. It wasn't an easy task; it took us 3 years to reach the 100 students milestone in a calendar year and then we started getting a lot of business through referrals from our alumni. Today almost 70% of our business comes through referrals as more than 150,000 students follow us on social media through various pages and forums. A strong social media presence has helped in building the Ajay Zener brand and making us an influencer among the students.
As one of the leading Career Mentor, what is the unique proposition that differentiates you from your competitors in the market? Explain your USP.
Our unique proposition owes its roots to our team's diverse experience, rich academic and professional background and the sheer volume of students we handle year on year. 11 years of experience
means, our students are in senior management levels in multinational organizations, while others are successful entrepreneurs. They help us understand industry trends and gain first-hand knowledge and map careers according to industry requirements. Another one of our major USPs is the way we approach our students' careers, as we spend quality time in understanding the motivation of our students by letting them express their thoughts.

This in-depth interaction helps us understand their aspiration and goals. This one to one personal interaction is one of our unique propositions. Our openness to all careers means that today we have our students who are alumni of top B-Schools to students, working across diverse fields, from top corporate firms, excelling in fine arts and humanities to working in grass root level social initiatives. We are extremely fortunate to have them as part of our extensive family and they are ever willing to extend a helping land to our new students in whatever ways possible.

In your professional journey so far, which are the milestones that bestowed you with utmost satisfaction - both as an individual and as a Mentor-in-Chief?
The last 7 years have been also been a transformation as many large Universities have started recognizing our services and we have been working closely with them in handholding their students through various career paths. One of the most satisfying moments as an individual was when one of my mentees from Uganda received a scholarship to be mentored by a top European Football Club. Another important milestone in my professional career was when we were continuously adjudged among the top-2 business partners among 150+ partners for a span of 10 years by CL Educate.

Ajay Zener, Mentor-in-Chief
A prolific vlogger, YouTuber and Instagrammer with a follower base of more than 150,000 students, Ajay Zener is considered as one of the top career mentors of the country. As a career mentor, he has worked closely with school and college students and helped them build profiles to secure admissions to top Universities. With 8 years of corporate experience, 5 years abroad, and having worked in more than 13 countries across three continents, as part of companies like Cadbury India Limited, Olam International, Perfetti Van-Melle, Transversale-Networks, Ma Foi Consultants and CL Educate, Ajay Zener holds a prolific domain experience in Branding, Sales, Operations, Commodity Trading, IT, Recruitment and Education.