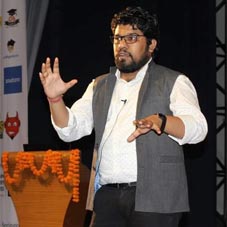 A mentor shares information, advice, and tools based on the format and priorities of a particular mentoring relationship. A mentor can share data about his or her career path with their students or working professionals, as well as provide guidance, encouragement, emotional support, and role modeling. A mentor can assist with career exploration, goal setting, contact creation, and resource identification. In the same way, Dinesh Lahoti, the Founder of Career Spark, mentors the students to choose the right career path by connecting them with the respective real-time industry professionals. Along with CEO Insights Dinesh Lahoti shared some of his insights regarding his personal expedition and the career mentoring field.
What are the major points or factors about your company's Career Mentor services? Do tell us about the inspiration that drove the inception of the company.
I have roots from a small town in Assam and I am an IIT Graduate and also, the first international certified career coach (by CDA, USA) from Assam. When I made it to IIT, I realized I was among the first few from my entire district to crack the entrance test, another thing I realized that most people in the Northeast region are not so aware of the career and job opportunities available in the country. I strongly believe that geography must not be a barrier, right mentoring can remove the geographic barrier and reduce economic disparity.
This is one of the reasons why I started focusing on career mentoring. Another reason is that we at Career Spark are fully focused on developing a career mentoring
ecosystem. There are a variety of start-ups working in career counseling, but there are not many organizations or companies unleashing the power of what right mentoring can do to a child's growth. Mentoring is a loosely used concept at present, and we provide career mentoring services in a very comprehensive manner.
Even if the students are good in science, languages, and are outstanding learners, but they would always opt for conventional courses such as engineering, medical, or law, and when it comes to choosing a profession, there is no discovery in the aspects of the career. One of the most important decisions of their lives is to choose a correct career path, but still, there is no seriousness towards that step, and even if they are adamant about their career, they don't know what to do and where to go. Another factor is that most of them are dissatisfied with their profession, even though people have a career or a job, so people would feel they have chosen the wrong career stream. I set up Career Spark with the goal of career mentoring to highlight all these elements and try to understand the mindset of students or job professionals.
Geography must not be a barrier, right mentoring can remove Geographic barrier and reduce economic disparity
As you mentioned earlier, Career Counseling and Career Mentoring are two different characteristics. Can you describe more about this opinion?
Career Counseling in India is very much assessment-driven where the whole solution depends on an assessment. Well, an assessment is very helpful to give a good insight into a student and guide them in making a decision on their career choice. But what we found is that those assessments are not for the Indian context rather it is much more valid for the USA or European context. Apart from that, the major concern as to how to move further? Let's say you took a decision to
become a Designer after the counseling, but what next? And how to move forward?

Now, that is where Career Mentoring becomes really important. We realized that what has to be focused on is the need of getting some experience before choosing any course or career. For instance, if a student wants to become a pilot, as he is fascinated by some of the elements in this profession, at Career Spark he/ she will be able to interact with an actual pilot and hear from their experience. So, we are trying to build an ecosystem where students are assisted to choose a career after knowing about them from that particular industry experts, this will clear all their myths. Also, after these interaction sessions sometimes the students choose to change their career stream when they the reality of their interested fields.

What advice would you like to give to the young generation(s) in India and what would tell them to expect in their journey?
Each child should spend a certain amount of time gaining as much experience as possible from seminars, training from various websites, and continuing to communicate with different individuals. Have a basic experience of the area in which you want your carrier to be designed, and this is going to be a fantastic way to look at a career. Be as curious as possible because, in this generation, I feel curiosity or a hunger to learn something new is lacking. If you are eager to know or learn something before entering into it you will have research and try to know more about that subject, engage with individuals belonging to that field and have a deep knowledge of that field.

Dinesh Lahoti, Founder & Mentor
Dinesh Lahoti has completed his degree in Chemical Engineering from IIT Guwahati and is the first Internationally Certified Career Coach from Career Development Alliance (USA) from Assam. He first established an organization named Edugenie in 2013, later in 2019 he founded Career Spark, a career mentoring venture.

Office: Guwahati