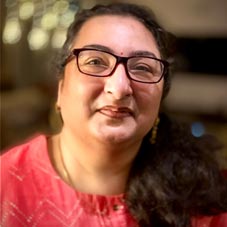 A motivated and passionate individual, Ritu Wason, feels a sense of tremendous pride and satisfaction when she sees herself having a positive influence on the budding minds and giving them a career direction to explore. She believes in 'Ikigai'-a Japanese term that translates to 'reason for being.' "Everybody has Ikigai", says Ritu. She discovered hers in counselling and mentoring young minds, thereby contributing to their transformation as successful and happy adults. Ritu Wason, Founder & CEO of Educrossroads - focuses on guiding students to explore themselves, accept what they are and aim higher in their lives to fulfil their career and life goals.
Ritu has over 16 years of extensive experience in the corporate sector as well as in the learning-teaching environment of ICSE and CBSE schools. Ritu holds a Certification in Global Career Counselling from the University of California, Los Angeles (UCLA Extension) and Univariety, Singapore. She has been certified as a Super Counsellor. CEO Insights participates in a conversation with Ritu Wason, who takes us through her motivational journey as a counsellor.
How are you actually helping kids and young minds in general and also tell us about the inspiration that drove the inception of the company?
At Educrossroads, we mentor and guide students to explore themselves. We help to clear their presumptions regarding career choices and college admissions through effective counselling sessions, psychometric evaluation and analysis, career and personality fitment, customized career roadmap and application support for universities in India and Overseas.
I have been a consultant and educator for almost 13 years now. After having worked in the apparel and fashion industry at the beginning of my career, I got into recruitments and HR consulting working for different industry
verticals like Outsourcing & Offshoring, Retail, Infrastructure, and Banking & Financial Services. Unexpectedly, I got an out of the way chance to be a teacher. Having worked with high school children in ICSE / CBSE schools for so many years, teaching them English, Math and Science besides listening wholeheartedly about their dreams and passions, I knew I had to get into counselling and to mentor them for the future.
Tell us about Educrossroads' journey so far. What challenges did you along the way?
It's been about a year and a half since I started my company, after all due diligence, and in this short period, we have built a reputation for ourselves. First and foremost, a thorough analysis was required to collect information on thousands of universities all across the world, programs offered, eligibility criteria, and different psychometric tests.
My corporate experience as HR and hiring consultant has given me knowledge of and insight into various functional domains. This enables me to guide and mentor students effectively and as per the industry requirements.
Another obstacle was to build a USP for ourselves in the face of hundreds of counsellors already on the market. We set up our USP with our extensive career counselling, and psychometric analysis sessions which I take personally for every client, customized specific career roadmaps and a detailed comparative analysis of universities is provided.
Kindly throw some light on your professional background and experience that directs the company's progress and helps in moulding strategic business modules for Educrossroads?
I am a successful educator and career consultant. I have completed my B. Ed at Rohtak University and B.Sc. Chemistry (Hons.) at Miranda House, University of Delhi. I have a Master's degree in Leather Design and Technology from the National Institute of Fashion Technology (NIFT), New Delhi. I am also a certified administrator of Thomas International Personal Profile Analysis.
My corporate experience as HR and hiring consultant has given me knowledge of and insight into various functional domains. This enables me to guide and mentor students effectively and as per the industry requirements.

How do you ensure to update yourself with the latest industry trends and technologies so that you could always steer your organization towards the zenith?
Together with my team, I am continually searching for opportunities to update ourselves on futuristic career trends, university admissions and school policies, international student communities, psychometric testing, industry demands. These avenues could be research, webinars and sessions conducted by various universities and education experts, university and career fairs.

In your professional journey so far, which are the milestones that bestowed you utmost satisfaction - both as an individual and as a Founder?
My most satisfying professional moment as an educator and career counsellor is when I see that I have made a positive difference to the lives of young children and have given them a guided path where they walk with conviction and confidence.

One milestone that is dear to my heart was when my poem' Right to Childhood' was declared a National Winner in the teacher category at the All India Poetry Competition.

Managing a company involves a lot of stress, skill, and time. How do you manage to balance between your personal & professional life?
It is indeed a balancing act. My husband and my sons are my pools of strength from which I derive all my happiness and energy. Delegating and dividing the workload is critical to stay afloat amidst professional commitments and personal responsibilities. It is also necessary to prevent over-committing beyond your capacity. I agree that women are excellent multitaskers and that it is in their innate nature to juggle work and home.

Ritu Wason, Founder, Educrossroads
Ritu Wason strongly believes that the future of mankind depends on the youth of today. At EducrossroadsConsulting, Ritu is committed to provide and guide students for being responsible for their dreams and passions.