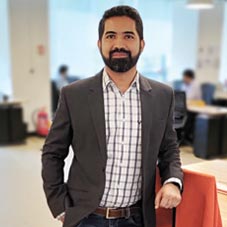 The supply chain financing segment and its processes in India were still archaic up till recent years and the lack of innovation in the segment has been holding back the growth potential of the industry. One company that wanted to bring in innovation and automation into the sector acknowledging the immense scope for innovation in the area is Finovate Capital. The company operates with a vision to provide seamless working capital to SMEs and MSMEs by creating an unmatched distribution channel for supply chain financing.
Akshat Birla, the founder of the company was keen on tapping into the unseen potential that the Indian supply chain financing segment has to offer and in an exclusive interview with CEO INISHGTS, Akshat talks more about his professional journey and the uniqueness of Finovate Capital's operations.
Tell us more about your professional journey so far?
I have worked in the supply chain consulting segment for a couple of years and then I went on to work with an investment bank for almost seven years. After completing my MBA, Samsung came and gave me a good job offer and I took that and thought that I will do this for a while before starting to work on my own business venture.
At the time, when I left Samsung, I was heading Samsung Pay and implementing that across Asia. When I decided to start my own company, I looked at the different aspects of lending and within the B2B segment, I took a niche area of supply chain financing to operate in.
I believed that, with the right amount of innovation, there are a multitude of avenues which I can leverage to run a successful business organization in this specific arena.
What were the initial challenges that you faced when you decided to start your own business venture?
It is always difficult for an entrepreneur to come into entrepreneurship this late in the game. This made it harder for me because at this stage, I was at a very comfortable stage in my life and I did have a set career path.
We will also be transforming ourselves to be an alternate data company and basically, we see ourselves as educators of the market on the lending ecosystem in the future
Also, me and my wife were working at Samsung in South Korea at that point in time and I had to convince my family that moving back to India to start my own company was a good decision. Samsung was also not that keen on letting me go and they were like, work with us and continue to pursue your passion of starting your own company. But it was clear to me that, if I took that option, I wouldn't be able to do justice for both my job and my start-up.
How are you able to create a niche in the market and differentiate yourself from the rest?
Our system is so flexible that we are able to offer zero cost services for both the lenders and the corporates. We are also able to run a multi-lender platform which is something unique in the industry. We are bringing the pay later concept into the B2B context and if an SME comes to our platform for credit, we get back to them in 30 to 45 seconds and tell them if they will get credit or not.
We have also got blockchain integration to ensure that there is no double discounting of invoices. We have also been able to create a great team of experienced industry stalwarts who are keen on helping the organization grow. Also, the kind of industry experts that we have with us are working at a fraction of their market salaries and this shows the belief that they have in our company and our business ideas. Even with the pandemic scenario, we were able to clock in impressive growth numbers and continue to grow.

Also, when the pandemic hit, many lenders who weren't previously interested in supply chain financing came to us and was keen on offering us their co-operation. Now, we have got 22 lenders and out of that, we have cultivated 10 as strategic lenders. All this has helped us to develop into a one-stop-shop for supply chain financing. Also, we are already building AI capabilities using the market data to start de-risking lending and by constantly coming up with new ideas, we are aiming to be a pioneering name in the industry.

What is the future road map of the company?
As of now, we have got all the building blocks for the company to grow and now what we are going to do is create the right talent and the right structure for the talent to thrive to take the organization to greater heights. We will also be transforming ourselves to be an alternate data company and basically, we see ourselves as educators of the market on the lending ecosystem in the future. More importantly, we will continue to ensure that the SMEs have adequate finance to run their operations.

Akshat Birla, Founder & CEO, Finovate Capital
He is an industry stalwart with nearly two decades of experience and expertise working in the Finance and Tech segment. Under his guidance, the company has been able to strive for consistent growth in the domain and develop into a unique entity in the industry.