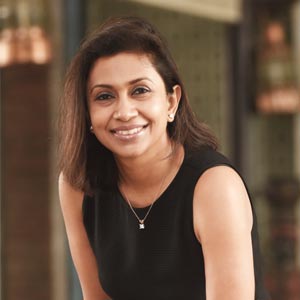 What does it take to equip women with the relevant skills required for a successful professional career that eventually takes them to a seat at the board table? For one, it requires a 360-degree approach that is instilled in self belief and is a 'for profit' agenda rather than a 'social tick-mark'.
WiT India (Women In Tech) founded by Anuranjita Kumara seasoned HR practioner and author turned entrepreneur works towards this unified goal of tying-in the upstream aspirations of a successful career with the downstream building blocks required to get there tying-in educational institutions, colleges, private and public enterprises, and the state and central governments to create dream opportunities for an entire generation.
From helping aspiring STEM professionals find their preferences in STEM careers, to working with educational institutes & organizations to build awareness amongst girls, providing them mentoring and training as much as employment opportunities. WiT India has already in the shortest span of time, been able to develop into a unique entity in the Indian corporate realm.
In an exclusive interview with CEO INSIGHTS, Anuranjita Kumar, Founder & CEO – WiT India shares her professional journey and the various operations of Women in Technology that provides Accelerated Career Experiences to Women (WiTACE).
Can you tell us more about your educational and professional background and how did it help you through your career and eventually to setup WiT India?
I went to a medical school and then decided to change my career and did psychology and industrial psychology. It was the first risk I took on myself in some ways which stood me well. I followed it up with a business HR course from XLRI and joined Procter & Gamble from campus. I later joined Citibank
where I worked across London, Singapore, New York and India. Education grooms us for the industry, but for me the real education started once I entered the industry. My industry experience helped me understand how businesses are run and how success and failure both be embraced could in the most efficient way. My education and professional experience helped me understand the ups and downs of the industry and remain grounded. It also helped me develop a never say die attitude.
How uniquely do you run the functions of the company?
After working for over two decades in the industry, I founded WiT India Forum with a goal to bring in a gender balance in the corporate realm. Even during my professional journey, I was always keen on connecting diversity and inclusion into a commercial value proposition. This is what we try to bring about at WiT India and our operations reflect that goal through a program that is focused on skilling and helping women.
We are striving to ensure that Gender Diversity and Inclusion is seen as a commercial viable proposition in organizations and not just 'good to do'
All our offerings are tech-oriented and, designed to cater to the talented women coming into our platform. During the Covid-19 pandemic, many women lost their jobs and we came in quickly to re-employ these women in various organizations. Several studies have made a strong case for the inclusion of women in technology to enhance innovativeness and profitability, yet the number of women in organizations have been declining and now stands at a meagre 20 percent in India that is one of the lowest globally for progressing countries.
We believe WiT India can play a significant role in turning around this situation and in getting more women back into the industry. Another issue that we found was, women opt or by organizational design join marginal and 'low pressure' roles and don't push for meaningful CXO roles. Our mission is to develop and groom at least 50 percent women workforce within the industry into key decision-making roles.
What impact does WiT India strive for and what are its service offerings?
WiT India has in the shortest span been able to considerably reach out to a large section of the industry. We currently have tie-ups with 40+large corporates across the board. We have considerably grown out reach though specialized product offerings that are tailor-made to suit each organizational lifecycle.

We are an 'ed-tech for women' given, we have found a gap in women talent within the technical and functional skill sets. When we further researched on this, we found that women were not keeping themselves updated with the relevant skill sets for a variety of reasons. The approach to content delivery especially for women had to be significantly different to that for men. So, that is what we first set out to do. Customize and re-orient the content itself.

To support women further, we anchored various skill communities. Today we have active communities in health tech, IoT, fintech and data analytics which are hosted by companies. Aspiring professionals and students can directly interact with company leaders through these communities on a regular basis.

We also conduct job fairs and hackathons and as of now we have about 100,000 users on our portal - . We are currently present in six cities, have 500 mentors, 100 clients and eight communities.

Can you tell us about your future road map and the impact you plan to have?
Our future road map is to make sure that we help at least 50% of decision-making roles be staffed with women. We are striving to ensure that Gender Diversity and Inclusion is seen as a commercial viable proposition in organizations and not 'good to do'. I hope that in the years to come, we will not just be visionaries and pioneers of a dream that has impacted change, but are catalysts of re-engineering how the industry drives the diversity agenda. This I believe can have a greater impact in a | post-covid era.

Anuranjita Kumar, Founder & CEO, WiT India
It was her passion and commitment to empower aspiring women professionals that paved the way for the establishment of Women in Technology (WiT) India. Her passion and long standing dream had helped develop newer models of approaching the diversity agenda and focuses not on numbers but on prodding more women to achieve 'board member status'