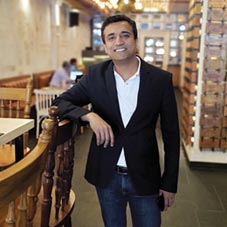 Founded in 2017 with an aim of making investment products transparent and accessible to all, Kuvera. in today has over INR 18,000 crores aua in its mf portfolio. Its strong product and value offering has always been to 'pre-empt customer needs'. A philosophy that has driven its founders to constantly think on their feet and to add value consistently enough to emerge as the fastest growing online investment platform in India. As a trusted advisor to its users, Kuvera.in brings AI driven analytics and transparency to the entire advisory value chain. Kuvera.in has now set its sights on becoming a one-stop investment destination.
In an exclusive interview with CEO Insights, Gaurav Rastogi, Founder & CEO, Kuvera.in talks about his professional journey and future plans.
Please tell us about your educational background and professional journey so far?
I did my B.Tech in Computer Science from IIT Delhi and then went on to complete my MBA in Analytic Finance and Economics from The University of Chicago – Booth School of Business. My first job was with a credit card company and since 2006,I was working in capital markets. During the course of my professional journey, I realized that wealth management was solely focused on the superrich.
Again, since mutual fund investments were purely commission based, it often posed a conflict of interest to traditional money managers who were caught between offering customers the best solution suited to their needs versus what gave them the highest
commission. That was when the idea of Kuvera was born with a philosophy of making investment products transparent and accessible to everyone. We launched Kuvera in 2017 as the first commission free investment platform.
What were the initial challenges that you had to overcome? How have you been protecting your users from threat management?
Building the team by getting enough like-minded people on board, especially when you are not coming from a start-up ecosystem, was one of the most critical challenges we faced initially. The next aspect was the identity that we wanted to create, and it needed to be done through action.
Patience and perseverance are very important for any entrepreneur Everyone has a different journey and entrepreneurship pushes you to focus on the aspects that you are not that good at and pushes you to build those skill sets
For a growing start-up, perseverance is an important trait that needs to be imbibed. As with any company, there is a chance for things to not go your way. The key to success is to figure a way out and continue to move forward. It has been a good learning curve. We persevered and continued to build what we have wanted to build. Today, I am happy to say that working primarily through word of mouth, we have been able to create a good business model that has differentiated us from the rest in the industry, build a community of Happy Kuverians and saved investors north of INR 300-400 crores in commissions.
From a threat management perspective, we were built as a digital-first company from day one itself. In terms of security measures, we use state-of-the-art security protocols with well-defined security
and data protection protocols in place. We also make sure that we are constantly updated with the latest trends so that we can operate in the most efficient and effective manner.

Tell us more about the operations of Kuvera and how has been the growth of the company over the years?
We started with direct mutual funds in 2017, then added a loan product, and followed it up with direct equity internationally in the US. We will be adding more products, and this year alone we expect to launch four to five new lines of businesses to add to our current offerings.

Our goal is to become a personal finance management platform and a one- stop-destination when it comes to investment and tax optimization, eliminating the need for a customer to go to multiple service providers. Our strong product and value offering, backed by fantastic customer service has helped us grow our customer base steadily. Today, we have an 8.5 lakh+ Happy Kuverian family spread across 800 cities and will reach Rs 20,000 crore in AUM by the end of February.

What would be your advice to budding entrepreneurs?
I believe patience and perseverance are very important for any entrepreneur, especially if you come from a big company where one can see or analyze visible results for the work that you have put in. In a startup, things move in bursts and there will be times when even after you have put in a lot of work, the results will not be visible. The key is to never give up. Again, everyone has a different journey. Entrepreneurship forces you to focus on things you do not have and build those skills. You need to have the mindset to constantly learn and improve.

Gaurav Rastogi, Founder & CEO, Kuvera
His passion to develop Kuvera into a onestop investment platform has been the cornerstone behind the growth of the company. Going forward, Gaurav has also laid out a well-planned future roadmap for Kuvera to be the investment destination of choice amongst newer types of investors.