Ambikesh Dutt SAO: Enabling Organizational Transformation With Great Vision And Diversified Experience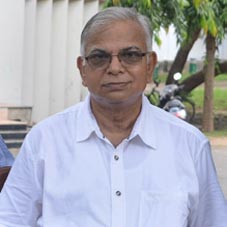 Ambikesh Dutt Sao is a perfect example of a modern-day Chief Operating Officer who embraces more than four decades of rich experience. As the COO of IDL Explosives, he brought wide recognition to the company through his pragmatic business approach. With diversified expertise, he is striving to bring meaningful results through critical interventions and constructive critics in the operations of IDL Explosives – A leading manufacturer of Industrial Explosives with seven manufacturing plants and over five Bulk explosives support units and with a full range of packaged and bulk explosive products.
IDL Explosives Limited is the whollyowned subsidiary of GOCL Corporation Limited (erstwhile Gulf Oil Corporation Limited). GOCL Corporation limited manufactures all kinds of accessories based in Hyderabad & IDL Explosives Limited is the marketing agency of GOCL Corporation limited with widespread distribution and Marketing network. The Company is part of the international Hinduja Group and has diversified business interests.
To know more about his motivational journey and his unique strategies to scale business, peruse the following excerpts of an exclusive conversation between him and CEO insights.
Tell us about your educational and professional journey.
I passed B.Tech (Honours) in Mining Engineering from Indian Institute of Technology, Kharagpur with distinction in the year 1978. I secured Gold Medal in Bachelor of Law (LLB) conducted by the University of Bilaspur, in the year 1990.
I started my career in the Marketing Department of the erstwhile IDL Industries Limited and held several senior positions in the organization in Marketing and Operation areas having more than 43 years of experience in the Explosive Industry. I am currently the COO of IDL Explosives Limited. The Topline of the company got almost doubled with a CAGR of 12 percent in this highly competitive & regulated business in the country during my tenure as against 8 percent industry growth. Under my stewardship, the accumulated losses of over 35 Cr Rupees were wiped out and within two years, it became a consistent profit-making and dividend-paying company.
What roles did you undertake in framing better business models in the organization?
As the Head of the Singrauli bulk explosives business of IDL (2000- 2002), I brought profitability by over 100 percent in two years. I was instrumental in the development and establishment of formulations for deep sleeping boreholes, enhanced productivity of the plant, Bulk matrix Delivery system, man-power productivity, and harmonious industrial relations.
Ambikesh Dutt Sao was instrumental in turning around the demerged explosives business of IDL Explosives Limited from a loss-making company to a profitable by cost-cutting and optimization, pro-active business expansion plan, negotiations, optimum business mix, rationalization of plant operations, and manpower utilization
Under my leadership, products were developed and established for deep-hole dragline blasting up to 55 M depth. And, IDL conducted the first-ever controlled blasts at BCCL and ECL mines using e-det electronic delay detonators, developed in-house, and established a market for the state-of-the-art new product. Replacement of conventional delay blasting by chemical delays with state-of-the-art electronic detonators by the GOCL/IDL team has brought a sea change in blasting operations.
As a Unit Head ((2002-2004)) and subsequently as operational head of Rourkela plant spread over 1100 acres of land, I steered in solving major issues in Industrial Relations and was able to seek the cooperation of unions in pruning down large manpower and modernization.
As Chief Operating Officer at IDL, I increased the production volume of cartridge and Bulk explosives volume was increased to over 100 percent in 4 years. The Industrial license capacity was increased from 1.25 lakh tonnes to 3.80 lakh tonnes (over 300 percent). Plant Capacity expansion was enhanced by over 100 percent.
As Vice president of Marketing and Explosive Operations, I proactively helped the industry in many ways. I am an active member of the Explosive Manufacturers' Welfare Association (EMWA) and participated in various forums that gave shape to the preparation of the Ammonium Nitrate (AN) Rules by the Petroleum & Explosives Safety Organization (PESO). I am also a member in the implementation of
the Explosive Return System which is being developed by PESO, Nagpur which helped the manufacturers & users in a big way.

Let us know about some recognitions the bestowed utmost satisfaction.
I am a Life Member of the Mining Engineers' Association of India (MEAI), the Mining, Metallurgical & Geological Institute of India (MGMI), and VISFOTAK Explosives safety & Technology Society. The Indian Mining and Engineering Association conferred me with LIFETIME ACHIEVEMENT AWARD for significant contributions and sustainable development. I was also awarded the "Distinguished Alumni Award" by IIT, Kharagpur on 14 October 2017. With the development of in-house electronic detonators, the coal industry took immense advantage to mine & excavate coal near dwellings which were impossible to dig out. My view on the Explosive industry and projections for the future is widely accepted even by IDL rivals in the.

Achievements of Ambikesh Dutt Sao, Chief Operating Officer, IDL Explosives
• Built Effective customer relationship management skills in managing key high profile clients including Major PSUs.
• Result-oriented and highly cost-conscious with a record of consistently exceeding set sales targets.
• Was able to persuade two strong unions and government to defer two Wage Settlements and successfully run RKL operations.
• Revival of Rourkela Unit within a span of two years, which was almost on the verge of closure.
• Reduction of manpower through VR SchemeRecord achievement during F-04
• Implementation of effective cost control measures in all areas, which resulted a saving of INR 25 Cr during the year from 2002 to 2007.
• Implementation excellent debtors control and stopped bad debts by introducing innovative debtor's control measures. Collected over 5 Cr of bad debts and brought down debtor's days from 120 days to 75 days.
• Pioneer in introducing Slurry and Emulsion explosives in India by moving away NG based explosives
• First in the world to develop Slurry based Permitted Explosives
• First to develop indigenously precise delay electronic detonators for opencast mines
• Increased Industrial License of the company to 272700 Tonnes
• Increased the Industrial License of M/S IDL from 120000 Tons to 373500 Tons i.e. 211% Growth which led IDL to do more business in the Explosives Industry & as a result of which IDL grew @ CAGR of 12% over a period of 5 years whereas the Mining Industry grew @ CAGR of 8% only
• IDL also got Industrial License of 100 Milion Detonators at Rourkela, Odisha which can be utilised by the company in near future to grow business especially for Detonators in Eastern India and many more