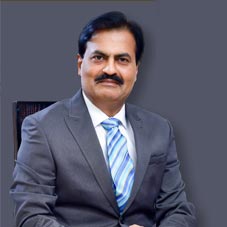 Regarded as a pioneering force of one the leading Aluminium corporations of India, Deepak Prasad is one of the acknowledged executives in the industry. With more than 30 years of experience, Deepak has been instrumental in managing business operations with utmost efficiency for Bharat Aluminium Company (BALCO), a frontrunner PSU in the country, contributing significantly to the Aluminium production in India. Awarded as the 'Gem of an Anchor' at BALCO level and 'Superstar Anchor' at Vedanta group level in V-connect program, Deepak was not only nominated as the Vice Chairperson and member of Executive Advisory Board of QCFI, Bhilai Chapter, but also received the 'QCFI Quality leadership Award' in CCQC held at Bhilai.
Engaging in an exclusive interaction with CEO Insights, Deepak allows a glimpse into his personal and professional journey as one of the acknowledged and top-notch COOs of the country.
Deepak started his professional career with Ishar alloys steels, Indore and Nippon Denro Ispat, Nagpur after graduating in Metallurgy Engineering from NIT Jamshedpur in 1987. He worked with National Aluminium Co. (NALCO), between 1988 and 1991, before joining Aluminium Bahrain (ALBA) in 1991. He has worked at various key positions for 16 years, before getting associated with Bharat Aluminium Co. (BALCO) in 2006. If we speak of his education, he completed his graduation in management from La Trobe University, Australia in 2010, and have worked at various positions in BALCO and currently has been assigned the role of COO - Metal.
Seamlessly Overcoming Challenges
From a Graduate Engineer Trainee to an independent leader of the business, Deepak has gone through many transformational changes when it concerns conceptualizing, planning & execution at various levels in the organization. He has been constantly focusing on driving 3P's – People, Process and Product by using principles of 3C's – Courage, Commitment and Conviction and 3 D's – Discipline, Dedication and Determination.
Hence, owing to his passion, analytical ability, data-driven decision making at the right time and strong follow-up mechanism, he
was able to overcome the initial challenges of aligning people in an organization towards a common business goal. By reaping his risk-taking ability, priority setting, managing internal as well as external environment and lead changes, Deepak improvised decisions on routine practices by incorporating disruptive thoughts, handling the adverse situations, influencing techniques for convincing, and driving to achieve the business goal of higher efficiency, lower cost and enhanced profitability with highest HSE standard, leadership development, and sustainability.

Bagging Portfolio of Milestones
Deepak take pride in being a part of the Aluminium & Power sector for 32 years and having contributed to many breakthrough initiatives that have increased the efficiency of the Aluminium sector in the Indian context. He has been consistently ensuring a Leadership Development Program to Transfer his more than 3 decades of technical, conceptual and business industry knowledge to the operating team, so as to improve performance year after year.

Apart from the significant growth in metal production by five times from 1 LTPA to 5.7 LTPA and increasing current efficiency in the pot line from 91 percent to 94.5 percent, Deepak initiated new product development to gain in NEP over the normal product by 50 percent along with further developments to increase NEP by 100 percent. Having reduced the cost of production by 24 percent in the last three years, he is further targeting to reduce 22 percent of the current cost. The specific energy consumption has also been reduced in the pot line by more than 700 kwh/MT with the project being driven to achieve.

Running parallel with the Advancements in Technologies
Deepak has always been abreast of the changes in the market dynamics, especially when it comes to the advancements in various technologies. Many projects were undertaken for Growth, debottlenecking, digitization, automation, and mechanization which enhanced production, increased margin in value added products, reduced cost and improved HSE standard in BALCO.

Some of state of art technology from GAMI, FIVES, ALSTOM, SEPCO, BEFESA, PROPERZI have been also been introduced. For instance, the fuse technology developed for an online start-up without power shut down in pot line had brought a big change in operation/ start-up philosophy, productivity and safe operations. Also recently, thermal modeling was done for pot lining with support of a technical partner implementing energy-saving cathodes in pot line along with an advanced pot controller and it resulted in reduction of specific power consumption by more than
five percent. The slotted anode and beam joining projects have also been implemented successfully recently, resulting in a reduction of energy consumption by more than 100 kwh/MT.

Ensuring Significant Cost Effectiveness & increasing Profitability
Various cost reduction initiatives were taken leveraging technical development, improving operational efficiencies, alternative vendor development, manpower optimization, improving productivity, inventory management and buying efficiency resulted into reduction in cost of production by 24 percent in the last three years. Furthermore, the new-age technologies have been developed for online welding and contingency tools for bypassing current of various parts of the bus bar system to avoid power outage and disturbance to normal operations, along with various projects to reduce auxiliary power consumption that resulted in reduction by 20 percent. Various Value-added products like 9.5 mm wire rod for cable and conductor industries, 12 mm, 13 mm wire rod & flip coil for steel deoxidation, alloy ingot for auto industries, AlSi ingot for steel coating industries, rolled products of various grades of hot rolled coil, cold roll coil, plates developed to gain NEP over normal product i.e. ingot. In addition, a novel technology has been recently developed for detoxification of SPL through collaboration with business partners which is the first time in India.

Contributions towards Community
To top it off, Deepak has also been driving project connect program which is an ambitious project for knowledge transfer. About 50 BALCO executives are associated with noble cause of teaching students who are not able to afford costly coaching classes, wherein, they the team have been driving 5S in nearby schools. Moreover, he has also conceptualized a music academy 'Beats&Tones' for promoting talents and entertainment.

Deepak Prasad, COO
Deepak has received award from Chief Minister of Chhattisgarh state for promoting QC in Korba and Chhattisgarh in Dec 2016 and CII-ITC sustainability award for BALCO from President of India Mr. Pranab Mukherjee in Jan 2017. By encouraging operational excellence at BALCO and making it the only Aluminium Smelter in India to receive IMEA Platinum Award and IMC Ram Krishna Bajaj Performance Excellence Trophy, Deepak has time and again manifested his matchless leadership skills, winning several awards in the process. Under his leadership BALCO was conferred with 'National Energy Leaders Award –Metal Sector' by CIIfor continuous outstanding performance towards Energy conservation, besides consecutively winning Excellent Energy efficient unit award for three years.