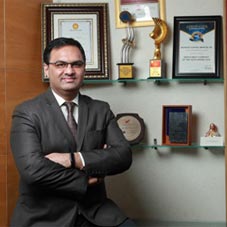 A BBA and MBA in Finance & Marketing from C Rajagopalachari Institute of Business Management, (Bhopal), Madhu has two decades behind him, during which he has donned senior leadership roles in companies like L&T Finance Ltd as Business Head - Consumer & Auto Finance, Tata Motors Finance Limited as Vice President, Eicher Motors as Head of Auto Finance division, Royal Sundaram Alliance Insurance Company as Motor Vertical Head, and Sundaram Finance as Business Head. Having worked in multiple locations, he has developed in-depth customer-connect and know-how at grassroots level across the country.
Now, let's get to know the deets about his life, from the man himself, through an exclusive interview conducted by CEO Insights.
You hold 20+ years of experience in the finance industry. Tell us about the challenges early on. What would you say are the lessons in the context of managing business operations? What factors would you underline as having been vital to your professional success?
I entered this industry in the late 90s when leasing and hire purchase NBFCs were going through challenging times. Described as para-bankers, NBFCs had a significant role in the transformation of informal and unbanked customer
segments. Pivotal to meeting these challenges was building market intelligence through strong customer-connect, and building business thereupon.

Envisioning and designing the right customer journey, with a view to establishing right repayment culture and risk management framework (especially for unbanked customer segments), and then aligning business models to enable & achieve seamless customer transition. This matrix was the key to managing & sustaining a successful business, and make a substantial contribution for customer progress.

Most certainly, it has been a journey of learning and growth. And, if I may be allowed to see it all from an inner perspective, I would say that it's been my enthusiasm and an honest, straightforward approach that have guided me all along.

Even a long, detailed story may not adequately explain as to how I came to occupy the position of COO that I am in today.

What could you say about the milestones along your journey? How have you felt about them?
While each and every milestone has indeed been a marker of success, significantly such that it has reaffirmed & reinforced our commitment to our core values of integrity, collaboration, and excellence. To be specific, I would mention a few. Golden Peacock Award for Corporate Ethics, ET Now's Business Leader of the Year in the category "Emerging Company of the year", India's Most Trusted Company of the Year – 2019, and India's Best Company of the Year – 2018, are some of the more recent ones that we have received while I have been COO of the company.

I undoubtedly feel very pleased to have been figured in these glittering chapters of the Muthoot Capital's history.

Give us an insight into the excellence of Muthoot Capital Services. Also, brief us on the technology and methodology that you adopt for the growth of Muthoot Capital.
Muthoot Capital Services is a well-known and respected name in the world of finance. It offers various types of loans for people from all walks of life. True to the philosophy of the Muthoot Pappachan Group, MCSL (aka Muthoot Capital) has always followed a simple, customer-centric, and tech-driven approach to create solutions that best suit the financial requirements and lifestyle of the common man.

Digital Transformation, Analytics-driven customer offerings, and an engaging Channel Management philosophy have been key differentiators that distinguish us in the sector. More precisely, well-spread-out touchpoints served
through low-touch distribution, and the capability to underwrite New to Credit (NTC) profiles through our proprietary scorecard have driven & delivered financial inclusion, even in the remotest villages of India.

Our Customer App – M Power has accelerated and facilitated our initiatives towards building customer-connect and trust, serving as an empowering tool to manage their loan accounts, track repayments, apply for new loans, and pay EMI. Currently, about 25 to 30 percent of the live customers are using this app. Yet another innovative approach amidst the Pandemic and lockdowns has been the usage of Video FI as part of our underwriting process. The customers are remotely interviewed and geo-tagged, in order to simplify and strengthen our appraisal process. Very few industry peers can boast of these digital practices and innovations.

Work and life need to go side-by-side. What kind of discipline and balance have you been able to achieve?
Balancing home and work has always been a priority in my life. Most days of the month, I am travelling, and it has been very challenging. However, I have managed to adhere to my schedules, relentlessly. Also, I am a fitness enthusiast - committed to my workouts, about 15-18 sessions in a month. During the lockdown, I have been consistently doing 5 km runs, which add up to about 75-100 km every month.

Are you engaged in any sort of mentorship programs outside your organization? And, how do you keep yourself abreast of happenings in the world of finance?
Yes, I actively participate and mentor in seminars and conferences in the consumer & finance sector. I have been a panel member, mainly on CXO conclaves, Customer Fest Shows, and Banking & Finance Summits. Besides, I actively share with the media, my expertise in the retail finance industry.

Madhu Alexiouse, COO, Muthoot Capital Services
A BBA and MBA (Finance & Marketing) from C Rajagopalachari Institute of Business Management, Bhopal, he is a Consumer and Retail Finance Specialist having a proven track-record of establishing profitable businesses across the country in BFSI sector, building Market Share leadership, maximizing revenue and earnings, and establishing low cost distribution through digital footprints.

Hobbies: A music lover and a guitarist. Cooking is another important hobby.
Favorite Cuisines: South Indian and Punjabi
Office: Kochi