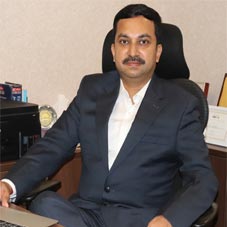 Seasoned with premium educational qualification across the globe along with pragmatic industry experience, Mahesh Bhatt is considered a dominant name of the corporate sector and one of the leading COOs of the country. Mentored by many first-grade industry stalwarts, Mahesh has lived up to the expectations of the corporate world along with his reputation that of a prominent COO. The varied experience of working in the Telecom, Banking and Staffing industry along with working and Travelling across Europe, APAC and India have moulded the personality of Mahesh into a strong and eminent professional. Not only did it taught him discipline, resilience, effective people management, efficiently organizing things, making faster decisions, and alternative ways of working, but also ushered him into the current role.
In an exclusive interaction with CEO insights, Mahesh Bhatt allows a glimpse into his inspiring professional journey.
Give us a brief detail about your educational and professional background before joining Terrier Security Solutions.
Being an MBA graduate in Marketing and HR from Manipal University, I have worked with many topnotch companies. Since I have always been an adherent learner, I consistently focused on sharpening my skills by sponsoring my studies at some of the premier institutes across India and Europe with the privilege of studying at KIAMS – Harihar, INSEAD – Fontainebleau, France, SDA Bocconi – Milano, Italy and more. I am on the last lap of my Doctorate in Management from Chitkara University. My professional expertise includes taking novel businesses from a start-up state to a profitable and stable state by turning around ailing businesses. Before joining Terrier, have been part of senior management (ED, VP, GM and more), setting up and leading cross-functional, large teams and managing change initiatives at an
European MNC and a Fortune 500 company. During the initial 10 years of my career, I was associated with the then start-ups like BPL Telecom, Bharti Airtel and ICICI Bank Retail Assets and helped launch their operations from ground zero in assigned region and established market leadership within the first year of operation.

What are some of the latest technologies that you leverage and unique methodologies that you follow to escalate the growth of Terrier Security?
Terrier's AI Hygiene monitoring system with video analytics platform provides actionable insights and monitors SOPs across companies in manufacturing, hospitality, retail, and pharmaceutical. A unique full suite, plug-and-play, hygiene tracking solution that can be plugged into existing IP/RTSP and thermal cameras. Our SeQure App provides contactless scheduled access settings along with the competency warnings configurations such as temperature check, use of hand sanitization and the wearing of a mask. Our comprehensive workforce management platform WorQ is built and powered by Quess - India's largest private employer. Another initiative is 'POP'which is an online paperless onboarding Tool Web app and Mobile app based on digitally onboarding applications. Terrier Head Quarter Trainers extended support to conduct Virtual Training Programme (VILT) on batch-wise for Security Associates deployed at various locations in Pan India. Going one step further, top organizations have leveraged the strength of Terrier's technologies such as analytics, IoT, sensors, biometrics, Video analytics, CCTV surveillance and centralized central command centres, thus moving towards minimum physical dependencies, commonly known as Integrated Security Solution or ManTech solution.

Give a brief account of how the strategies that you laid have transformed the work culture and client relationships with Terrier Security.
We are invested in modern age Technology for Security and surveillance and have started working on the digitization of data. We have opened new Training Centres. These factors contributed to Terrier top line crossing INR 6 Billion mark for the first time in 31 years. We moved from only a Man Guarding company to a technology-driven Man-Tech company. Again, focusing on training our workforce helped us tremendously during
Covid-19, with 100% of our client sites being guarded during the lockdown. This also helped retain almost 100% of our top 10 clients and grow our business with them.

How does your vast experience help you to chalk-out efficient business modules at Terrier Security?
Our entire internal operations are being digitized through internal teams of Terrier and Quess. This would increase operational efficiency for Terrier, reduced response time and enhances the safety for clients. This would also bring down the cost of operation. Optimum use of internal resources would bring down IDC cost and optimisation of external resources would push up the Topline and PBT. Once ready, the real time data related to security and employee statutory records would be available to all stakeholders and clients at the click of a button resulting in better control on business and client experience.

In your professional journey so far, which are the milestones that bestowed you with utmost satisfaction?
Utmost satisfaction was giving security to 100% of the client installations during sudden COVID Lockdown. With hardly any time to prepare, our team ensured every needy employee is fed, provided safety gears, created temporary shelters, and got free ration under the Govt. scheme for migrant guards. This was very inspiring. Our complete care and SOPs ensured 0 casualties amongst guarding staff. Real delight came when clients recognized this brave act and started rewarding these COVID Warriors with special bonus. I was conferred with a Badge of Honor, a national honor by CAPSI for this good work.

Mahesh Bhatt, COO, Terrier Security Services
A passionate Sales, Marketing, Operations professional having straddled across industries, Mahesh has prolific experience in successfully launching and managing operations of both start-ups and large MNCs. He holds 25+ years of experience in the Telecom, Banking and HR industry, predominantly in Account Management, Sales Ops, Business Development and Customer Service with emphasis on strengthening & leveraging senior level Relationships to manage the P&L. As part of senior management, he has been instrumental in setting up and leading cross functional large teams and managing change initiatives.