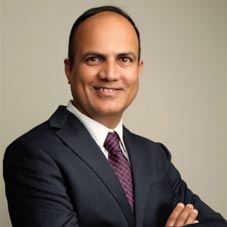 What is effective leadership? Not the jargons, mantras or clichés, but real, organic leadership that directs and effectuates changes amidst the world. Most importantly, the kind of leadership that fosters organic growth, enabling employees and businesses to thrive, an out-and-out personification of which is Rajesh Kshirsagar, COO, Micro Labs. A significant figure in the company's growth, Rajesh is a stellar R&D professional who has attained success subsequently by efficient handling of responsibilities, integrating strong fundamental, managerial and unprecedented leadership skills, and nevertheless undermining his personal life.
Having kick-started his professional career with Lupin Limited in R&D department, Rajesh handling the Micro Lab's technical function as its COO is striving to lead the company towards success. In an exclusive conversation with CEO Insights, Rajesh elucidates on his instrumental role of leadership casting light on his journey, the company and the challenges.
How did you traverse the journey from being a R&D scientist to leading the technical function of the company as a COO of a large organization?
Having completed my post-graduation in Pharmacy from Pune University in 1991, I started off my career in R&D in one of the leading Pharmaceutical company Lupin Limited where I learned the fundamentals of Pharmaceutical Research. Having worked there for 10 years help me gain knowledge of the Generic industry and the requirements for developing products for the regulated markets. I also did work on Novel drug delivery technologies and filed several patents. This experience helped me establish a strong Research team when I joined Alembic Limited in Baroda. Working closely with the business development teams we set up our US & EU operations and filed several ANDAs and European dossiers. Alongside, also developed a Novel Controlled drug delivery technologies which we subsequently out licensed to an innovator company.
The transformation from R&D scientist to lead the technical functions started at Alembic where I was heading the R&D, Manufacturing Operations and regulatory Affairs functions. When I joined Micro Labs in 2008, the company was planning to start the regulated market business in the US. I set up a strong development teams and we filed more than 100
ANDAs, European dossiers, and did filing for the other regulated markets. Alongside, establishing product development program, I started working on establishing the Quality systems in the manufacturing facilities and built the Culture of Quality and compliance across the organization. Today all our facilities have various regulated approval including US FDA, MHRA, Health Canada etc. Having established a strong Quality culture, we built a strong supply chain processes and efficient & robust manufacturing operations. Today, as the COO, I am in-charge of all its technical operations including quality, regulatory, clinical, R&D and manufacturing.
In your professional journey so far, which are the milestones that bestowed you utmost satisfaction - both as an individual and a COO?
The biggest recognition for any scientist is his innovation being recognized. For me, it was, my one of the drug delivery formulations being out licensed to innovator company and my patent being listed in the orange book as a brand product.
Having established a strong Quality culture, we built a strong supply chain processes and efficient & robust manufacturing operations
When I moved from the R&D scientist to a larger role of leading the company's operations, there were new challenges. Creating a culture of Quality and compliance was my biggest challenge. When I took over as a head of the technical functions our plants were under regulatory scanner (by regulatory agencies like the US FDA, MHRA and WHO), with import alerts. The biggest satisfaction in my career was to bring these plants in to regulatory compliances in less than three years and reinitiate the exports to the US & Europe markets. We were amongst the few Indian companies that did this successfully.
How do you ensure that Micro Labs lives thrives significantly relishing the opportunities in the Pharma industry, especially in this dramatically changing times?
Faced with a fierce competition, the generic Pharma industry is changing rapidly. Until recently we were working on acquiring a critical mass in the regulated markets, therefore alike other generic companies the number of filings and product introduction was important for us. We have successfully achieved it now, and now are concentrating on developing on niche products. We are working on developing difficult to make Generics both in Solids and Sterile dosage forms. We are working on specialized Novel Ophthalmic Formulations,. Also Continuously looking at how to optimize our operations, embrace
technology and increase automations, we are reckoning on the innovations in R&D and bringing out new platform technologies.

Family plays an important role in every professional's life. How is your personal & professional work life balance?
My biggest motivation and my critics are my wife and my son. They both have been my greatest support and inspiration. My wife and me decided very early in our careers that she will leave the IT corporate world and take care of the family. Eventually apart from just a homemaker, She made her career in Psychology as a Psychologist. I can proudly say that she has played a pivotal role in my professional and personal life and I owe a large part of my success to her.

My parents have always been my big inspiration. My father is a scientist, retired from National Chemical Laboratory, while my mother is a retired social worker, who worked for improving lives of destitute women. I understand that in such a high demanding job, there is always a compromise on the family front, but I have been able to manage it well. I am available for my family anytime when they need me.

Are you engaged in any sort of mentorship programs outside your organization? Being pressed with time, how do you manage to keep yourself updated with the latest trends and technologies in the Pharma industry?
Yes, I am closely associated with MIT World Peace University, Pune (College of Pharmacy) in guiding the pharmacy post graduates. I am also a guest lecturer to many Pharmacy Colleges.

I have a habit of reading and keep some time in a day for updating myself professionally. I still love to go to the lab and work on the bench or go to the shop floor to monitor a batch, although I do not get much time now. I am a hands-on person and like to lead from the front in case the situation demands.

Rajesh Kshirsagar, Chief Operating Officer, Micro Labs
A post-graduate in Pharmacy, Rajesh is an experienced and accomplished R&D and technical professional. With over 29 years experience in Pharmaceuticals industry, he seizes a demonstrated history of working in the Large scale Pharmaceutical industry, taking charge of all the technical operations including Quality, Regulatory, Clinical R&D and Manufacturing in the capacity of Chief Operating Officer (currently at Micro Labs)

Favorites: Interests: Playing Badminton & Squash, Trekking, Cycling, and Reading

Cuisines: Any Maharashtrian, Italian, and Continental food
Travel Destinations: Austria
Awards:FDD Leadership Award 2017 (Outstanding Achievement in Formulation Development & Drug Delivery)
Office: Bangalore