Ameykatkar: Solving Complex Business Problems Owing To His Decade Long Experience In Marketing Field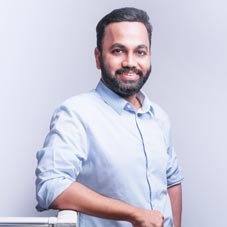 In this rapidly thriving technological era, digital expertise is an obligatory as set to embark upon the entrepreneurial journey. Owing to his proficiency in understanding digital strategy and his past industry experience AmeyKatkar has developed a unique eye to solve complex business problems. Empowering business leaders with comprehensive and effective digital solutions through constant innovation, Amey helps customers to transform their brand vision to revenue through his brainchild 'The 4P Solutions'.
Engaging in an exclusive interaction with CEO Insights, AmeyKatkar shares his journey as one of the pioneering corporate leaders of Mumbai.
Give us a brief detail about your educational and professional background and how has it helped you in your role within the organization?
I did my graduation in Computer Engineering and my master's in marketing from Mumbai University. Since there was no professional degree back then for digital marketing that has been something that I learned over a while. Though I keep on upgrading myself with new courses and new technologies that come up and in terms of professional experience, my prior work experience with Aditya Birla has acted as a stepping stone. It helped me to get an insight on the various aspects of business, as I learned about how to interact with the customers, customer relationship management, sales, HR, finance guy, operations marketing, and so on.
During the initial days of my entrepreneurial journey, the
company was completely bootstrapped by me as I could not have afforded different teams for different functions. Being on both sides of the table as an employee and as an employer has helped me and made my job relatively easy. Way back in 2012-13, the roles were more executive roles, distributed across marketing, client servicing and operations and so on. Now my roles have evolved more from executive to managerial and now I function more as a mentor or a guide at the strategic level. I have created a second line of leadership, and being in a service industry, it is necessary to create sync between the company objective along with the employee development.
Being in a service industry, it is necessary to create sync between the company's objective along with the employee development as they are the heart and soul which will drive your growth
So, what were the initial challenges that that taught you some basic lessons of managing the diversified functions of an organization?
Coming from an engineering and marketing background, I wasn't very fond of the finance aspect of the company. But when you start on your own, finance is something which you cannot run away from as it is an integral part of running your ship well.
I remember when India was moving from the preGST era to the GST one, we had certain customers who were still in the service tax segment and certain customers who had moved to GST, which led to lot of complications in the accounting. So, we have encountered all these challenges, and in the due course, with the right systems and processes, we have overcome them.
Along with that functions like HR which I initially took very lightly had to be focused upon as the right culture and HR policies are important to create a good solid foundation for your company.
We kept a pretty open and friendly environment, wherein we show deep concern and empathy towards our employees.

What are the differential factors that set your services a class apart from your competitors'? Please explain your USP
Digital marketing is no more only about execution, it's about understanding the customer's customer really well. For example we develop customer personas and term them as 'client avatars.' Then our entire content strategy and targeting revolve around these client avatars. Our customers get high engagement in the digital space and our client avatars are the real reason behind these conversions and better ROI.

In your professional journey so far, which are the milestones that bestowed you with utmost satisfaction?
When I signed my first customer way back in 2012with only one employee in my company, that was the first milestone which I'll always look back and feel happy about. The other milestones are in terms of our team members accomplishments, some of them have finished five years with me, created personal assets and I consider this to be a milestone because it's all about growing together, not alone.

Also being official Digital Partner of B2B events like India Leadership Summit, APAC Conf and few others in the recent past have got us lot of visibility and mileage.

AmeyKatkar, CEO, The 4P Solutions
The CEO, founder and the brains behind The 4P Solutions, Amey holds degrees in Computer Science and Marketing giving him an edge over his contemporaries in the digital space. With over a decade of experience in the marketing field, Amey has seamlessly worn multiple hats; from being a Client Relationship Officer for India's number one Cement Brand to being a Brand Custodian for a HRMS Product company and his current role as Chief Strategist at The 4P Solutions. Amey specializes in consumer buying behaviour, marketing strategies, digital marketing for B2B, healthcare and education space. A die-hard animal lover, he cares and supports lot of stray animals.