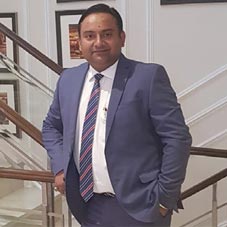 Amit is a high-performance motivator who determines value acquisition goals and is continuously ready to hit the ground and reliably produce phenomenal business growth outcomes. Amit accelerates the development of ideas into workable strategies by exhibiting strong leadership skills and piloting beneficial business progress by bold decision-making that produces vital contributions by leveraging cross-functional experience. CEO Insights interacts in a conversation with Amit Kumar (CEO, PropertyXpo.com), who establishes and shares PropertyXpo's journey to soaring heights in the Real Estate industry.
Tell us the significant facets & achievements of your professional journey? Also, tell us about your skill sets and strengths?
I began my career as a junior probationary officer in 2004 with Standard Chartered Finance Ltd. I have worked in various sectors in different domains, and I have also been CEO of North Park Technologies India and CEO of BuyProperty.com. I have led Favista.com as Director and Head of Sales and Marketing also played a prominent role in acquisition of Favista.com by ColdWell Banker India and become the Sales Head of New entity. By 2017, I began PropertyXpo.com with my wife, Chahana Singh, the CMO at PropertyXpo.com. We both started
PropertyXpo.com from a single room, and now we have an established name in the market which offers the best infrastructure facilities accessible to its employees in Gurugram. Our company's unique factor is that it is an online transaction platform wherein in the future, people will buy properties online, and we will be able to show them the whole property virtually with the help of technology.
We are aspiring to be India's largest Real Estate platform. Our mission is to inspire and establish a groundbreaking and spectacular success in the field of Real Estate technology space with the help of machine learning & artificial intelligence. We plan to make it easier for our customers to browse by offering accurate & updated information on PropertyXpo.com through the aid of technology.
PropertyXpo.com is India's fastest growing property portal. We provide an accessible and up-to-date Real Estate information for all Real Estates related people
What are the various services and resources you offer to the customers through PropertyXpo.com? Tell us about your achievements at PropertyXpo.com and the business transformation you led via those achievements?
PropertyXpo.com is India's fastest growing property portal. We provide an accessible and up-to-date Real Estate information for all Real Estates related people. We offer assistance to buyers, lessees, builders, Real Estate agents, property owners, and Real Estate investors. We enable sellers/lessors/brokers/builders to showcase their properties to an infinite number of potential viewers.
Our team is helping people searching for commercial Real Estate investment or looking for a dream home. We have a unique need-based search process that allows prospective buyers or tenants to interact with real sellers/lessors. We enable both buyers and tenants to access all properties as needed in a brief period via our virtual and actual site visits. We offer full property
information/details to people, and our team's expertise, analysis, and knowledge enable them to make fast and effective property decisions. We help customers to find, shortlist, and book at the best rate on the market.

We also offer a comprehensive solution for software products and services to help Real Estate professionals in different regions support their clients and extend their business across the digital world. PropertyXpo.com serves the whole life cycle of owning and dwelling in a home: searching, buying, renting out, selling, financing (mortgage), remodeling, and more.

What are the unique factors that set PropertyXpo.com apart from other Real Estate companies in the industry?
Our technologies and comprehensive details on each project will allow the customers to get the best value for money. We also gave a dedicated manager to each of our clients to get full assistance from searching, completing, lending, and other financial documents and legal documentation to the end of the agreement. If it's for rent, lease, or purchase of some property – residential or commercial, we are the most trusted source for the customers. For customers looking for rent, our agents will help them locate the right offer in their preferred place at a reasonable price.

In your professional journey so far, which are the milestones that bestowed you utmost satisfaction - both as an individual and a CEO?
I believe in keeping my life straightforward and simple all the time, and I have tried to be a leader who inspires employees and manages the jobs. This perception and inspiration helped me do what I am today. I have continued to spend time with both my family and my professional life. I always feel that my employees are members of my family, and I consider PropertyXpo.com a large family.

Amit Kumar, CEO, Propertyxpo
Amit Kumar is a pioneer in developing fully integrated technologically based Real Estate customer development & management platforms. Amit builds and heads building highly accomplished teams with an innate ability to instantly identify and actualize valuable ideas that instantly maximize organizational capabilities.