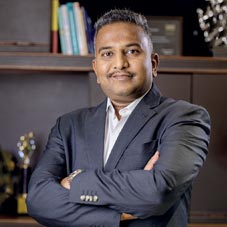 One of the most globally recognized sectors, the real estate sector is well complemented by the growth in the corporate environment and the demand for office space as well as urban and semi-urban accommodations. Though its lucrative yet challenging opportunities have compelled many talented individuals to venture into it, only a few managed to standout owing to their exceptional proficiency and persistence. One such persona is Suresh Kumar Reddy K who is regarded as one of the front runners by leveraging his professional expertise and decade-long experience to harness the advantages of this dicey sector. By the virtue of his hard work, determination and marketing knowledge towards commercial, retail and multifamily properties that consistently exceed the investment goals of his clients, he has managed to brighten many lives by allocating them with their dream homes.
In a distinctive interaction with CEO Insights, Suresh Kumar Reddy K, Chairman and Managing Director of Skandhanshi Infra Projects reveals his thoughts and journey while leading one of the best construction companies in India.
Kindly highlight your personal and professional experiences which have helped skandhanshi infra to emerge as one of the most promising companies?
I started my career as an advisory in the financial industry, selling financial products as a finance advisor gaining an in-depth understanding of how a marketer should be. More than an advisor I always had the liberty of being a family member for most of my customers, which gave me a better understanding of their needs and problems.
When I meet a customer, the time spent on telling or describing the financial product would be around 10 mins, wherein the time spent on knowing/discussing their problems would be more, ensuring a better personal bonding with my customers. I have been implementing the same even today by which we give customer service, treating them as our family members. To achieve the above, even though our company exists in TIER II cities (apart from Hyderabad& Bangalore) we have created 29 departments by which in-depth working aspects are divided or better customer satisfaction.
As a leader, how crucial has your industry experience been in shaping your leadership journey?
A leader who is keen only on the profits in every aspect of what he does will not be able to follow business values. If we consider a
product, it is manufactured by someone, marketed by someone and serviced by someone whereas in Real Estate, the house is designed, build and delivered by only one company/person, for which it can be considered as a service industry. It is very challenging to remain established in this industry as there will be different legal consequences. Apart from profits, I would like to prefer the brand image for the company. Entrepreneurs should always concentrate on customer satisfaction to the maximum extent possible as its value is more than thousands of crores, it is only just a number, in fact, we can't measure customer satisfaction.

What changes did you bring into the organization, its structure and policies that is driving the company to grow fast? Tell us about the journey and challenges of Skandhanshi infra projects so far.
I had started this business as an INDIVIDUAL and developed the ORGANISATION phase by phase by adopting, the LATEST TECHNOLIES in the CONSTRUTION METHODS, MARKETING TRENDS ETC to be an innovative player.

YOY technology updation to provide most cost effective products/houses for the people.

We have a Core Team, Comprising of Mr. Sreenivasulu (Chief Marketing Officer), Mr. Nagendra Prasad (Chief Construction Officer) and Mr. Sivappa (Director) with is responsible to adopt the latest technologies and methods to provide a Better Proudcts.

What opportunities do you foresee in the industry and how are you molding Skandhanshi infra projects for the same? What are the various goals you have devised for the organization?
As per the RICS-Knight Frank report – 2019 only 50 percent of the people own their homes in India. There is a huge opportunity to cater to the Real Estate Industry, as the concept of joint family is vanishing at a faster phase and the nuclear family concept coming to exists at the same time, this increases the need for houses to be built as per the aspirations of the people. Each individual is looking at the modern comforts, concerning the living standards existing in towns and metros. Our short-term goal is to expand our presence in the various TIER–II cities by ensuring a modern lifestyle for the lower and the middle-income group at an affordable budget. Our long-term goal is to diversify our services to the food industry and hospitality industry along with Public Issue (IPO) in the real estate/infrastru-cture industry.

What Is The Future Road Map Set For Your Company?
As a company, we always have visionary planning of 2 to 3 years. Even though we have started our business operations from a TIER-II city, we would like to offer the modern lifestyle to the people in TIER-II cities with an affordable budget. We would expand to the metro cities with the same concept of quality with affordability. In metro cities apart from the middle-income group, we would like to offer our services to the higher income group with the best possible quality standards.
Suresh Kumar Reddy K, Chairman & Managing Director, Skandhanshi Infra Projects
Having a unique experience in the real estate field for the last ten years, Mr. Suresh Kumar Reddy K has accomplished the level of professionalism. He has earned lakhs of customer's satisfaction with his enormous services by providing them with a golden chance of establishing their own houses through 'Skandhanshi'. His down to earth nature made Skandhanshi stand as a brand in the market and fetched an extensive success through many projects and has become a role model for many people. His specific areas of expertise include strategic planning, space utilization, transaction management and financial structuring.
A leader who is keen only on the profits in each and every aspect of what he does will not be able to follow business values
Skandhanshi Aarambh
Skandhanshi is proud to announce the establishment of its presence in the City Of Pearls, Hyderabad with Aarambh, a project set in a lush green environment consisting of Plots and 2BHK houses with world-class amenities and an Exclusive Clubhouse. Aarambh sits at an ideal location situated close to important landmarks and happening areas like Shamshabad Airport, Polepalli SEZ, MSN Laboratories, NATCO Pharma, Aurobindo Pharma, along with educational institutes like Symbiosis International University.
Skandhanshi Foundation
Skandhanshi Foundation, as part of CSR (Corporate Social Responsibility), has been doing its bit in helping the orphan children to continue pursuing their preferred education modules along with food and shelter, eliminating any scope of discrimination taking place on the basis of caste or creed.
The Foundation has also been ensuring financial assistance to the poor and needy who are unable to bear the burden of the cost of education on their own.
Skandhanshi Cloud 9
The city which exhibits the upmost life style, the city of gemstones - Kurnool, a 10 floor high rise apartment-cloud 9 is being initiated.
Excellent standards, uncompro-mised construction values, world class amenities/facilities for the customers of tier-II cities at par with metro cities. Exclusive swimming pool for ladies on the terrace stands as special attraction. 42 amenities along with the above one for women, men and children, are being introduced in an exclusive amenity block by skandhanshi infra in the form of cloud9- a dream paradise for the people of Rayalaseema.
With the same inspiration, in Ananthapur a 15 floor apartment, Cullinan is being launched. Cloud9 and Cullinan, a high rise apartment construction is pride not only skandhanshi infra but also to Rayalaseema.