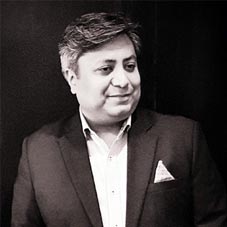 Owing to rapid urbanization and rising household incomes, the Indian market is booming as a prominent host of the real estate industry with surging demand for residential properties. A leader with exceptional zeal and notion to conquer the adversities of this challenging domain, Vikas Agarwal is often acknowledged as a distinguished persona of the real estate industry. Currently serving as the MD & CEO of SM Developers, Vikas is a member of the Young Presidents Organisation, Federation of Industries & Commerce of North Eastern Region, Confederation of Real Estate Developers Association of India and a Governing Council member of the National Construction Skills Development Council of India. Under his guidance, SM Developers currently has a pipeline of over 3.5 million sq ft. with a million sq ft. of projects already delivered. The CEO Insights engages in an exclusive interaction with Vikas Agarwal to further explore his journey as a successful leader of the Indian real estate sector.
Give us brief details about your educational and professional background. How do you leverage those learning to lead your organization?
Being an alumnus of Mayo College, Ajmer along with an M.S. degree in Information Systems from De Montfort University, Leicester, I was working with Accenture as an Enterprise Systems Consultant before moving to India. My degree in technology has a tremendous impact on my career as I can harness its benefits and very well understand the impact of novel technologies. I successfully conceived the first 5-star of the region – Holiday Inn Guwahati, which did not take shape due to a change in the Master Plan of the city.
I subsequently changed tracks and planned Novotel Guwahati that had a blockbuster opening 3 years ago. Now, I am planning the opening of TajVivanta in Shillong in 2021.
Besides that, I have managed to develop over a million sq.ft in the last 6 years and currently processing the roadmap for 3 million sq.ft in the next 5 years.
Being the MD&CEO of SM Developers, tell us about various roles you have undertaken so far along with the challenges that you have faced and managed to overcome.
I think the most important role which I follow is that of a 'Guide', by guiding my team to make them believe in the company's vision as well as in themselves. Apart from constantly monitoring and taking updates, I am deeply involved in designing, branding, finance and team building.
I have had an extremely eventful decade in the Real Estate business, I faced many challenges starting from building the right team, to getting the approvals and trying to maintain project schedules. However, our customer-centric approach and strict quality control ensured that we have been extremely well accepted in the market.
What changes did you bring into the organization, its structure and policies that is driving the company to grow fast?
People Management along with the ability to look & plan ahead are perhaps the most important attributes that we focus on. Besides these, we ensure customer centricity which helps us in creating a different paradigm. I have introduced many contemporary strategies such as Implementation of CRM for enhanced customer experience, Implementation of Workflow Management and Document Management system, Strong review and feedback system, hiring of external domain experts where needed, external QC team, Training and re-skilling of manpower where needed.
Kindly throw some light on your diverse construction projects and methodology to achieve timely & efficient deliveries.
We are constantly addressing the aspirations of our customers, such as using an aluminum framework for faster execution and ensuring that most of our projects are Green building. Besides that, we try to incorporate superior sustainable design and features. The fact which gives me utmost satisfaction is that people appreciate the SM Developers brand and our projects
command a premium of 15-20 percent in the market over any other developer in the vicinity. We are perhaps the only developer from the region owning two 5-star marquee properties in a short span of 7 years.

How has been the support & inspiration from your family in your journey so far? Leading a busy life how do you update yourself with the latest trends and technologies?
I am whatever I am and our business is whatever it is because of the family. I owe it all to the values of my grandfather - Late M.L Jain, the vision of our former Chairman - Late SajjanJi Jain and the guidance of my father and uncle - S.K. Jain and Sushil Jain. It is their continuous guidance and belief in my plans that have helped me develop as a business leader. I cannot also ever undermine the support of my mother, my brothers and my wife - Vidhi for their unconditional love and support.

Besides my core business, to update myself with the changing trends, I sit on the board of a couple of start-ups and help to groom new entrepreneurs encouraging them to take the challenges in their respective fields. Am also a part of Venture Catalysts - India's leading start-up investing community, National Skill Development Council and the Regional Board of YPO - the world's leading body of business leaders.

Vikas Agarwal, MD & CEO, SM Developers
After completing his stint as an enterprise systems consultant with Accenture at their Delaware US office, Vikas has been involved with his family business as the Group CEO since 2004. Besides growing the steel distribution business 10x in 5 years, adding newer products to the portfolio and expansion of the Road Sciences division, he has led successful diversification into construction. Vikas was voted by The Eclectic magazine as a Leading Young Entrepreneur of the region in 2014. He has been instrumental in developing the organisational capability, implementing corporate governance standards, harnessing IT for workflow efficiency and evolving SM Group into an important corporate brand of Eastern India.

Hobbies: Reading, Driving, Travel, Conceptualizing an Event and Movies.
Favourite Cuisine: Indian regional cuisine - Andhra, Bengali and Gujarati – Mexican
Travel destination: London and Italy
Awards & Recognition: Brand of the Year – 2013