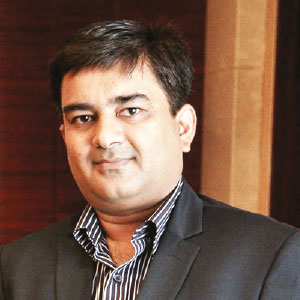 As burgeoning educational institutions fail to produce employable candidates, need of the hour has been leaders who have a vision of connecting academia with industries. One-of-his-kind leader is Amit Tiwari (Founder & CEO, MKT Softwares) who leverages his technology expertise to connect academia with industries through his E-SIM Campus Solution – an ERP & EI (Education Intelligence) platform that creates an ecosystem comprising of industries and stakeholders of the educational system (from students to parents, principal and management), and on the other hand facilitates management to have a 360° view of entire campus on a single click.
However, there are few factors which differentiate a leader from a boss. Extremely passionate about carving next generation leaders, Amit is currently the secretary and president-elect of UP Chapter of TiE (a global entrepreneurship organization). "A good leader must make pavement for his subordinates, accept the changes, be positive always and come in front to tackle
the challenges," postulates Amit. Over the years, these qualities have inspired the ecosystem around him to work for a unique mission of revamping the educational system. "I tell my team that 'more enhanced and adoptive our solution is, better would be the engineers produced in our country," he adds.
A good leader must make pavement for his subordinates, accept the changes, be positive always and come in front to tackle the challenges
In Pursuit of Passions
Amit's story is quite different. This IITian in fact wanted to become a pilot in the Indian Air Force, and had cleared all the necessary examinations including PABT. He even acquired a private pilot license simultaneously with his graduation, and it was also the time when the leadership thoughts started budding inside him. "Every leader in the country started to inspire me. My flying instructor who guided me and inspired me to jump from 2000 feet was predominant among them," adds Amit. The proud Kargil war stories of his army friends also inspired him to do something beneficial for the society.
He began the journey as an ERP player implementing SAP & Ramco systems. "But during casual talks,
every company official had only one thing to complain about - the educational system that fails to produce quality resources," he adjoins. An extreme innovator, Amit perceived this crater as his commitment towards society and designed E-SIM Campus Solution by making use of high-end technologies. "Our R&D is updated with not just current technologies, but future technologies," he proclaims.

Being a Normal Man
"Without my family, I am nothing," asserts Amit. He has every reason to say this as it was his family who stood by him during a huge setback in his entrepreneurial life, where the revenue and headcount of the organization dropped by almost 65 percent. From an edge of giving up, his family and some friends inspired him to fight back. He says, "I owe thanks to them for taking me out from those bad times, especially my wife and my father who motivated me and held my hand all along". Even the employees laid huge trust on Amit despite their salary getting delayed for months.

Without much delay, he bounced back and currently caters to 80 percent of the Indian institutions, and in next five years, he wants to take his solution to at least 10 countries in the APAC, Europe and U.S. Today, besides climbing the success ladder, this edupreneur is a noble human being who panics and loses patience at times. He likes traditional Indian foods (especially Dal-Chawal) and even makes bed-tea for his family members.