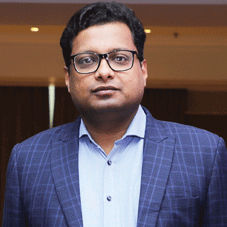 Over the past few years, the Non-Banking Finance Company-Micro Finance Institution (NBFC-MFI) model has proved itself to be a feasible and sustainable means of providing access to finance and meet the financial requirements of the bottom of the pyramid population. For such institutions, the working capital is the finance, and if the finance is managed competently, then half of its aim is accomplished. To lead such critical finance operations in an efficient manner, the MFI requires a leader who is strategically strong, adheres to tenacity, and possesses a positive attitude for every situation. Blessed with all of these qualities in plenitude is Amitesh Kumar, COO & CFO, Midland Microfin Ltd. (MML), a Jalandhar-based NBFC-MFI organization that has dedicated itself to offer the best-in-class financial services providing support to progressive poor at low cost.
Amitesh, who started his career journey as an Area Manager for an MFI, today is well known for his proficiency & expertise in managing the Operations & Finance Department of MML. Since the inception of MML in 2011, he has been instrumental in setting-up and implementing strategic goals for the institution. CEO Insights is humbled to interview Amitesh to know more about his journey over the years.
Tell us about your journey from being an Area Manager to becoming the CFO of a large organization?
After completing my MBA from Institute of AgriBusiness Management in 2008, I was campus recruited and joined SKS Microfinance as an Area Manager. I worked with them for around three years, and then I came in touch with my present Managing Director & Promoter(MML), Amardeep Singh Samra, where I got the opportunity to work with them as a Founding Member. This is how my journey at
MML started as its Vice President Operations in 2011.
We started from Punjab and with an aim & dedication for the growth of the organization, we worked hard with a common aim, which was to offer the best financial services to our customers. Soon, our footprints started to spread across the regions, and in no time, MML established its presence in Punjab, Haryana, Rajasthan, UP, Bihar, Jharkhand, Himachal Pradesh, and Chandigarh. Right now, we are having operations in eight states and one union territory. Looking at my strong dedication towards the work, the company and the board evaluated it and I got promoted as Senior Vice President, and then consecutively as Executive Vice President & Business Head as well as CFO of the company in 2014. In the same year we (MML) got listed in the secondary market.
Our aim is to empower women entrepreneurs by offering microfinance solutions such as Loan products and insurance services with ease
Brief us about the aim & mission of Midland, along with its offerings.
At MML, our aim is to empower women entrepreneurs by offering microfinance solutions such as loan products and insurance services with ease. We believe that empowering women is vital for alleviating poverty. Alongside this, our mission is to encourage microenterprise as a source of sustainable livelihood by providing financial services with the help of technology.
MML has completed its eight years journey in the industry, and we have grown-up to a very well extent having a strong presence across the country. Currently, we are having a customer base of over 400,000 clients and close to Rs.750 crore is the outstanding of the company. Apart from that, today, we are a team of around 2300 professionals.
Tell us about your roles and responsibilities in your organization.
Being a CFO I am responsible for the strategic planning of the company. I take care of the strategic recommendations while managing the day-to-day operations as well as
the financial planning at MML. Apart from that, my work portfolio includes fundraising, accounting, business development, risk, overseeing the audit, financial forecasting, and more. Underneath, I have a full-fledged team of chartered accountants and finance professionals who take care of the entire process.

How do you leverage technology to improve the performance of MML?
In the current digital era, technology is playing a very important role in business growth. We are working on figuring-out the architecture for a particular business model, and with a core team of developers, I am working on the right ways of doing things internally in my company. Currently, we are working on cash management challenges, where we are trying to scale it up at a new level using innovative technology. Besides, we are working on cashless disbursement for our customers. Also by leveraging technology to its best, we are bringing new ways to train our own people.

How do you keep yourself updated with current industry trends?
I follow a lot of apps, newsletters and blogs. Also I attend webinars, talk shows & conferences, and whenever I get the opportunity to speak, I do so. For that, a lot of preparations are needed, which is collected through secondary data and articles.

How has been the support & inspiration from your family in your journey so far? Also tell us about your hobbies, favourite cuisines, and travel destinations.
My family has played a very important & key role in motivating me to climb the ladder. Also, I'm fortunate to have a wife who understands the fact that this sector requires a lot of time & dedication and supports me at every step. Talking about my hobbies, I like travelling, going for a walk and playing piano. I have a great craving for North Indian foods, and my favourite travel destinations are Czech Republic, Switzerland and Dubai.

Key Management:
Amitesh Kumar, COO & CFO
Amitesh is a highly accomplished accounting & financial management executive with nearly 11 years of progressive experience in finance & accounts, management reporting, compliance, risk management and many other areas.