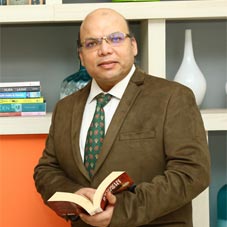 Leaders are role models, and there is indeed a lot to learn from their journeys. In the case of HRs, they are people leaders who incorporate great strategies to stay relevant in today's and tomorrow's world of business. The impressive story of Dow Inc's Amitrajit Ghosh, An HR maven with foresightedness takes us through a ride where he showcases the importance of being an open-minded learner. The valuable nuggets from him have reaped win-win situations for both people and organizations. The following excerpt is an exclusive conversation between Amitrajit and CEO Insights that throws light into his role as an HR leader and strategies incorporated.
What was the turning point in your life? How did you end up as a leader in the HR domain?
In my years of service in the HR and related fields, I have been keen on connecting people strategy with the business outcome. I started my career in the domain of industrial relations and later moved into the corporate HR field. This shift introduced me to explore all possible facets of HR. In Dow, I was put on various HR roles. I discovered that only when I stepped out of my comfort zone did I make some considerable career gain. One of my leaders asked to lead the HR shared services division, which was new to me. It happened to be a unique turning point in my career as it exposed me to the financial dimensions of business and how it has intertwined with HR. Later, a new opportunity knocked my door to head the Asia-Pacific Talent Management and DI, overseeing fourteen countries. It let me understand the nuances of cultural diversity and build secure networks among major HR heads.
When you look back, what are your achievements at Dow? What impact
has it made?
As a strategic HR partner, I always had to sail against the wind. I see opportunities in challenges. When I heard time zones were proposed as a way of creating more business and job opportunities in my centre, I took up the challenge to address the issue with government officials. I acquired permission to operate 24x7 with shifts. My contributions and influence in HR have never confined within the organization. I had the opportunity to play the part of a mentor for one of the disabled female players in the Wheelchair Basketball Federation of India.
We invite the parent(s) to participate in the special day and carry out ceremonies like presenting a bouquet and the offer letter to them
Give a brief account of some unique HR practices that you brought into Dow's Central Engineering Chennai and how has it turned out?
India has a robust demographic dividend, with sixty-five percent of its total population below 33years of age. Hence to create opportunities for our millennials and especially young female engineers, we have introduced a program called SITA (Strong, Intelligence, Tenacious, and Ambitious). It is a voluntary program to strengthen the corporate and academia partnership. Selection into this program is through a three-layer extensive process called TESLA (Technical Simulated Lab Assessment). Interns are put in simulated scenarios to apply theoretical knowledge for practical challenges. The idea is to assess their approach to the problem, rather than finding the solution right or wrong. We use Artificial Intelligence technology to assess candidates EQ. Later, we put them through an eight-week rigorous internship program, including an in-basket assessment.
Another unique HR practice is to engage the guardians/ parents of the candidate at the time of joining the firm as New College Graduates. We invite the parent(s) to participate in the special day and carry out ceremonies like presenting a bouquet and the offer letter to them. Initiatives as these have much-improved retention of talents.
What advice would you like to give to aspirant HR(s) in India reading this?
Believe in yourself. HR is an exclusive domain for the ones with passion. However, people have to invest their efforts sincerely to bring an extraordinary impact in the HR field to understand how to turn them into successful business outcomes. I believe that young professionals in HR or related fields need to have their perspective and opinion. They should not hesitate to speak up and bring progressive ideas into practice. I ask them to learn and upgrade the skills regularly.

Amitrajit Ghosh, Dow Inc, Human Resource Leader, The Dow Chemical Company
Amitrajit Ghosh is an HR thought leader with over 21 years of well-rounded exposure in all aspects of HR functions. Over the years, he has developed global expertise in people management and is an essential contributor to bringing alive the organization's inclusion and diversity vision in the region. Amitrajit is passionate about facilitating growth paths for high potential talents and cultivating leadership roles. A seasoned lecturer on Organization Behavior and related topics, he has also authored a book titled 'Mahabharata Management & You'.

Office: Global Engineering Solutions Center, Chennai
Specialities: World class in-house engineering capabilities of its own both in Chennai, India and Houston Texas.

Client Testimonials:
Amitrajit Ghosh, or "Amit da" as we call at WBFI know him, has been our ardent supporter, wellwisher and guiding light. As a highly experienced and compassionate HR professional, he has not only offered us valuable guidance for player mentorship program but also has directly mentored one of our players. WBFI fraternity will remain deeply indebted to his contribution towards growing the sport.

Madhavi Latha, President, Wheelchair Basketball Federation of India (WBFI)
I want to take this opportunity to wholeheartedly congratulate Amit for this well-deserved recognition! He has an incredible ability to balance strategy alongside sincere care for people.
- Thomas Joseph, USGC & TXO Engineering Director, Dow Inc.