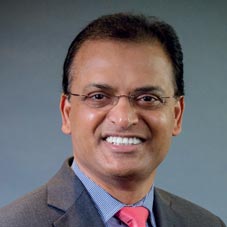 HRs got a multifaceted role in today's world; the tactical aspects of HR need to be executed flawlessly. HR is much more than that. Aside from the tactical aspect, HR needs to ensure the organization has the right workforce with the right mindset to be successful, not just today but for the future as well. HR needs to hire talent, diverse in nature, strategically. HR provides the right talent with a platform for them to develop inside the organization. As people develop, HR ensures that there is a strategic process in place, which can help promote the Right talent. Most importantly, an HRs job is to retain talent in the organization by navigating through paradoxes that may crop up, such as focusing on short-term actions or long-term planning or a healthy balance between the two.
Sharing insights on this, Bala V Sathyanarayanan, Global CHRO & Director, Board of Directors, is one such expert paradox navigator in the HR world. We are delighted to converse with him and know the unknowing and facets of workforce.
In the current day and age, a company's HR has to assume various roles such as a leader, visionary, decision-maker, manager, board developer, and others. What different roles have you been undertaking at Greif?
Fundamentally, it is less about HR. It's about being a leader who happens to understand how an organization creates value for its customers, and then leverages his/her expertise in Human Resources to deliver a global workforce that can impact strategy execution. One role we play is predicting the future of the organization. I am a strategist co-creating the Organizational strategy by working closely with the CEOs, the Executive Leadership Team, and the Board of Directors. Working next on the human capital implications of the business strategy and how we ensure that we have the right workforce that can help execute the business strategy.
The key role I play is that of a futurist, a strategist, an activist inside the organization to shake things up, helping the organization become more innovative. I make sure that the organization does not just focus on the incremental side of things for the near term but, more importantly, market creating innovations for the organization's future.
Grief is a 143-year-old company. It is the 7th oldest public traded company in the United States with the same stock symbol. My role as the Global CHRO is to manage the present while laying the foundations to help sustain global success for the future decades.
Give a brief account of how HR models that you laid have transformed Greif's entire work culture and client relationships.
For a HR model to work, it needs to be aligned entirely with Grief's business model. Grief's business model is all about creating value for customers and how the company captures that value.
Once we have come up with a business model, it's time to develop an Operating model that influences the organization's design and structure. Once you design that agile structure, the job of HR is to deliver the right people with the right mindset at the right cost, across the globe.
The key aspect is always to make sure that employees are engaged. Ultimately engaged employees will lead to better customer service, which would, in turn, lead to better business outcomes.
If we take care of our employees, the employees will take care of the
customer, and if we take care of the customer, the customer will take care of the company. It's a nice virtuous cycle. It is very important to have that understanding, and Covid-19 is a wakeup call for everyone to focus on employee engagement, and wellbeing. Leadership is about impacting people, not just while you lead them, but also empowering them to act given the appropriate framework.
If we take care of our employees, the employees will take care of the customer, and if we take care of the customer, the customer will take care of the company
What has been your key philosophy in maintaining an excellent organization client relationship? How far has it helped in achieving successful impacts?
The key is to bridge between technical capabilities and leadership capabilities. While technical capabilities are given it is leadership that will be the key differentiator. Leadership capabilities broadly can be put under 4 diverse categories:
• Strategic thinking
• Ability to execute
• Ability to influence
• Ability to make decisions which has long term impacts
I started my career in a hardcore engineering, Otis Elevator company.
I went from Otis to Coca-Cola, a completely different industry. I went from Coca Cola to HP, a Tech company in terms of hardware, software, and services. I went from HP to Xerox Corporation, which is fundamentally a pure printer company with services at play. Today I am in Grief, which is a global industrial manufacturer. A company that manufactures steel drums, fiber drums, cardboard Corrugated boxes - the ones similar to Amazon boxes. I have worked for different industries with completely different mindsets in my career, but if you have the four leadership foundational elements, you could thrive in any industry.
In your professional journey so far, which are the milestones that bestowed you with utmost satisfaction - both as an individual and an HR?
Recently, a year and a half ago, we spent over 2 billion dollars to acquire a company. Subsequently, we went through a massive exercise of a size and scale that my organization has ever done. As the Lead HR, I was the one who was leading it from the front in a way in which you bring everything together, and making the acquisition a success. In response to the COVID 19 outbreak back in January, I created a task force constituting the Head of China operations, Head of the Asia Pacific, and our organization's Asia Pacific HR head. As Covid spread to other parts of the world, we set up a task force in the Americas, Europe, and Asia. I am leading the task force. HR won't be doing it in a normal crisis, yet, this was an unprecedented crisis with an opportunity for HR to step up to the plate. In the task force, we focused mainly on 4 key components, People, focus on demand, focus on supply, and business financials to help keep the global business humming, and continue to take care of our people and customers.
The biggest personal accomplishment is the ability to inspire the next generation, the opportunity to give them hope. This can be done if you have the will and skill. Skills people can acquire while studying, interacting, and browsing for the knowledge. People have the skills, but having the will is the key to energize and inspire. If I can inspire 10 CHROs to become global CHROs, then that is a success. I am on this journey and spend a significant amount of time mentoring and coaching HR leaders who have aspirations of making it big.
Managing a company involves a lot of stress, skill, and time. How do you manage to balance between your personal & professional life?
There is zero balance! Because when you expect to have a balance, it is not going to happen. I do not
compartmentalize life; I integrate various aspects of life. Without my family's support, there is nothing I could have done. I am committed to my work, as well as my family. I find ways and means of integrating work and life where you have to find ways and means of not focusing on one at others' cost, but staying engaged on both. Again, going back to my fundamental premise of managing paradoxes and bridging them, and not balancing them. You always feel guilty that you are missing your son's soccer game! Today, in a virtual world, I am making the most of the integrated approach. I can spend more time with my family today than I had spent in the last decade when I used to travel a lot. I used to travel 70 percent of my time. In the recent months that has significantly come down, and the only flights I take are absolutely essential travel, all on the company's private jet planes and that saves time and keeps everyone safe.

What advice would you like to give to the young HR(s) in India, and what would tell them to expect in their journey?
To the generation of young and budding HR talent, my advice is to aim really high, never underestimate the importance of how hard it will be, and there is no substitute for hard work. If you need to understand that, you need to be aware of what are the things that trigger inside you that may derail you from getting your ambitions. Identify that in a way that you could bridge those and overcome those. Also, identify what your key strengths are, focus on leveraging your strength. While having ambitions, you need to follow through on that by building the right network both inside and outside your firms and do have not just one or two mentors but have a mentor a sponsor and a coach. Each of them has an entirely different purpose about why they are there, and how they can support. There is nothing more important than being absolutely focused, focused not on yourself but on others. HR is not about you; HR is about serving others. "I want to be a global CHRO because I could serve an organization, I could serve my people, I could serve and create 10 more CHROs, C-suite leaders, and CEOs." If you focus on others and focus on the larger universe, and if you genuinely and deeply care, then there is a higher probability that your ambition might turn into reality.

Bala V Sathyanarayanan, Chief Human Resources Officer (CHRO), GREIF
An engineer by training Bala V Sathyanarayanan has a bachelor of engineering degree in electronics and communications engineering from SVCE, and a master of business administration (MBA) degree holder from general management from the university of madras in Chennai, India. He went on to pursue his master's in human resources from Rutgers university and graduated from the advanced management program at Harvard business school.

Bala V Sathyanarayanan has had an illustrious professional journey, starting his career in a multinational engineering company called Otis Elevatorcompany, which is part of the global engineering conglomerate united technologies. From OTIS elevators, he moved to work for Coca-Cola – the 128-year-old global beverage making giant. After Coca-Cola, Bala V Sathyanarayanan had a successful stint at hp. He started as a director and later became the global vice president of the company managing a 46 thousand employee base spread across 30 countries. At present, Sathyanarayanan is the global chief human resource officer at Greif INC – a 143-year-oldleading global industrial packaging manufacturer- another fortune 1000 firm.

Today, Bala V Sathyanarayanan belongs to the elite class of a few global HR c-suite leaders that can be counted in our fingertips born out of India proving to the aspiring HR leaders out there that while the ceiling could be higher in HR, it is not a ceiling that cannot be cracked at all.

External Recognitions
• Outstanding 50 Asian Americans in business by Asian American business development Center USA
• Executive of the year by Columbus CEO magazine in 2019