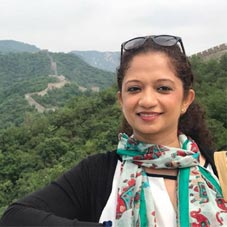 Traits like determination and perseverance have transformed the lives of a swarm of business leaders and entrepreneurs across multiple industries in the world. Despite a journey of ups and downs, these leaders have not only succeeded, but also have outclassed as a muse to many budding professionals. The beloved Global HR Lead, Diversity, Studies and Prospective, TOTAL Marketing & Services – Bhavana Chary Samel is one such leader who is the perfect manifestation of perseverance and determination in the field of HR. She is a well-versed HR professional with 17+ years of work experience at Fortune 500 companies in India and Paris. The quote ~ "When the going gets tough, the tough get going" has always been Bhavana's tagline! She believes in building her emotional intelligence to understand employees' as well as organization's requirements from time to time. She also never stops learning and unlearning to stay agile with the ever-evolving HR practices in the industry.
To learn more about Bhavana and her inspirational journey, peruse the following excerpts of an exclusive colloquy between her and CEO Insights.
How has your educational background helped you in your career so far?
I pursued Bachelors in Commerce from Mulund College of Commerce and MBA in HR from Welingkar Institute of Management. During my education, I was exposed to diverse nuances of accounting and HR which later helped me in understanding the overall business structure. Especially during my MBA, I studied a course on Japanese management practices which helped me to absorb variegated aspects in HR and also focus on critical elements in a business. Thus, I perceived value chain, product & supply chain, process improvement and many other aspects very well and contributed greatly to business development.
Brief us about some of your
milestones in your professional journey before joining Total Marketing & Services, Paris.
In my first stint at Essar Group, I joined as a Management Trainee and yet had the opportunity to work at the Head Office right from the beginning. Since I believed that learning the business from grass root level was important, I chose to work in the steel plant of Essar Group for a year and also at the oil refinery for a significant span of time. These experiences enabled me to comprehend challenges faced by employees and thus, frame policies based on their requirements.

Working at Lafarge India bestowed me with huge exposure to operations and culture of multinational companies while my next stint at Star India was quite different from the rest. Since media was a new industry, I faced a few difficulties in the beginning but later setup its Talent Management and Learning & Development verticals.

How has your journey at TOTAL MS been so far?
My biggest aim in Total Oil India has been to establish HR as a person who could make important decisions for the organization besides other HR endeavours. Devising the right compensation strategy, innovating on HR practices in accordance with the industry trends, selecting the right workforce, fostering diversity, and creating a sense of belongingness in the system for employees were some of my roles at Total Oil India. To focus on employees' health & wellbeing, we tied-up with My Health meter app as well as other apps to promote Learning & Development. To bring the subject of Diversity on the Table, during one of the Women's day, we distributed skincare kits to men and asked them to gift it to women they value the most in their lives. Further, we have organized various events and sessions for knowledge sharing and engagement among employees.

My current stint at TOTAL Paris involves Leading the Global agenda for Diversity (i.e. setting-up KPIs, building practices to inclusive culture), studying and analyzing Global business trends to prospect HR Practices in order to prepare the organization for the future and benchmark current HR trends to input into the HR Strategy of Total Marketing & Services.

What were the major challenges that you faced at TOTAL MS?
On a personal level, to be accepted in a team of seasoned professionals who understand oil and gas well was the biggest challenge. Being the first woman to be appointed in the top leadership team was quite challenging but further molded me
to foster diversity in the organization. After almost eight months, I got settled in the team, connected well with people, identified the pain points of employees and tried to resolve them.

On a professional level, hiring candidates from premier institutions, retention of talents, building our brand recognition, and building a compensation strategy in an environment of high cost cuttings and limited budget were the few challenges that I faced.

At Paris, faced many challenges as well, moving to France with husband and kids brings its own challenges for a woman. Also, I had to learn French to be able to communicate effectively, learn the culture and workings of a large organization with various business lines across many geographies, influence stakeholders and contribute in such an environment.

How do you stay abreast of the industry trends and innovate seamlessly?
I personally participate in various forums in HR, read magazines, follow HR leaders on digital platforms, and focus on agility in the industry. Currently, we are in the process of building future competency roadmap, HR strategic model, and diversity model for Total Marketing & Services Global.

Cast some light on your personal life.
I'm a mother of two children aged six and 12 respectively. I'm grateful to my husband who has been greatly supporting me in my career. I believe there is no perfect work-life balance, either work or life takes priority at different points in time. But being satisfied with whatever you do on priority, be it at work or life is important.

Bhavana Chary Samel, Global HR Lead, Diversity, Studies and Prospective, TOTAL Marketing & Services
Having worked for Essar Group, Lafarge India and Star India, Bhavana plunged into Total Oil India in 2015 and since then has been spearheading HR & Admin functions for lubricant, LPG and bitumen businesses in India. Currently she is in Paris, leading a Global HR Vertical for Marketing and Services.

To The Budding HR Leaders:
Firstly, understand that HR is not a support function but a critical element for the existence and success of a business. Understand business well and then align your initiatives accordingly. Also, stay mindful about your career in tune with your ambitions, learn new things regularly, make the right career choices, and deliver your best at every organization you're a part of!