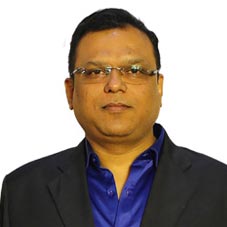 Passion is the genesis of successful endeavours. Once we are successful, we all have a fairytale to tell. But the failures are what make us a person who can take new challenges towards success. The decision of quitting a stable corporate life with all the family responsibilities and starting as an entrepreneur is the greatest challenge. There are hardly any who challenge the status quo and pursue their dreams, and Anand Thakur, (Co-Founder & Managing Director of Varcas Automobiles) is one of such passionate leader in the automotive industry who realizing his potential dared to live off his entrepreneurial pursuit, envisioning greater success.
The automotive industry, a hotbed of development and reexamining, where engineers ought to be quick to comprehend and mould the solutions pertaining to the evolving demands of the new sci-tech world is no easy feat to accomplish. Fortunately, Anand's exquisite experience in devising business & sales strategy, product management, brand management, channel management & development, operations management, overseas relation management, and compassionate customer service proved to be the key contributors in his journey.
CEO Insights engages in an exclusive interview with this meticulous automotive entrepreneur Anand to further deduce about his entrepreneurial journey and the anecdote of Varcas Automobiles. Here are the excerpts:
Walk us through your professional journey so far.
I have completed my BE in 1995 and after that started my career with TVS Motors in 1997. During my corporate career spanning over 20+ years, I have worked with global 2W brands viz TVS, Honda, Suzuki, and others and these proved to be the building blocks of my career (exposed me to the importance of quality, systems, hard work, and basics & fundamentals). Beginning off as a Sales Executive in my first job, and being at the leadership level in the latest six years of my career, handling PAN India responsibilities in some of those recognized companies as of Head – Sales, BD - Managing Business (Domestic & International), today I am the Managing Director at Varcas Automobiles. During my stint in the corporate, I had the magnificent
opportunity to work with several distinguished business leaders and various departments like Sales, Business Development, Product Development, International Business, Project Management, and more. These experiences helped me a lot when we were working on finalizing our company's business strategy, product development, fiscal management, setting up of greenfield project, human capital development, and much more.

What were the major challenges that you faced as an entrepreneur so far?
The Automotive industry is like a freshwater river that never becomes stagnant. Every day there's innovation and updates in technology. No business is successful overnight and that too in the first attempt. Challenges, mistakes, and failures are what it takes to be successful. The journey is filled with the worst experience, but the continual learning has taught me the best practices, which might not be taught in universities today.

The two biggest challenges that we faced initially were – differentiation (how is our Business Model different compared to the existing players) and financial viability (how to fund the growth). The primary objective was the company's Fiscal Health with positivity as the bottom line and growth to ensure company attains success. It was the experience gained over the years that served as the guiding light in this endeavour. We aim to expand our business by B2B collaborations and exporting our products to other countries with prospective investors.

Share with us some of your milestones.
As an employee, one is responsible only for the work assigned and his/her family. But, as an entrepreneur, one is responsible for all the stakeholders (employees, dealers, vendors), shareholders, and their families as well. Everyone looks to you with the trust that the right decisions are being made to take the organization forward. The well-being of the self and family comes later.

The biggest asset that we have developed & continue to build is our Human Capital. The company six months back had less than 25 employees, and today we have 93 employees – out of which 90 percent are less than 25 years old. We never lost hope even during the worst situations/conditions (including lockdown). We focused our entire energy to acquire new business opportunities.

Brief us on the diverse roles that you undertake at Varcas Automobiles.
It is not possible that being the MD of the organization, one knows everything and can perform all tasks individually, however, during the process of building an organization,
be it Product development, Demand generation, Fiscal management, Building infrastructure, Production, Vendor development, devising Organization policies, Human Capital Development, and others, I had to handhold and walk them through, which continues even today. We are always focused on making products that offer the best quality and performance. Hence, with a committed product & service guarantee, we deliver the same with the flexibility to all our customers & stakeholders.

What is your mantra to strike the right balance between your busy professional and personal life?
I believe, to achieve success we always have to compromise, and we can never have a perfect balance between professional & personal life. But, prioritizing things proves to be the only effective way. Planning family dinners, vacations once a while has always been a stress reliever for us. My family has always been incredibly supportive, and it always gave me the confidence to become an entrepreneur, quitting a stable corporate job. However, I even regret it today that then I could not give much time to myself and my family.

How do you stay abreast with the latest industry trends in the industry?
Learning and updating yourself with the latest technologies and industry trends is as important as breathing. To survive in the industry, you must acquire knowledge and update on things happening around you. Hence, I do that by participating in/attending webinars and consistently interacting with industry peers.

As technology is ubiquitous today, what are your strategies to leverage the best of it and carve-out beneficial solutions for both the company and the clients?
Of course, technology is ubiquitous today. New Technology is important to stay ahead of your competition, and along with that, it is also important that this technology is made affordable, nevertheless undermining the quality. Customer satisfaction plays an important role in developing and establishing businesses. To ensure that every customer's expectation is met, I have incorporated the fundamentals in our business model (to provide affordable, reliable, durable, and value-for-money products). It's my responsibility that along with achieving company bottom-line targets, we draw beneficial solutions to our customer line.

Anand Thakur, Co-Founder & Managing Director, Varcas Automobiles
Having 22 years of experience in the automotive industry, including over six years at the leadership level, Anand is a diligent entrepreneur with a passion for automobiles. He has worked across product segments – Mass market Products, Premium Products, Super Bikes in Pan India & South Asia.