Ashutosh Pandey: An Industry Veteran Embracing Technology To Break The Conventional Boundaries Of Automobile Industry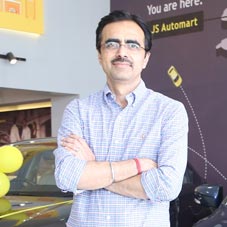 Technology is a key driver of growth in any industry vertical and businesses that have innovated and prioritized incorporating the latest technologies into their operations have been able to gain an edge over the rest of their competitors in the industry. One company that has been able to break new business frontiers and tap into the untapped potential of the automobile industry through constant innovation is Mahindra First Choice. This pioneering tech-driven business is headed by industry stalwart Ashutosh Pandey and his ability to identify previously unknown and overlooked business opportunities have helped Mahindra First Choice to elevate themselves to greater heights.
In an exclusive interview with CEO INSIGHTS, Ashutosh talks in detail about his professional journey and the unique operations of Mahindra First Choice.
1. Can You Elaborate More On Your Educational And Professional Journey?
I studied in FMS Delhi and right after my graduation, I joined Tata Administrative Service which is a leadership pipeline for the TATA group. I spent a majority of my career with the TATA group and within the group, I was able to work in different companies that are into different industries such as tea plantation, telecom, and hospitality to name a few. I was also able to set up a company called TATA CLiQ and now it has become one of the largest e-commerce players in the country. For the past two years, I have been working with Mahindra First Choice where I manage the auto technology business and I have been building the e-commerce side of auto operations for the company
2. How Do You View The Current Market Landscape Of The Indian Automotive Sector And Where Is Mahindra First Choice Positioned In The Market?
The automobile industry has multiple segments to it and the passenger vehicle segment has been under pressure for the last two to three years. With that said, in the future, I believe that the sector is going to perform well because there are exciting new developments happening in the market such as electric vehicles and new brands entering the market.
When it comes to CVs, I think that in the next 12 to 18 months, the sector is going to improve a lot owing to the spends made by the government. The two-wheeler market has always been strong but the mobility side of the industry will continue to be under pressure for the next six months. In the auto technology side, which is the area that I am dealing with, there hasn't been any issue and we are growing rapidly and the retail, digital and B2B side of the business is improving too.
My mantra is to never look back and whatever you did in your past is not a template for your future
When it comes to where Mahindra First Choice is positioned in the industry, we are actually the leader in all the four segments of the auto technology industry. The first segment is the retail part and we have the largest network of stores across the country and we sell 12,000 to 15,000 cars every month. The second segment is the procurement business and this deals with getting the vehicles and supplying it to the dealers and franchisees. This part of the business is very important because we are a supply starved industry.
We have two to three different sources to get vehicles and we are the leaders in managing the dealerships of OEMs. The third segment is the enterprise or B2B business and in this segment, we manage the entire chain of taking vehicles that were confiscated by NBFCs and banks for defaulting payments. We also have the largest network of yards in the country which is used to store these repossessed vehicles and we inspect the vehicles and value them. Then the fourth segment is digital and technology and we build lots of technology tools and we have developed the best pricing engine to value used cars. We have also got a large website called carandbike.com and it gets 17 million customers every month.
3. How Has Your Professional Experience Helped You To Take Mahindra First Choice To Greater Heights And What Are The Technologies That You Adopt To Stay Ahead Of The Curve?
I have never planned my career and I believe that passion is one of the most important things to become successful in the industry. Also, one misconception that many people have about someone else's professional journey is that you have to have a background in that specific industry to make it successful in that domain. The core business philosophies are similar across various industries. Having
the experience of working in different industries has given me the confidence to get into new businesses and make a difference in that space. In fact being an outsider in the auto industry has allowed me to take things to another level. I have also learnt that in business ventures, it is important to innovate and still at the same time, be rooted in the legacy of the industry.

Mahindra First Choice is the repository of the largest data set in the industry. We are building a very big data lake and we have invested a lot in data science labs so that we can not only use it for our own purposes but use the data to make the industry operate in a much more efficient manner. We are also building a new B2B2C platform. This is going to bring people who have vehicles, people who have mechanisms to sell those vehicles, and people who want to buy vehicles into a single organized space.

4. How Do You Separate Yourself From The Rest Of The Competition?
There are many factors that set us apart from the rest and the first one is the organizational culture. Our work culture helps us to get people who are driven and this allows us to perform in an optimal manner. We hardly have any hierarchy, we are not slaves to a process and more importantly, we are not afraid to try out new things.

Even during the pandemic, we didn't lay off any employees and all this helps us to build a culture of ownership in the organization that is connected through human emotions. We are also a unique physical and digital business which helps us to always standout from the rest of the competition. Then, we are also an extremely frugal organization that prioritizes on being agile and innovative.

5. What Is Your Mantra To Success And How Have You Planned The Future Roadmap Of Mahindra First Choice?
My mantra is to never look back and whatever you did in your past is not a template for your future. Also, more than skill and ability, hard work counts and you should be passionate about the things that you do. When it comes to future plans, we are coming up with two to three exciting things in the next few months and that includes launching new formats of retail stores, revamping our consumer portal and launch two to three more businesses.

Ashutosh Pandey, CEO, Mahindra First Choice
His strength as a professional lies in building a business from scratch and grow that business. This combined with his passion towards his profession has helped him to take Mahindra first choice to greater heights.