Ankit Garg: Leading An Integrated Solar Company Towards Successful Manufacturing Of Solar PV Modules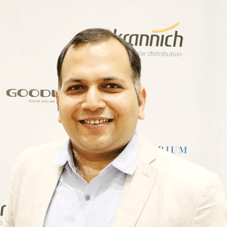 India's leading integrated solar company name Solarium Green Energy strives to deliver nothing but the best. Being the next generation of solar technology, Solarium being Bootstrapped, has invested in productionline and deliver consistently efficient and comprehensive range of premium, smart solar PV modules through state of art manufacturing facility in Gujarat, India unique and advanced. Set up by Ankit Garg, an IIT(ISM) Dhanbad Mining engineering graduate, Solarium Green Energy is dedicated to providing the best PV solutions through an innovative business approach, operational excellence, and technological expertise. From working in the Sales and Marketing division of Hyundai CE for six years to establishing his firm, Ankit Garg has seen it all.
The idea of setting up a production facility capable of manufacturing best quality solar PV modules was to satiate the ever growing energy demand via eco friendly means and to play a significant role in the quicklygrowing Solar Industry. Engaging in an exclusive interaction with the team of CEO Insights, Ankit Garg shares his experience as a young managing director of Solarium green energy.
What are the different roles the MD of the company often plays? What has been the biggest challenge?
As a Founder and Managing Director I vest my focus on major rules of Operations and Customer Support. With new business development, the whole purpose is to learn all the recent current operations and to enhance our business into multiple verticals and multiple locations also. One of the early challenges I faced is that I was not having experience in Solar industry. I had pursued engineering in mining. Hence, solar technology and solar products manufacturing have been new for me. We worked continuously by putting smart manpower into our operations and following ISO standards at our factory. Over the years, we have been able to build a very good team with us.
Today we can retain the demands of our consumers. In terms of the
growth of the company initially we set up a manufacturing plant of 40 MW, now we have expanded to 100 MW production capacity with further expansion inline of 200 MW.

How did you use your 'no industry' experience in shaping unique business strategies? What are the short term or long term goals of the organization with your vision and mission?
Resisting the status quo by progress and the solar index was new as my previous experience was more oriented towards business development and customer support. Experienced from my previous job, I was always a quick learner, promising satisfaction and offering complete peace of mind over in class and customers that have held us in shaping our current business.

We are currently looking at ways of making your manifesting kind of EPC solution going into residential, commercial & industrial and ground mounted verticals. Our goal is to be sustainable and profitable on a one-on-one basis. It has been very difficult for any company to be sustainable over the short term goals, certainly to be sustainable and to retain in terms of our EPC offerings. Our long term goal is to achieve bigger bandwidths and among pan India. We want to establish our networks in all the states in India. We are committed to being a world class solar photovoltaic module manufacturing Company striving to continually improve our Quality, Environment, Occupational Health & Safety Performance, and Systems. We are dedicated to providing the best PV solutions through an innovative business approach, operational excellence and technological expertise. We understand that innovation holds the key to growing energy demands, thereby we constantly innovate and bring to your solar energy solutions, which positively impact our society and environment.

How important is a company's culture to you and what are measures taken to maintain your desired culture? How do you maintain the perfect balance between your professional life and your personal life?
A company's culture is very much important, and I think it is one of the main pillars of the company's growth and we are totally focused on maintaining positive company culture. We have separate HR departments with us, we have not laid off any single employee during COVID time, we have done 100% salaries even through the toughest days of the pandemic. We keep onregularly interacting with our employees and workers to understand what problems they're facing in their professional and
personal life. Basically, our emphasis is to create a comfortable work culture so that when they can share the problem with us and we can solve that problem. We continuously interact with our team to build a rapport that helps them towards growth.

While striking a balance between personal and professional is very difficult to maintain but it is easily achievable if you have a supporting family. My family is very supportive they understand that when I have worked, I need their support and I know how to prioritize things which has helped me a lot through my work and home.

How has the growth of the company been since its inception? What are future plans?
We are smart solar PV modules manufacturing company that has been recognized as Most Promising Energy Producing Providers by Silicon India. We have been identified by the Government of India as startup.

We started in February 2018 when our turnover was close to 4crores, however, we achieved 38 Cr in Fy 19-20 and last year in 2020 we lost almost 95 crores of turnover. We are now pulling up we are again registering a positive growth rate. Next year we are targeting 300 crores of turnover revenue. There are very few companies in India that manufacture PV modules and provide EPC Solutions. Being modules manufacturer gives our customers an advantage of reliability and sustainability. We were at a turnover of 40 crores and we have doubled it within a short span. Next year we are eyeing three times of our existing customers on growth. With a firm commitment to the values & spirit of the Solarium, we are continuously working towards delivering energy excellence to homeowners, businesses & organizations.

Ankit Garg, Founder and MD, Solarium Green Energy
While studying Mining Machinery Engineering at Indian Institute of Technology (Indian School of Mines), Dhanbad, Ankit gained impeccable expereince in project management by working as trainee in different companies like Suzlon Energy, Uranium Corporation of India, Bharatiya Coking Coal, Hyundai Construction Equipment India. The learning experience also includes co-coordinating Annual Techno Management cum Cultural Festival of ISM. There were 20 events conducted in just 3 days. Ankit has unmatched volunteering experience as teacher and designer and is known for engineering and mining in the industry.