Debabrata Bhattacharya: An Eminent Leader Striving To Revolutionize Playground And Fitness Equipment Industry To An Ultimate Level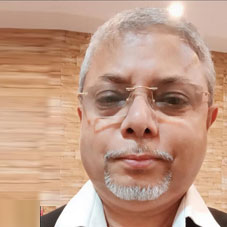 Equipped with prominent expertise and proficiency in the field of manufacturing, Debabrata Bhattacharya came forward to establish his dream foundation Eviana Incorporation in 1999 that ultimately contributes to the health and happiness of current generation youngsters. Trading kid's equipment that not only entertains the kids but also satisfies the parents, Eviana Incorporation is extremely cautious in delivering the best quality products for schools, resorts, builders & developers. As a Corporate Director, Eminent Educationist, Speaker, and Industrialist, Debabrata Bhattacharya is leading his firm to emerge as one of the exceptional manufactures & supply brand of outdoor & indoor playground equipment.
Exclusively interacting with the CEO Insights team, Debabrata Bhattacharya highlights the distinctiveness of Eviana Incorporation as a premium manufacturing brand of fitness, indoor and outdoor playground equipment.
1.How are you catering to the consumer's anxiety in providing safe playground equipment and other products like seats and others?
Determined to manufacture high quality goods, our play ground equipments are made from a mixture of metal and fibreglass. While the metal in it makes the structure and the base strong, the fiberglass used for forming the slides, roof, and panels are of category virgin. The specialty of this type of fiber glass is that it is made through a manual moulding process which is perfectly safe for children. We use UV stabilized virgin grade material and are entirely devoid of any toxicity. We make sure that there are no sharp edges in the equipment and toys. We keep in mind that the products we are
concerned about are intrinsically involved with the core development of the children. Hence, we have incorporated into our products, specific fundamental educational and interactive values. This way the children will not only have a great time playing, but they will also learn and develop.

2.What are the tests that your products undergo to ensure that they are safe to be used?
At play world, we know that one of our top priorities is safety, and we're serious about safety. All our commercial play ground equipment undergoes careful engineering and testing. So, it meets or exceeds all relevant safety standards our playground accessories and equipment are also made of durable materials that will last for years of safe play.

For us, it's the little details that make a big difference. The Tubing and posts of our play equipment are FLO-Coat galvanized steel tubing, which offers the most advanced corrosion protection. The metal used in our products ensures a perfect fit during assembly, ensuring no wobbling, warping or movement. The tamper resistant hardware keeps your play area secure. All our materials and equipment are extensively tested are retested to ensure they pass safe markers. It's important that our play equipment is safe for little ones and is built to last.

3.What are your strategies to rise above these unorganized players and offer a more streamlined product line?
Believing in delivering the best possible service, we never compromise on the quality of our equipment. We also manufacture & supply, Classroom Furniture, School Furniture, Activity Toys, Garden Furniture, Trash Bins, and Various types of Fountains. Thus, we are a one-stop solution for a variety of requirements, we value money, and we value our relationship with our long term and potential clients. All these qualities and facilities have gained Eviana Incorporation much popularity, and we are striving to make it to the top. Our motto is 'Think Playground Think Eviana Incorporation.'

4. How do you source the materials imperative to create the playground and classroom equipment?
Are there any regulatory compliances that your company adheres to while offering your services?Eviana Incorporation is an
ISO - 9001-2015 organization. We outsource the materials from our Associate Companies supported by technology and Investment. There are more than 10 such organizations as such with more than 200 Trained staff. They are the strength of Eviana Incorporation for the timely execution of the order besides their Manufacturing facilities. Eviana Incorporation provides you with the resources and research to make you a child's hero by providing to a playground that builds healthy lifestyles, encourages imaginative play, and becomes a place that provides social and physical inclusion for people of all abilities.

5.How are you trying to enrich the lives of children with happiness and parents with contentment through Eviana Incorporation?
Eviana Incorporation has created and installed all Children's parks since 1999. With the best creative concept and play equipment, Parks offer children the daily benefits of direct experience with nature with the motivation to explore, discover, and learn about their world. To engage in health promoting and physical activity, Parks offer children a sense of place, self identity, and belonging as an antidote to social alienation, vandalism, and violence. Parks provide a valuable resource for closing the educational achievement gap in communities. This is one of the best investments made for our children which emphasize on the green and fantasy revolution to fight TV/ VIDEO Games onslaught children's mind and creative ideas.

Debabrata Bhattacharya, Chairman, Eviana Incorporation
Owing to his long corporate management exposure of more than 18 years, Debabrata Bhattacharya has led Eviana Incorporation to emerge as a novel brand in playground and fitness equipment manufacturing.Through his brainchild Eviana Incorporation, today Debabrata manufactures, supplies and sells a wide variety of products ranging from playground equipment to multipurpose playground and fitness equipment. Famous for his social contribution for the help of the backward section of people in the society, Debabrata Bhattacharya spends lacs and lacs of rupees of fund every year from the profit of the company for the development of Education in poor section of society. Being an eminent and respected educationist whatever he earns, he spends for living his life.