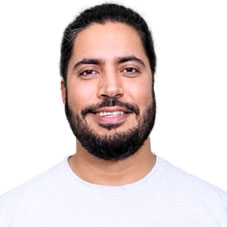 Can you inject cool into standardised tests? Can you make applying to top schools a fun process? Well, that's what the 700+Club is doing. Their coaching classes offer valuable guidance on different types of exams, the various kinds of questions they contain, and the specific formats of these exams. Their admissions consulting provides customised journeys for each candidate to bring their best story forward. The 700+Club believes the test preparation and application process should be a fun, engaging, innovative, and results-driven experience. With a team of instructors ranking in the top 1percent of their respective fields, top admissions experts, access to cutting-edge digital learning resources, and the use of a comprehensive instructional approach, there is a firm conviction that, through collective effort, students can achieve their highest possible test scores and get into top schools around the world while being a part of the 700+Club community. Anshul Bhat, co-founder of 700+Club, has consistently supported ingenious ideas and knows how to take exam prep and admissions consulting to the next level.
During a one-on-one interview, Anshul Bhat shared details about his early life, the factors that led him to choose his current profession, and his future aspirations within the organisation.
How do you distinguish 700+Club as a company, and where does it stand in the market?
At 700+Club, we're a young startup about three years old that's grown fast. We don't see ourselves as a typical organization we're a team functioning like an ecosystem that puts students first. Our core mission is to help motivated students gain admission to top global schools by providing support at every step of their academic journey. Student-centricity drives us. Still, it's a collaborative effort that involves our carefully curated team, which plays
a vital role in helping us reach our shared goal of helping students. Trust is our foundation; our team trusts us, and we trust our team. In about two and a half years, we've become Europe's leading test prep centre with impressive results over 98 percent of our students get into their top-choice colleges, and our GMAT scores have seen an average improvement of around 260 points. This success reflects our ecosystem and the trust that binds us together.
We prioritise effectiveness over perfection, as perfection can hinder progress
Share your leadership style with us. What approach do you stick to as a leader?
Leading 700+Club, a rapidly evolving startup community, has been a dynamic learning journey. We started with three team members in 2019 and have grown to around 45, navigating a shifting landscape, including fundraising and growth. I am a constantly developing leader, aiming daily to be my best self for the company and personally. For me, trust and empathy are key. No one needs to earn trust extending trust from day one is fundamental.
We prioritise effectiveness over perfection, as perfection can hinder progress. Transparent, thorough communication is vital to our culture of openness. As we scale, maintaining these values is crucial. My evolving role focuses on creating a clear team vision, placing the right people in suitable positions, equipping them, and trusting their abilities to fulfil our shared vision. I work for my team rather than the other way around.
How do you stay informed about the latest industry trends to guide your organisation's future direction?
We maintain strong relationships with key industry stakeholders, such as test prep organisations and GMAT test administrators. This allows us to stay ahead of industry shifts, like the recent changes in the GMAT exam focus, as we receive insights directly from these change makers. Additionally, we are constantly communicating with top business schools to grasp the evolving student market and understand the motivations and preferences of students applying to these schools. Our students themselves provide valuable feedback, giving us insights into
their goals and priorities when applying to business schools. Ultimately, we rely on three primary sources of information: the schools students aspire to attend, the organisations managing standardised tests, and our ongoing engagement with industry developments and conferences, ensuring we stay well-informed about market trends and changes.

What have been your most demanding challenges so far? How did you overcome them, and what did you learn?
This question is quite moving, and it's been on my mind a lot lately. I've faced many challenges, especially as an entrepreneur starting a business in a foreign country. Reflecting on my journey, transitioning from a displaced community to embarking on an entrepreneurial path has been an eye-opening experience. One of the most significant challenges I've overlooked is not celebrating the small victories along the way and constantly focusing on what's next. As entrepreneurs, we often fixate on where we're headed, but we must remember and celebrate how far we've come. The entrepreneurial journey is no stranger to highs and lows, and it's essential to remember to look back and appreciate the progress made. Never forget the distance covered during those challenging moments, it provides valuable perspective on the journey.

Where do you see your ultimate destination in the future?
While I can't solve all the world's problems, I'm committed to making education more accessible. At 700+Club, we're expanding to various European countries and continuously adapting our product to meet market needs, leveraging technology for scalability. Our company's focus for the next two to three years is to make our resources more accessible globally. Additionally, we're launching scholarships to support financially disadvantaged students, a cause close to my heart. These are our primary commitments for the next two years.

Anshul Bhat, CO-Founder, 700+Club
Anshul Bhat, the co-founder of 700+Club, is a testament to a unique leadership style within the test prep centre realm. His leadership skills have been a driving force behind the company's rise in the industry. Anshul's visionary approach and commitment to student success have thrust 700+Club to new heights.