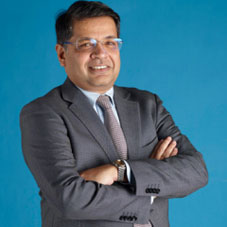 In the global industrial and process machinery arena, leaders must prioritize a sustainable and efficient operations culture, employing a lean approach for heightened productivity and reduced waste. This fosters innovation, agility, and adaptability, empowering companies to swiftly respond to dynamic market demands. Aligning strategies with sustainability and waste reduction allows leaders to create a lasting impact, driving growth and establishing a commendable industry reputation. Sandeep Gadkary serves as a prime example of exemplary leadership, embodying these principles in action.
Sandeep Gadkary is a visionary Executive Director at SIAD Machine Impianti, with a trailblazing career in the global industrial and process machinery arena. With a proven track record of driving dramatic growth strategies, Sandeep's expertise lies in developing and implementing cutting-edge initiatives that open new market segments and elevate the sales of value-added products, all while maintaining a lean manufacturing footprint.
Below is an excerpt of Sandeep Gadkary's exclusive interaction with CEO Insights magazine.
How has your professional journey been so far? What is the motivation that fuels your daily routines?
Throughout my enriching 33-year career in the machinery sector, primarily focusing on compressors, I've had the privilege of working with prestigious multinational companies. My professional journey has been enriched by a robust engineering back ground, granting me comprehensive expertise across diverse functions, spanning engineering, sales, marketing, operations, and service management. As I advanced into executive leadership positions, I embraced a strategic plan centered on business growth, operational excellence and cultivating a high-performance culture within our workforce.
Moreover, my core motivation stems from our dedication to expand and diversify, exploring fresh opportunities in various applications, geographical regions,and industries. We are at the
forefront of technological advancements, emphasizing clean energy, sustainability, decarbonization, digitalization, renewable (bio-fuels) and environmental (waste water treatment) services. Each day, my passion for growth motivates me to lead our organization into a thriving and innovative future.
As I advanced into executive leadership positions, I embraced a strategic plan centred on Business Growth, Operational excellence and cultivating a high-performance culture within our workforce
How would you define SIAD Machine Impianti, as an organization and its position in the market? What is the unique proposition that your organization offers to clients?
Since 2019, I have been a part of the esteemed SIAD Macchine Impianti, a company with an impressive 93- year legacy and proudly under the ownership of an Italian family. As a representative of SIAD Macchine Impianti, within the larger SIAD Group, which generates a remarkable 1.1 billion euros in sales, we are a global team with a large number of professionals. Our shared market presence extends across the world, specializing in engineering excellence. We design and manufacture machinery, including compressors and plants, like air separation units and small-scale LNG energy solutions. Our expertise lies in crafting reciprocating compressors for various industrial gas applications, with a primary focus on nitrogen, oxygen, and hydrogen gases. Most importantly, our key commitment is to provide top tier machinery and equipment for the industrial gas, petrochemical and energy sector.
Tell us about your leadership approach. What are the guidelines or methodologies you follow as a leader?
In essence, two crucial aspects come into play: external factors impacting the world and internal dynamics within our organization. Externally, our focus is on creating a truly distinctive offering, particularly in market verticals dominated by energy transition, decarbonization, and environmental concerns, with an ever-growing emphasis on digitalization. Understanding market trends and insights allows us to strategically position our products and services, delivering comprehensive and cutting edge technology solutions to meet market demands. Customer Partnerships and focus on comprehensive Product and
Services portfolio backed with digital technologies helps drive our Customers Experience. For us, this approach has been pivotal in driving our success and cementing our position in the industry.

Could you reflect on some of the toughest challenges you have encountered in your journey so far? How did you overcome them and what did you learn from them?
In navigating the challenges of the past few years, I have embraced a transformational leadership style, characterized by a methodical and fact-based approach. The pandemic and geopolitical tensions like the Russia Ukraine war disrupted the market and supply chain, creating hurdles in hiring skilled talent. To overcome these obstacles, we adopted a proactive market analysis, aligning our organization through data-driven analytics. For instance, addressing supply chain disruptions involved, better Sales and Operations Planning, weekly material full filment and cost analysis, while promptly tackling key issues. We instilled a proactive problem solving mindset within the organization, ensuring we stayed resilient and adaptable. By leveraging strategic planning and decisive actions, we have successfully thrived amidst adversity and continued our trajectory of success.

In light of your strong experience within the industry, what advice would you give to budding industry leaders?
In essence, identifying shared objectives throughout the value chain is crucial. Sustainability takes center stage in the corporate world, with companies dedicating resources to enhance it. Embracing systemic improvements offers a remarkable chance to reduce our carbon footprint and adopt better ESG models. As responsible corporate citizens, we aim for efficiency, lower carbon footprints, and waste reduction. Ambitious goals like zero emissions, landfill, and spills drive us. Social initiatives uplift people, while ethical decision-making ensures exemplary corporate leadership. On cultural side we need to embrace progressive-diverse-inclusive mind set for increased stake holder engagement. Adhering to these principles creates a positive global impact, forging a path toward a sustain able future.

Sandeep Gadkary, Executive Director, Siad Macchine Impianti
Sandeep Gadkary, an accomplished global leader, holds degree in Mechanical engineering, and Executive MBA from Rice Business Jones Graduate School of Business. With a distinguished career encompassing roles at Ingersoll Rand & Cameron, he currently serves as Executive Director at SIAD Machine Impianti, driving transformative growth in the machinery sector.