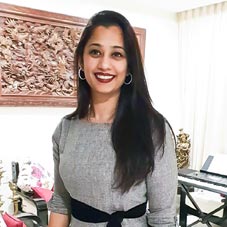 Sometimes, the concept of leadership is known as only handling individuals, observing a team and ensuring that each person does their job. Being a leader means that you have a vision and can paint a strong image of what you see for others and that leaders create connections with people who help make a vision a reality. One such leader is Aparna Gorrepati, the Founder of ZUCI Chocolates.
CEO Insights interviewed Aparna Gorrepati, where she enlightened us with the challenges she encountered in setting up her brand and coming out as a leader in the respective industry.
Tell us the major facets & achievements of your leadership journey.
I am a first-generation entrepreneur. The most important aspect was to break the mindset of taking on a huge risk and a large investment of personal funds. However, my training, expertise and market gap created a huge opportunity, which I did not want to miss.
In every way, it was textbook perfect to launch my dream venture and see it come to life, working for the first time on several things. Having launched an artisanal chocolate experience in Hyderabad, it was exciting to see the first collection of reviews from all stakeholders.
However, within a month of our launch, we were thunderstruck by the pandemic and it was adversity right at the beginning. While it was a huge blow to our well laid out plans, a huge financial setback, we never lost hope, we believed in ourselves, our team, and our capabilities to continue on our path.
What were the initial challenges at ZUCI Chocolates that taught you some crucial lessons of company
operations? Also, tell us about your achievements at ZUCI Chocolates and the business transformation you led via those achievements?
Setting up ZUCI has its set of challenges, right of design the kitchen (with various temperature control zones for bread, patisserie and chocolate under one roof), hiring and training a team on a very niche skillset, instilling in them the core values that we stand for both on quality of product and customer service.
Another challenge we continue to face is to educate our clients about the various characteristics of chocolate available in the market, the importance of pure chocolate and our value proposition.
As the founder of ZUCI Chocolates, my most important role is the curator of all experiences for every customer
Making a mark as the first and exclusive chocolatier in Hyderabad, building the resilience to see through the challenging first year, the ability to maintain our core talent, building ZUCI brand in a short period to represent our core values of Purity, Quality and Trust Worthy, is what I would consider as my accomplishments.
In the current day and age, the Founder of a company has to assume various roles such as a leader, visionary, decision-maker, manager, board developer and others. What different roles have you been undertaking at ZUCI Chocolates?
As the founder of ZUCI Chocolates, my most important role is the curator of all experiences for every customer, and as a face of this brand, I oversee every aspect of the business, setting the menu, finalizing the recipes, presentation of the products, and packaging. My most important role is also customer interactions and business development, I believe in personally being in touch with as many customers as possible, explain the product, our uniqueness and also seek feedback. I rely on having a pulse of everything related to ZUCI to be able to drive continuous improvements.
In your professional journey so far, which are the milestones that bestowed your utmost satisfaction - both as an individual and as an MD?
As an MD, it is the most coveted moment to kick off a long-term dream into reality and open up ZUCI Chocolates and another achievement has been gratitude from one and all, family, colleagues, fraternity and press.

Some of the most satisfying moments have been, watching that one smile from the customer when you know they have enjoyed your products and have only superlatives to define and describe their experience. Testimonials from the customers on why they have liked, how ZUCI is different and see them coming back for more. Be part of many celebrations of the customers and ZUCI can play an integral part of their entire guest experience.

Managing a company involves a lot of stress, skill, and time. How do you manage to balance between your personal & professional life?
In my view, in terms of the hours you can spend between the two, there is no set work-life balance. One moves through the other with the changing external variables and I believe more in driving a harmony between work and life. There are occasions when one is a priority over the other and it's about being available for what needs your attention and presence. I consciously try to spend as much time with family as possible and trying to do things together. Sometimes, my family joins me in helping me with my work and we create opportunities to spend as much time as possible.

Aparna Gorrepati, Founder, ZUCI Chocolates
Aparna Gorrepati has undergone formal training and certification on chocolate from internationally reputed colleges, worked with Master Chefs and also interned at one of world's leading Chocolatiers. Together this has given her a very strong technical base in chocolate. Later Aparna has worked with one of the largest Indian Chocolate manufacturers in understanding both retail and industrial chocolate. Today, Aparna is considered as one of the leading chocolate experts in the country and the finest in her craft.

Location: Hyderabad