Sandeep Grover: A New-Age Trailblazer Catering To The Food And Confectionery Market With Phenomenal Leadership Skills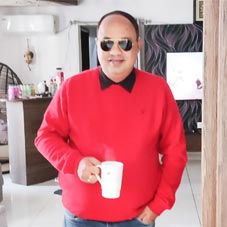 Projected to reach $270.5 billion by 2027, the global food and confectionery market is surging significantly at a CAGR of 3.6 percent which makes it an advantageous domain at present. Equipped with many opportunities to leverage and yield attractive returns, the food and confectionery domain has been attracting investors and entrepreneurs alike for the past few decades. Grabbing this opportunity to create a unique identity of his own as a new-age leader, Sandeep Grover is a phenomenal persona who build his entrepreneurial empire in the food and confectionery market through his brainchild - The Cake Shoppe.
Venturing into entrepreneurship, Sandeep was only 23 years old when he established his first bakery The Cake Shoppe in 1993 without any prior experience in the field. With a notion to deliver delicious bakery items with consistent quality, amazing flavors, and undivided attention, The Cake Shoppe has managed to create its distinguished identity in the market, which encouraged Sandeep to establish its sister concern, the 'Baroda Bakers' in 2017.
Engaging in an exclusive interaction with the CEO Insights, Sandeep Grover elaborates his journey as an exceptional leader with a persistent commitment to enrich the confectionery market with quality foods and bakery items.
What were the initial challenges at The Cake Shoppe that taught you some crucial lessons of company operations? Based on all these experiences how are you leveraging your role at The Cake Shoppe?
Being one of the youngest entrepreneurs to take a loan in Baroda to commence my journey with The Cake Shoppe, I had a liaison with people and government authorities which further led to the smooth execution of my plans. Undergoing through the
management of resources at a young age sharpened my leadership skills intriguingly, as I penetrated further into the business. Nobody would want to believe a young lad with skills to deliver the best bread, pastries and cookies in town but I succeeded in convincing my guest and customers to try our products which remain distinguished in a market loaded with classy bakery products. Owing to my role at The Cake Shoppe, I had to wear various hats because I had to be balance headed at a young age to lead a team of skilled yet uneducated individuals to deliver products as per my satisfaction.

With my vision to look ahead of my time and deliver quality products when Baroda as a market was not yet mature enough to accept the price range, I learned decision making after committing a few mistakes, but they were real stepping stones to my success. Although financial Management was another facet that took a large amount of time to streamline and got resolved eventually, the biggest challenge for me was to get people to believe in me as much as I believed in myself.

Kindly throw some light on your various food products and confectioneries with key emphasis on your flagship offering. Explain your USP.
Being the first bakery in town to deliver live cakes that are made to order in front of the customers, The Cake Shoppe was the first to introduce Photo Cakes in Gujrat and Cheese Cake in Baroda. With Special products like Oat Meal cookies and Ajwain cookies, some of the exotic dishes on our menu include White Forest Pastry and Cake, Strawberry Forest Pastry and Cake, Orange Forest Pastry and Cake, Ferrero Rocher Cake, KitKat Cake, Spaghetti and Mayo Puffs and many more.

What are the latest technologies you use in the manufacturing process?
Although the Photo Cake machine was introduced in Baroda by me, currently, the use of the latest technology has always been a priority. The usage of Cookie drops machines, Rotary Oven, Industrial whiskers, Automatic Chocolate Garnish Machines are some of the machines at our bakeries that help deliver quality products.

Highlight the marketing and distribution strategies implemented by you.
Our co-ordination with other small
bakery outlets to deliver products on time as per their specification have paved the way to establish a proper factory. For us, word of mouth was the most effective way of reaching out to people as it did not need any authentication. People who experienced and liked our products were our brand ambassadors.

Effective usage of Social media platforms like Facebook, Twitter & Instagram and presence on online food ordering and delivering apps like Zomato, Swiggy played an important part in reaching out to a larger client base. Comprising of many elite brands, L&T, Axis Bank, HDFC Bank, Sun Pharma, Linde, Schneider are few names adorning our client base amongst a huge list of companies that we cater to.

How do you maintain the balance between Personal and Professional Life?
Right from day one, I was very clear that family would play an important part in my life as my profession. This clarity of thought made sure that even if I burnt the midnight oil at work, I would take time out at least during weekends to spend time with my wife and children. My wife has always been an integral part of all discussions and hence the family bonded well. They have been my largest strength and continuous source of inspiration to challenge myself and reach greater heights.

Sandeep Grover, Founder, The Cake Shoppe
An alumnus of Airforce Central School, Jorhat, Assam, Sandeep completed his graduation from the Institute of Hotel Management Catering Technology and Applied Nutrition, Chennai in 1992. A national-level Badminton player, Sandeep participated in the national-level badminton championship held at Jamshedpur in 1986 as well as at Swarna Bharati Indoor Stadium, Visakhapatnam in 1988.Starting his entrepreneurial journey with 'The Cake Shoppe' at the age of 23 in 1993, Sandeep went ahead to set up a factory in Baroda called Baroda Bakers which helped in catering to large requirements in 2016.

With an attitude to never stop learning Sandeep continued his education along with his business and completed his MA in English in 2008. Winner of the 'Foodies Award' for the Best Bakery in Baroda, Sandeep started a Café and Bakery by the names 7 Leaves - The Organic Café and Baroda Bakers - a second unit of The Cake Shoppe.