Ardent Clinical Research Services: Conducting Exemplary Clinical Trials Endeavouring To Save Mankind From Chronic Afflictions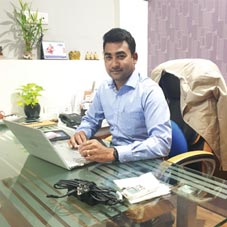 Precisely, human race has always been at the borderline fighting against new & emerging infectious diseases, however, in today's time the discovery of new drugs & medical devices through clinical research (CR) have proved to be the arsenals aiding the tribulation of humanity. This sustained demand has propelled the desideratum of more effective & safer medication, and discovery of new therapeutic uses of already established drugs, in the face of overwhelming economy. Of late, there has been great surge in outsourcing of pre-clinical and clinical bio-medical research to the developing countries. Resultantly, India has turned out to be the most sought-after avenue attracting almost 20-30 percent of the CR activities of the global share. As contributors in the task many CROs are orchestrating the space today as end-to-end service providers - offering drug development and clinical trial services from start to end. But the downcast is that majority of these CROs fail to bring out the optimum quality results of trials or lag behind in on-time delivery, leading to client dissatisfaction.
Transcending a volume of similar organizations relishing undesired clinical trial end results, Ardent Clinical Research Services incises its exclusivity as one of India's leading providers of integrated clinical research services having operational facilities in Pune. Doing everything in-house right from medical writing, data management, monitoring, site management, to a lot more, Chandu Devanpally (Founder & MD) has poised Ardent such that, it's reckoned for vitalizing the industry with its quality and on-time delivery of services, ornate with advanced infrastructure, regulations, costs and many more. Chandu has exclusively shared numerous aspects about the dissimilitude of Ardent Clinical Research Services with CEO Insights. Below are the snippets of the same.
Brief us about the birth of Ardent Clinical Research Services and its distinguishable aspects.
The journey with Ardent has been gradual. Basically, I am M.Sc. in Biochemistry (2006) and PG Diploma in Clinical Trials (2007). Just after the completion of my degrees, I started working as a Clinical Research Co-ordinator with one of the Doctor at an Orthopaedic Center in Nagpur. During my employment there as a CRC (Clinical
Research Coordinator), my roles differed as Quality Manager, Project Manager, Operations Manager when I moved to Hyderabad. For clinical research operations, I was involved in some significant clinical trials like phase 1 to phase 4 with multiple therapeutic indications. In 2014, February I decided to start something on my own, and consecutively established Ardent Clinical Research Services in Clinical Research space.

Humbly, beginning off with a one man army (solely me), operating remotely from home, we slowly expanded to a 10-12 members team and today we are a count of 25 in total, and belonging to different departments handle respective responsibilities for multiple trial projects. Having prior hands-on experience in all CR roles in my first job, I was able to carry on quite smoothly along the operations at Ardent. However, proficiently adorned with degrees like M.Sc. in Microbiology, Biochemistry, & B. Pharma, my team members have been the actual drivers steering the success of Ardent.

We at Ardent, coming from a diverse background and different regions believe in absolute team work & nobility of works, thereby work ethically & responsibly with outright attention to detail in order to facilitate a promising system for clinical trials, drug discovery, experiments & observational studies, and relish desired end results. Here, our clienteles comprise of Biopharmaceutical, Herbal, Nutraceutical, Medical device companies and generic drug industry. Ensuring that the research projects are accomplished with zero errors, the team of experts here monitors everything minutely, starting from timely start, an efficient execution to final delivery of clinical trial projects.

Being the propeller of a high stake mankind industry - Clinical Research, how are you harnessing this power in developing new drugs and producing desired research outcomes?
Continuous innovation is one of the most defining characteristics in the pharmaceutical industry. New drugs can be crucial for maintaining the quality of human life and may even affect its duration and so the pressure to succeed prodigiously. Yet, it is hardly an orderly, predictable process performed by both regulatory body and fellow researchers & team. As a business process, requires to make intelligent, strategic, organizational and managerial decisions. Hence, here at Ardent we discuss the evolving organizational forms and SOPs for collaboration, summarize significant empirical regularities and all regulatory compliances for the unifying framework for decision making.

However, the real challenge that leads is the follow-up of the researches, patient retention, data management, proper execution and
timely production of factual reports concerning the Adverse events (AEs), serious adverse events (SAEs) management, and more. Thence, nevertheless missing out on anything, adhering to all the aforementioned regulatory compliances of the industry like USFDA, European, ICMR & GCP guidelines, including NDCT rules 2019, and more we are envisioning to lend a hand to the healthcare industry advancing in the discovery of new drugs, using latest diagnostic tools & treatments, furthermore pinpointing the probable risk-factors.

Being an active driver of the CRO ethos, you are known to be the top-notch full-service clinical research company in Western India. Thence, delineate your innovative approach, mentioning some projects that ACRS is working on currently?
As the technology is proliferating, in order to keep up with the digital era, we have deployed an in-house software (source transcript), wherein there's a cloud-based EDC (Electronic Data Capture) system for clinical data management, IWRS, Remote monitoring and analysis system. Leveraging our exhaustive investigator database and technical expertise in diverse areas of therapeutic research, we have enabled speedy patient recruitment, cost-effective trials, and world-class clinical assistance. Albeit our USP is our quick turnaround times and the personalized attention which we give to each customer.

Attuning to the specific requirements of the clinical trials, we aspire to reduce the increasing burden of diseases by sharing the growing demand for innovation in drugs and medical devices. In times of dramatically spreading COVID-19 infections, we are entrusted with numerous important projects in pipeline, which includes 4-5 trials related to COVID-19, followed by Ophthalmology trials, Surgical trials, Oncology trials, and Diabetes trials.

What future roadmap have you outlined for Ardent?
It can't be denied that we have grown conspicuously through word of mouth executing exemplary clinical trial projects. Also, the revenue earned YoY has been very impressive. However, due to COVID-19 pandemic, synonymously like other industries, we also faced downtime during the lockdown, however, consequently now we have been bestowed with a number of clinical trial projects to escort. With such propositions in line, we further plan to penetrate the global clinical research market and pharma industry by 2021.

Chandu Devanpally, Founder & MD
A P.G. in Biochemistry and Diploma in Clinical Research, Chandu is a seasoned professional & entrepreneur, having hands-on experience of 15 years, performing end-to-end Clinical Trial Project Management, Data Management and Business Development for Clinical Trials.
Office: Pune