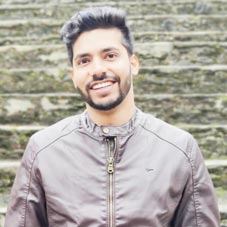 What increases an organization's value is - how the brand is perceived by the end users. With digital media becoming the dominant source of showcasing the brand's quality & utility, digital marketers are playing a crucial role in brand building and brand promotion while executing other ground breaking decisions and strategies. A perfect example of such an expert in Digital marketing is Arpit Awasthi, Head of Digital at Mobile Premier League (MPL) - India's biggest gaming and fantasy sports platform.
He on-boarded MPL in May 2020 during the lockdown, and while balancing all the limitations, he leveraged digital opportunities to let gamers play, enjoy and earn. Bringing his eight years of extensive experience to the digital domain, he guides his team to build brand loyalty, gain more consumer trust, and create a connection with the users.
In an exclusive conversation with CEO Insights, Arpit shares details on his personal life, professional journey, and digital strategies to lead a brand that over 6 Cr users trust. Below is the snippet of the valuable nuggets from the bright leader.
Brief us on your education and professional journey so far.
I graduated from IIT Delhi in 2012 and started my career in management consulting. Within a
year, I realized that it is not my cup of tea. I started looking out for different industries where I can make an impact. Since it was the initial stage of my career, I was ready to start from scratch. Fortunately, I chose digital marketing, it's been eightplus years, and I've never looked back.
In my digital marketing career, I gained experience in managing performance-driven campaigns for brands in various industries like Media & Entertainment, Real Estate, E-commerce platforms, and now eSports. I was part of the digital team in companies and eventually grew to heading the digital team of large organizations. Also, I always work very closely with the company's revenue team because digital marketing is a key vertical related to RoI.
Retention is the key to success, and customers should always be at the centre of all our decisions
How are you leveraging the elements of your education across your company's operations?
The technical education helped me in building up my analytical skills. It is essential for the digital marketers to have an understanding of data analytics and the ability to lead in a constantly evolving environment. Theoretical knowledge can be obtained by studying, but your insights and actions should be derived from data. Of course, my education has played a huge role in building a successful career for me.
What are your responsibilities in the growth of MPL?
I head the overall Digital marketing vertical of the company, globally, which essentially includes managing a healthy and steady flow
of users in all business and strategic verticals.

Apart from Growth marketing, we also take care of the retention and re-engagement of users. That is another vertical within the digital team that executes re-engagement and retention campaigns. The SEO and content team ensures MPL products appear in the top search results and gain healthy organic reach.

How do you ensure to update yourself with the latest industry trends and technologies so that you could always steer your organization towards the zenith?
The digital segment is witnessing changes at a frantic pace. There is always a new technology coming up at a global level. I think the real key is to keep yourself updated on everything that is happening or developing across the world, primarily through reading and interactions with industry leaders like Google, Facebook, and ad networks/partners - so that they keep apprising you of the upcoming technologies or the beta products they would launch in the country. Also, one should stay connected with the marketing or digital tool development teams to get insights on how the industry is moving and how experts are using these tools to excel in their marketing strategies. In conclusion, knowledge is the key, and we need to find different sources to absorb that knowledge and implement it. Most importantly, never fear to experiment with new upcoming technologies.

Arpit Awasthi's Professional Journey
Mobile Premier League (MPL) - Head of Digital
ANAROCK - Vice President - Digital Marketing
Viacom18 Media Private Limited - Senior Manager - Digital Marketing
Housing.com - Senior Manager - Digital Marketing
Yepme.com- Assistant Manager, Digital Marketing